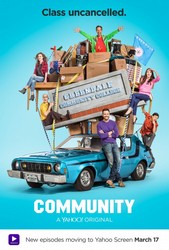 TV Info
---
Episode Premiere
October 27, 2011

Distributor
Yahoo, NBC

Genre
Comedy, Drama

Show Period
2009 - 2015

Production Company
Krasnoff Foster, Sony Pictures Television


Cast and Crew
---
Director
Tristram Shapeero
Screenwriter
Dan Harmon
Main Cast
Synopsis
---
Britta throws a Halloween pre-party in spite of the fact that Pierce has no idea what a pre-party is. When Jeff arrives, Britta takes him aside to share some alarming news: she gave the gang an anonymous psych quiz, and it turns out one of them is deeply disturbed! Which member of the study group has homicidal tendencies? Britta's determined to find out.
As the pre-party continues, Britta tells the group a frightening urban legend. A couple (played by Jeff and Annie, naturally) was furiously making out in a car when an escaped psychopath with a hook hand killed them both. Abed critiques Britta's story, claiming he doesn't sympathize with the characters or buy their story. Abed shares a more logical horror story of a couple (played by Abed and Britta, naturally) terrorized by an escaped lunatic.
In Troy's scary story, two fighter pilots (played by Troy and Abed) crash into the woods. They arrive at the home of a crazy scientist (Pierce) who gives them a scary green liquid. Then, the scientist sews the two pilots together! However, the scientist's plot backfires when the duo gains telekinetic powers. They sew the scientist's butt to his chest and replace his hands with his feet! Scary!
Displeased with his portrayal in Troy's story, Pierce tells his own story where he's a stud surrounded by hot women. When two thugs enter (Abed and Troy, of course) brandishing weapons, Pierce beats up the guys before returning to his trio of hot lady friends. Shirley decides to share her own story: a cautionary tale where pot-smoking kids must deal with damnation, including a swarm of locusts and the devil. Only good Christian Shirley survives.
Meanwhile, Britta tells the scariest story of all: someone in the GCC crew has failed the psych quiz! Which one is the psycho? Suspicion descends on the group. Jeff decides to tell a heartwarming story to bring the group back together. The killer in his story is Chang, but all he needs is a hug and then he's back to normal. Finally, Annie asks to see the quizzes. Annie determines that the quiz was run through the machine upside down. In other words, the entire study group is insane with one exception. Who it is is anyone's guess.