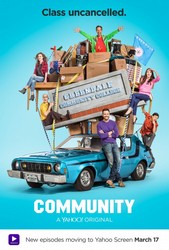 TV Info
---
Episode Premiere
April 22, 2010

Distributor
Yahoo, NBC

Genre
Comedy, Drama

Show Period
2009 - 2015

Production Company
Krasnoff Foster, Sony Pictures Television


Cast and Crew
---
Director
Tristram Shapeero
Screenwriter
Emily Cutler, Karey Dornetto
Main Cast
Synopsis
---
Jeff tries to move the study group along so he can make it to lunch in the cafeteria early -- he's afraid they will run out of chicken fingers. The chicken fingers are the best thing the cafeteria offers, so the demand is high.
While Britta talks about her sick cat, everyone in the study group starts to notice people from the library exiting quickly. The chicken finger run has started early. In the middle of her sad cat story, the entire study group leaps from their chairs and makes a dash for the cafeteria, leaving Britta in the dust.
Pierce and Jeff get to the front of the food line just as the cafeteria runs out of chicken fingers. While Annie, Shirley, Abed and Britta wait at a table, Shirley admires a younger student with dreadlocks who has yet to notice her.
Jeff, Pierce and Troy are returning to the lunch table emptyhanded when they notice Starburns, in a fry cook's uniform, carrying two full trays of chicken fingers to his friends in the cafeteria. After realizing that Starburns is on to something, Jeff comes up with a plan to get him fired and make Abed a fry cook.
Jeff's plan is put into motion. Starburns is fired and the fry cook position isposted. Abed submits his resume and interviews for the position. Troy even applies and gives the world's worst interview to make Abed look even better. It workes, Abed is hired.
Abed brings a full plate of chicken fingers to the study group waiting anxiously in the lunch room. Abed also delivers eight chicken fingers to Senor Chang. Jeff does not agree with this decision until Abed tells them he made an agreement with Chang to give them all a bump on the Spanish tests in exchange for the chicken fingers. Abed has assumed the power.
The group, with Abed in the lead, devises a plan to use the chicken fingers to their advantage. Abed fries them and gives them to Troy. Troy takes them to a room on campus where Britta and Shirley package them. Annie then distributes them. Pierce makes sure the higher-ups like Dean Pelton are taken care of too. This puts their group in a position of power on campus.
Jeff finds Abed meeting with students in his dorm room to discuss what they can bring to the table in exchange for access to chicken fingers. He is working the supply/demand concept that Jeff taught him. Abed is now the big man on campus.
When Jeff tells Abed it is time to bring this chicken finger scheme to an end, Abed challenges Jeff's motives. Jeff admits to being tired of chicken; Abed tells him he's not tired of chicken, he just misses the taste of control.
Jeff calls an emergency meeting with the group, minus Abed, and makes his speech about how Abed is drunk on chicken power. The group thinks it's sad that Jeff is jealous of Abed because he is actually providing for them.
At lunch, Jeff sits alone with his chicken fingers when Starburns approaches. Jeff is now an outsider, like Starburns. Starburns gives Jeff the keys to the kitchen and information about a valve that controls the power to the fryer. If it's removed, the fryer won't work. Starburns leaves Jeff pondering this idea.
When the group, spoiled by all of Abed's free gifts, begins to turn on him, Abed sends them all a message. He's taken things away that they had become accustomed to. When the group realizes what Abed's done, they all go running back to Jeff for help.
Now that the group is back on Jeff's side, he decides it's time to take out Abed. When Jeff goes to the kitchen to remove the valve, he finds Abed at the fryer. There they share a touching reconciliation over a plate of chicken fingers.
Abed quits the fryer job. There are still not enough chicken fingers to go around. Back to square one.