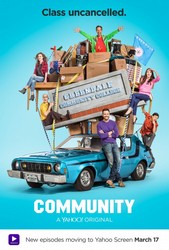 TV Info
---
Episode Premiere
March 18, 2010

Distributor
Yahoo, NBC

Genre
Comedy, Drama

Show Period
2009 - 2015

Production Company
Krasnoff Foster, Sony Pictures Television


Cast and Crew
---
Director
Anthony Russo
Screenwriter
Hilary Winston
Main Cast
Synopsis
---
Jeff presents his choice for ultimate blow-off class of the semester to the study group. This semester it's Beginner Pottery. Annie seems skeptical, based on Jeff's pick from last semester which taught her to live in the moment.
After Jeff presents his choice, Pierce enters the study group room wearing a sailing outfit. He manages to gets Troy, Shirley and Britta to sign up for a one week sailing class with him that takes place on an actual sailboat in the Greendale parking lot.
Jeff, Abed and Annie are in pottery class. The professor lets the class know that there is only thing he won't tolerate in his class and that's "ghosting," any reenactment whether sincere or ironic of the pottery scene with Demi Moore and Patrick Swayze in the movie Ghost.
One of the other male students, Rich, makes an amazing vase that completely captures the professor's attention and that of every girl in class. Jeff becomes instantly skeptical of and obsessed with Rich. Abed sees Jeff's competitive side waiting to come out.
While Annie, Abed and Jeff play with clay, the rest of the gang gears up for sailing class. They arrive at the boat located in the Greendale parking lot and are greeted by Admiral Slaughter. After discussing all the rules of the sea, Admiral Slaughter appoints Shirley as the boat's Captain, much to Pierce's dismay.
At the end of the day, when no other students are around, Jeff returns to pottery class to try to make something great. But to his disappointment he isn't able to produce anything worth talking about.
Back on the boat for another day of sailing class, Shirley takes the helm, barking orders to the student crew. In one fluid motion, the jib swings, knocking Pierce over. He hangs over the open ocean, aka the parking lot, with his life in the balance.
Jeff enters pottery class with his finger wrapped up. When Rich approaches him, he offers to take a look at Jeff's finger. Rich tells Jeff that he is a doctor who takes pottery class to unwind. Jeff's not buying his story. In fact, Jeff thinks he's a con-man, a professional who signs up for novice classes to try to pick up girls.
Determined to prove his point, Jeff approaches Rich in the parking lot after pottery class to gather some intel. Jeff notices his license plate is from New Mexico where Santa Fe is located. After a night researching Santa Fe, Jeff is certain that anyone that lived there would learn to be great at pottery. Jeff thinks he has found the information he needs to expose Rich as a charlatan in class.
In sailing class the next day, Admiral Slaughter gives Shirley the scenario for a perfect storm. Shirley analyzes the situation and then makes a tough decision: she tells the crew they must turn back. Admiral Slaughter releases the jib, everyone ducking in time except Pierce who is knocked off the boat.
Shirley makes the even tougher decision: to leave Pierce behind and save the rest of her crew from the storm. Troy must release the rope and turn his back on Pierce.
Jeff confronts Rich, who is in pottery class trying to demonstrate his advanced techniques. When Jeff tries to copy Rich's technique, he violates the professor's no "ghosting" rule. Jeff is thrown out of the class.
Jeff finds Pierce in a small row boat on campus. When Jeff looks confused, Pierce tells him that his fellow mates drowned him for a better grade. Jeff opens up to Pierce about the difficulty of failure and realizing you're not good at something. Not making a good pot in class made him question himself.
Despite being left behind, Pierce is determined to pick up and fight back. Pierce crashes his rowboat into a fountain causing his boat to fill up with water. Shirley and crew see him from a far. As the Captain she makes the decision to go after him and save him from drowning, saving him for the second time.
Pierce is saved by his fellow seamen. At the end of the class, Admiral Slaughter promotes them all to Admiral and gives them A's.
Jeff returns to pottery class with the professor's approval. He apologizes to Rich for his behavior and is finally content with making terrible pots.