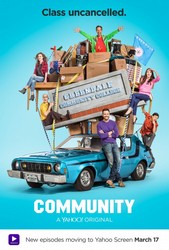 TV Info
---
Episode Premiere
February 11, 2010

Distributor
Yahoo, NBC

Genre
Comedy, Drama

Show Period
2009 - 2015

Production Company
Krasnoff Foster, Sony Pictures Television


Cast and Crew
---
Director
Adam Davidson
Screenwriter
Chris McKenna
Main Cast
Synopsis
---
The GCC Mascot is dressed for Valentine's Day as a Cupid delivering messages of love and lust to students and faculty. Jeff and his girlfriend Professor Slater walk through the parking discussing Valentine's Day expectations and rituals.
As they kiss goodbye, Professor Slater informs Jeff that she will be chaperoning the GCC Valentine's Day dance. On his way to class, Jeff listens to his voice mails. One in particular catches him by surprise. Britta drunk dialed him the night before.
The Cupid Being delivers Valentine's gifts to the group from their admirers. Just as study group comes to an end, a hung-over Britta walks in with her sunglasses on and coffee in hand.
Jeff sticks around after study group to rub Britta's drunk dial in her face. Mortified, Britta grabs her stuff and leaves immediately. Just as Britta walks away Abed returns to the study room. Jeff tells him about Britta's drunk dial and its booty call implications.
Abed informs Jeff that the balance between him and Britta is now off, now that he told Britta about her drunk dial. In Spanish class, Pierce and Troy receive Valentine gifts. But, Senor Chang outs them for sending the gifts to themselves to make it appear they have a Valentine.
Annie and Shirley team up to humiliate Senor Chang the way he humiliated Troy and Pierce in Spanish class. In the cafeteria, Jeff chats up Britta in the food line to try and smooth things over, but Britta is still sensitive about it.
Abed is shooting another episode of Community College Chronicles when Jeff enters to talk to him about the Britta situation. Abed encourages Jeff to even the score -- drunk dial Britta back. Concerned that Jeff will screw this up for everyone in the study group, Abed invites Jeff to his dorm room to rehearse his drunk dial. There is no room for error.
Abed directs Jeff as they rehearse his return drunk dial. Abed questions Jeff about his feelings for Britta and girlfriend Professor Slater, hoping to get a believable performance out of him. After Jeff insults Abed's approach, Abed decides to take a Scorsese/DeNiro approach and drink with Jeff.
In a music montage, Jeff and Abed have a little too much fun while drinking like college students. After their drinking extravaganza, Abed and Jeff pass out in his dorm room.
In Spanish class, the Cupid Being delivers Senor Chang a Valentine. As a prank, Annie and Shirley sent Chang a letter from Princeton offering him a professor position in the Spanish department. But, Chang sees right through the letter and blames Troy and Pierce for trying to get back at him after he humiliated them the day before.
As punishment for their joke, Chang demands that Pierce and Troy escort him to the Valentine's Day dance in elegant ladies' pants suits. If they don't do it, Chang will fail them.
Jeff and Abed awake from their drunken slumber to discover its three in the afternoon. Abed then confirms that Jeff made two outgoing calls during their drunken escapade - one to Britta, one to Professor Slater, neither of which he remembers.
At the Valentine's Day dance, Slater asks Jeff if he remembered calling her at 4 a.m. only to hang up when he realized she wasn't Britta. Senor Change lets loose at the dance while Troy and Pierce make their appearance in the requested lady suits. But just before Pierce and Troy expose themselves to the school, Annie and Shirley admit they were the ones who sent the letter to Chang.
Britta enters the dance wearing a skintight red dress to make a point to Jeff. She then comes to his defense and proves to Slater that he really is into her and that she has nothing to worry about -- by playing the first 20 seconds of Jeff's voicemail form the night before.