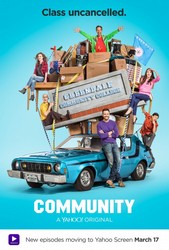 TV Info
---
Episode Premiere
February 04, 2010

Distributor
Yahoo, NBC

Genre
Comedy, Drama

Show Period
2009 - 2015

Production Company
Krasnoff Foster, Sony Pictures Television


Cast and Crew
---
Director
Joe Russo
Screenwriter
Andrew Guest
Main Cast
Synopsis
---
Jeff and Britta walk across campus to find Annie talking to Britta's ex-boyfriend Vaughn. They are clearly flirting as Vaughn sings Annie a song on his guitar.
Troy checks with Abed at the start of Spanish group to see if they are still on for another movie night in his dorm room. Abed tells Pierce and Shirley that they watch bad movies on purpose to make fun of them; next up is "Kickpuncher." When Shirley shows an interest, Abed extends an invite for her to join. Pierce then invites himself.
Annie waits for Britta outside the study room. When she gets there, Annie pulls her aside. Annie asks Britta's permission to date Vaughn. Britta gives her blessing; as uncomfortable as she might be with the idea, she wants to play it cool for Annie.
Britta joins Jeff in the cafeteria to share the news that Annie has asked her permission to date Vaughn. Jeff is automatically concerned about Annie and reminds Britta that the two of them have a responsibility to guide Annie in the proper direction as her "Greendale parents."
Abed, Troy, Shirley, Pierce and Senor Chang are in Abed's dorm room watching "Kickpuncher." While everyone else finds natural places to tell funny jokes based on the movie, Pierce feels out of place. He tries to fit in by telling his jokes, but no one seems to laugh -- making this just another awkward Pierce moment.
When the movie finishes, Abed lets everyone know that they are getting together the next day to watch "Kickpuncher 2." Pierce warns them that he was just warming up and to be prepared for him to bring his "A" game tomorrow night.
Annie and Vaughn are hanging out on the grass as Jeff and Britta walk by. Jeff tries to convince Britta that they have a responsibility to intervene in Annie's love life. Jeff proposes that they come up with a plan to break up Annie and Vaughn.
Jeff and Britta head to study group and stare through the glass walls at Troy, Annie's long-time crush. They realize that Troy is the key to their master plan. Britta knows that if Troy were to become a true option for Annie, she would drop Vaughn so quick, his tiny nipples might disappear.
Britta and Jeff try to convince Troy that Annie is hot! Jeff breaks down all the details for Troy in a one-on-one guy-only conversation. Afterwards, Troy still has doubts in his mind, but Britta tells him that Annie is only hooking up with Vaughn to make him jealous since she has always been hopelessly in love with him.
Pierce meets with the on-campus sketch comedy troupe that he has recruited to write his jokes for movie night in Abed's dorm room.
Troy approaches Annie in the cafeteria and hits on her. After an awkward exchange, Vaughn approaches with ice cream for Annie, only to see Troy with his arm wrapped around her. Troy breaks the news to Vaughn that Annie has liked him since high school.
After Vaughn breaks up with Annie and and walks away, Troy tells Annie that Britta and Jeff were the ones who opened his eyes to her true feelings and her beauty.
Jeff and Britta toast to their success on getting Troy interested in Annie. As they celebrate, Annie comes in to sarcastically thank them for meddling in her love life. Then Troy comes in to thank them for taking ugly Annie and making her into another hot girl who will never get with him.
Pierce joins Senor Chang, Shirley, Abed and Troy in Abed's dorm room. Abed lets Pierce know that they have switched the movie and won't be watching "Kickpuncher 2." But after Pierce throws a fit, they decide to go with "Kickpuncher 2" anyway.
When the group calls Pierce out for coming to movie night prepared with jokes, he tries to leave but manages to trip, fall on the floor and knock over the bowl of popcorn. Finally Pierce gets the laugh from the group he was hoping for.
Jeff and Britta explain to Annie that they were just looking out for her as her Greendale parents. Then Britta admits to not wanting to see Vaughn with anyone else, especially a friend.
Jeff is disappointed in Britta after she admits to wanting to break up Annie and Vaughn out of jealousy. Then Britta calls out Jeff for wanting to break them up because of his feelings for Annie after their debate team make-out session.
Vaughn sings Annie a song in front of the whole study group. Annie asks for Britta's permission once again and this time, both Jeff and Britta put faith in Annie and give her their blessing.