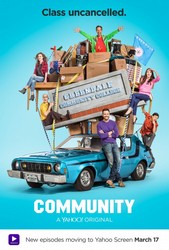 TV Info
---
Episode Premiere
January 21, 2010

Distributor
Yahoo, NBC

Genre
Comedy, Drama

Show Period
2009 - 2015

Production Company
Krasnoff Foster, Sony Pictures Television


Cast and Crew
---
Director
Justin Lin
Screenwriter
Lauren Pomerantz
Main Cast
Synopsis
---
Annie proposes a new meeting time for the study group, but both Britta and Troy oppose it. They appear to have conflicts that neither will discuss in detail with the larger group. When Pierce is late to study group, they all assume the worst that he died. But to their pleasant surprise, he walks in alive and well.
When Britta discovers a woman's hair on Jeff's blazer, the group is stunned to hear that he might actually have a relationship with one woman. The group questions why Jeff doesn't want to introduce them to his new girlfriend; Jeff remains silent when asked for details.
Troy walks through the halls of Greendale acting as macho as possible on his way to his next class. As he enters the classroom, Troy rips off his pants to reveal spandex tights. Troy is taking a modern dance class.
Jeff waits for Professor Slater outside her office. When she approaches, they exchange pleasantries, but once inside the protection of her office, they embrace. Just as they kiss, Dean Pelton knocks on the door and enters. He hopes he wasn't interrupting anything between the two of them and then proceeds to explain GCC's policy on student-teacher relationships.
Dean Pelton also explains that hot students and teachers are placed on a watch list of sorts by ranking -- Jeff is #2, Professor Slater is #7. He then explains that their rankings make it even more important that they be extra careful, especially in tight confined spaces like an office.
The dance teacher, Madame LeClair, compliments Troy's dancing ability in front of the whole class. She also reminds students about the upcoming recital. After class is dismissed, Britta walks into the dance studio to find Troy still in his spandex tights.
Britta and Troy discuss telling the rest of the study group about their love of dance and inviting them to the dance recital. Britta convinces Troy that it's better if they tell the group together; there's safety in numbers.
Jeff and Professor Slater take a risk and kiss in the library just before the start of the Spanish study group. Just when it appears they are in the clear and no one saw them, they realize the entire study group is standing outside the library window waiting to ask Jeff to open the door to the study room. He's busted.
Jeff and Professor Slater talk to the study group about the importance of keeping their relationship a secret. Britta then decides to take the opportunity to share her secret while she has everyone's attention. After seeing everyone's reaction to Britta's confession about being in dance class, Troy not only fails to admit he's also in the class, he makes fun of her in front of the group.
Dean Pelton walks into the study room to confront Jeff about his relationship with Professor Slater. He calls a meeting with both Jeff and Professor Slater in his office. Dean Pelton lets Jeff know that his relationship status is all over Twitter, thanks to Pierce.
Britta confronts Troy after study group. Why did he not stand by her and share his secret too? Troy tells Britta that not only is he not participating in the dance recital that Friday, he is quitting dance class altogether. Britta expresses her disappointment in him.
Shirley gives Britta a little pep talk about Jeff and his relationship with Professor Slater. Britta assures her that she is okay and doesn't need to be consoled. Dean Pelton walks Professor Slater and Jeff through a GCC student-teacher relationship questionnaire. When Jeff answers questions differently than Professor Slater, it causes a rift in their relationship and she leaves.
Jeff approaches Professor Slater in her office to discuss the boyfriend label and his fear of commitment. They disagree on the semantics, but seem to come to a compromise by the end of the conversation. Jeff even brings her to Britta's dance recital for support.
The whole study group, except Troy, is in the audience to support Britta at the dance recital. She takes the stage in a teapot costume to perform a tap number. When she sees Jeff holding hands with Professor Slarer in the audience, she freezes on stage.
Troy jumps on stage and rips off his clothes to show a black spandex unitard -- he's going to help Britta in her time of need. Troy and Britta then perform a modern dance. After the recital, Jeff hands Britta a bouquet of flowers and offers his congratulations on a job well done.