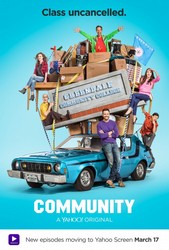 TV Info
---
Episode Premiere
January 14, 2010

Distributor
Yahoo, NBC

Genre
Comedy, Drama

Show Period
2009 - Now

Production Company
Krasnoff Foster, Sony Pictures Television


Cast and Crew
---
Director
Joe Russo
Screenwriter
Jon Pollack, Tim Hobert
Main Cast
Synopsis
---
The group reunites in the study room after winter break. While the group shares a friendly hug, Buddy Austin manages to slip into the study group and take a seat at their table. Everyone is caught off guard to find a new person that none of them recognize sitting at their table.
Abed realizes that Buddy is a student in Spanish class who sits in the back corner. While the others still don't recognize him, Buddy shares his favorite moments with them from last semester in Senor Chang's Spanish 101.
Dean Pelton lures Jeff into the school newspaper office with an offer of free stuff in hopes of getting him to sign on as the new student editor. Jeff, hesitant at first, is immediately sold after getting a glimpse of the editors' office and learns that he'll earn an English credit by taking the position.
Jeff quickly settles into his new role as student editor of the Greendale campus newspaper. Immediately he kicks up his feet on the desk, hands students their reporting assignments and gets his picture taken for the paper. Annie and Abed are both on the newspaper staff.
At the start of Spanish 102, Senor Chang hires a professional actress to announce that he was killed over the winter break. After a few minutes, Senor Chang enters the classroom with a boom box on his shoulder. He welcomes everyone to Spanish 102 and reminds them that he cannot die and to expect the unexpected in the new semester.
As Spanish class concludes, Buddy lets the group know he'll see them later in study group. After he leaves the classroom, Shirley gathers everyone together to discuss Buddy's membership in the group and how they should proceed.
Annie under covers what she thinks is a front page news story for the campus paper. She immediately approaches Jeff about it. She discovered that someone on campus used racial profiling to get students to an on-campus Toni Braxton concert last semester by sending out texts messages only to the black students. She just needs to find out who sent the text messages. Jeff suggests calling the number that sent the messages to start with. When she does, Dean Pelton answers the phone and quickly disguises his voice. Although she hasn't solved the mystery yet, she remains on the case.
Annie and Britta try to keep the study group on task, but find themselves constantly being interrupted by Buddy and his antics. Jeff tries to offer up some advice, but Buddy dismisses it and offers up his own thoughts on how to improve the study group as a whole.
The original members of the study group, i.e. everyone minus Buddy, meet to discuss their membership rules. Jeff manages to convince them all into voting Buddy out of the group.
Annie has cracked the case. She questions Dean Pelton in the campus newspaper office about his choice to target only black students for the campus concert. The Dean pleads his case to Annie and then to Jeff, asking him to stop her from running this story.
Jeff and Annie walk into the study group to find Buddy playing a song on his guitar. Jeff breaks the news to Buddy that the group has voted him out and he must leave immediately.
After Buddy refuses to leave the study group, Jeff is forced to take matters into his own hands... literally. Jeff eventually drags Buddy out of the study room with his pants around ankles and crying that he gets the point.
Later Jeff is down on himself for what he did. Abed sits with him in his office at the school newspaper. Abed tries to cheer Jeff up and reaffirm that his position in the group is crucial to its proper functioning. Annie even pops by his office to apologize and thank him for forcing her to not run the story on Dean Pelton.
Everyone but Jeff walks into the study room to find Buddy sitting at the table. When Jeff arrives, he lets them know that he actually invited Buddy to the study group. Jeff reminds the others that Buddy's only crime was thinking they were all cool and wanting to be a part of the in crowd.
When the group finally decides to accept Buddy into the group, Starburns and two other students walk into the room and let Buddy know that he has been accepted into their study group. Buddy, thrilled by this development, lets the others know that they were really his safety group if the cool study group didn't accept him.
After seeing Buddy deflect to the cool group, Abed and Troy decide to interview with Starburns for a spot in cool group. Pierce also interviewed. None of them were accepted. Back to the study group they go.