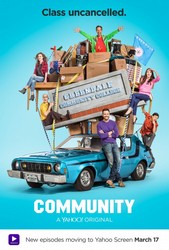 TV Info
---
Episode Premiere
October 29, 2009

Distributor
Yahoo, NBC

Genre
Comedy, Drama

Show Period
2009 - 2015

Production Company
Krasnoff Foster, Sony Pictures Television


Cast and Crew
---
Director
Justin Lin
Screenwriter
Tim Hobert & Jon Pollack
Main Cast
Synopsis
---
Annie announces to the Spanish class that she will be hosting a Dia de los Muertos party for extra credit later that night. The Mexican Halloween party will be in the library and she hopes everyone will be able to make it, especially Jeff.
Jeff checks in with Britta to make sure that she doesn't see anything ever happening between them because he has decided to ask out his statistics professor. After statistics class that afternoon Jeff asks Professor Slater out, but is rejected. She doesn't date students.
Annie catches up with Jeff in the hallway to make sure he agrees to come to her party. Annie thinks that he is the "cool guy" and it will guarantee people will show up. She breaks down in tears trying to convince him she needs him there. He agrees to stop by.
The Halloween party is in full swing. The gang is decked out in their Halloween costumes, only exception -- Jeff. Senor Chang, dressed as a matador, lets Jeff know that his professor crush is attending the faculty party in the cafeteria.
Starburns runs into Pierce, taking his pills in the bathroom. Starburns suggests Pierce trade some of his pills for the ones that Starburns has; Pierce agrees, trying to act cool.
Jeff asks Senor Chang to make him his "plus one" to the faculty party so he can see Professor Slater. Chang agrees, once Jeff offers him 20 bucks. Jeff quietly grabs his coat and leaves Annie's party before anyone notices.
Annie gathers everyone from the party in a circle to start the dancing. She invites Jeff up to have the first dance of the night with her. Once everyone realizes Jeff has left the party, people threaten to leave. Britta tries to cover for him. She enlists Shirley to help get him back.
Pierce, high as a kite, starts telling people at the party that he loves them. Annie is a little freaked out by this.
Jeff makes it into the faculty Halloween party wearing a cowboy costume. He finds Professor Slater dressed as a sexy Robin Hood and immediately starts hitting on her again. Britta interrupts their conversation to convince Jeff to go back to Annie's party.
Britta's come to Jeff for help with the party, Abed and Troy need help with Pierce, and Shirley defaces Professor Slater's car. All things combined, the night is not going as Jeff had planned.
Britta catches Shirley in Professor Slater's office with a water hose. Shirley is trying to show her that she can't steal another woman's man. Britta is able to stop her, but Shirley breaks down and confesses that her anger has to do with her ex-husband and not Professor Slater.
Pierce is totally tripping as he comes back into the Halloween party. He completely freaks out and drives everyone out of the party.
Back at the faculty party, Chang gives Jeff some advice and pumps his ego so he can get back in the game with Professor Slater. After talking to Chang, Jeff approaches Professor Skater and tries a direct approach, which seems to work. Professor Slater agrees to sleep with him.
As Jeff and Professor Slater leave the faculty party, they walk by the library, where Pierce has barricaded himself in. Jeff tries to ignore the cries for help, but manages to walk away from Slater to help his friends.
Jeff comes to Pierce's rescue. When the fortress begins to cave in, Jeff and Pierce are saved by... Batman.