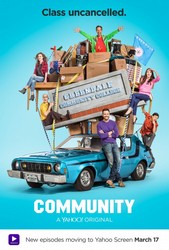 TV Info
---
Episode Premiere
October 01, 2009

Distributor
Yahoo, NBC

Genre
Comedy, Drama

Show Period
2009 - 2015

Production Company
Krasnoff Foster, Sony Pictures Television


Cast and Crew
---
Director
Anthony Russo
Screenwriter
Tim Hobert, Jon Pollack
Main Cast
Additional Cast
Synopsis
---
Jeff signs up for a class that he heard was an easy A. When the Professor Whitman tells the class to throw their textbooks away and simply "seize the day and live in the moment" to get an A, Jeff thinks he has hit the jackpot.
While the group waits for Jeff to join them, Pierce tries to get the voice command on his phone to work. When Jeff arrives he tells everyone about Professor Whitman's ultimate blow-off class and encourages them all to take it.
When Jeff asks Abed if he is going to enroll in Professor Whitman's class, he tells the group that his dad will only pay for classes that support his learning to ultimately run the family falafel business. Britta is very upset by this development and immediately takes out her checkbook. She writes Abed a check to pay for the cost of a film course.
Shirley, Annie, Troy, Pierce and Jeff are all enrolled in Professor Whitman's class. While Shirley manages to seize the day after much poking from Professor Whitman, Annie struggles. As homework, Professor Whitman has asked each person to swim in a lake and tell 10 people that they love them.
Professor Whitman has pulled Jeff aside to tell him that he needs to truly live in the moment and not be taking this class for an easy A. He threatens to fail Jeff if he doesn't take it seriously enough.
Abed is walking around campus with his camera for film class. He is making a documentary. Abed's dad walks up to Abed, Britta and Jeff to confront them on getting involved in his son's life.
Abed's dad and Britta get into an argument over Abed's right to take film classes and follow his dreams. Fed up with their intrusion, Abed's dad tells Jeff and Britta that Abed is now theirs to raise.
Jeff, wearing a ridiculous outfit, waits for Prof Whitman at the coffee stand in hopes he'll earn some points for seizing the day. Britta calculates Abed's expenses for the semester since she is now helping to raise him. Shirley begins her homework by telling people she loves them.
Pierce and Troy hang out in the student lounge. Pierce tries to give Troy some advice on his "girly" sneeze that draws some unwanted attention.
Trying to show Prof Whitman how he is seizing the day, Jeff flies a kite across the quad. Prof Whitman confronts him again and reminds him that unless he truly lives in the moment, he'll fail and his fake attempts will not pass. Britta walks up, concerned about Abed skipping his film class. Jeff and Britta argue about raising Abed and turn to see Abed filming the whole confrontation.
At study group, Jeff confronts Abed about skipping film class. Britta is really upset and ends up leaving the room. Abed continues to film them for his student project. The next day, Jeff calls Britta and Abed's dad to join him and Abed in the study group room to communicate about the situation.
Britta and Abed's dad continue to argue while Abed sits finishing his student film. When complete, he asks them to all sit down to watch it together.
After watching the film, Abed's father is in tears. He and Abed have a touching conversation that leads to his dad supporting his interest in film, with falafel as his fallback.
After the help with Abed, Britta tells Jeff that she owes him. While standing outside the library, Britta tells him to kiss her. He does. Just then, Prof Whitman sees him and shouts, "Day seized!" Jeff passes, thanks to Britta.