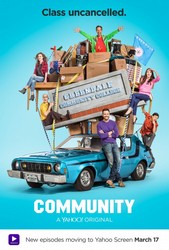 TV Info
---
Episode Premiere
September 24, 2009

Distributor
Yahoo, NBC

Genre
Comedy, Drama

Show Period
2009 - 2015

Production Company
Krasnoff Foster, Sony Pictures Television


Cast and Crew
---
Director
Joe Russo
Screenwriter
Dan Harmon
Main Cast
Synopsis
---
The study group waits in the library for Jeff to arrive before they can start. He has been consistently late to the study group and Britta is annoyed by this lack of respect for the group.
Britta alerts the study group to the death of journalists in Guatemala because they speak up for what they believe in. She encourages the group to speak up to Jeff and let him know that it hinders the group's progress when he shows up late. But, when Jeff arrives, Britta is the only one who speaks up.
Jeff continues his pursuit of Britta, but doesn't get far. Pierce recognizes his failures and offers to give Jeff some man-to-man advice on how to pursue the ladies.
After the study group, Annie and Shirley approach Britta to learn more about the Guatemalan murders she spoke of earlier. They are hoping for Britta to educate them on subjects they are clearly none the wiser about. Shirley and Annie then have an idea to stage a protest on campus with a candlelight vigil to bring awareness to Britta's Guatemalan journalists cause.
Meet Senor Chang, the Spanish teacher, a Spanish genius. The Spanish assignment for next class is to pair up and stage a conversation around the words they learned in class. To determine the pairs, each person draws a card, one person will have an object and their partner will be whoever has the card with the Spanish word for that object.
When Jeff realizes that Britta has the card with a picture of a house and Abed has the card with the word "casa," he persuades Abed to swap with him. Abed agrees, but under one condition -- Jeff has give Abed his shirt, right then and there. But, Britta is already onto Jeff's plan and has switched with Pierce.
Pierce and Jeff meet in the study group room to discuss their Spanish class project. Pierce, in his awkward way, shares way too much information and occupies Jeff's time. Annie and Shirley have set up a brownie station in the quad to raise awareness about the Guatemalan murders. Britta had expressed her distaste about their approach, but joins them after realizing she doesn't take much action on her own.
Abed and Troy interrupt Jeff and Pierce's study session before heading to the quad for the silent protest. After demonstrating their very brief and simple Spanish assignment for Jeff and Pierce, Jeff loses it on Pierce. Pierce, hurt by Jeff's brutal disregard, watches as he leaves to join the protest in hopes of winning points with Britta.
At the protest, while Britta apologizes for being too harsh earlier, Pierce, in a drunken stupor, interrupts them and essentially blows Jeff's cover with Britta as to why he attended the protest in the first place.
Annie and Shirley are excited to show Britta that their protest was actually covered in a local newspaper. Jeff shows up to class with a card to apologize to Britta for crashing her protest. When Britta rejects his apology she lets him know that Pierce had actually offered her $100 to switch cards with her the day before so he could be partners with Jeff.
After Britta's speech, Jeff decides to go along with Pierce's in-class performance as originally planned. Jeff and Pierce perform their class-long presentation filled with costume changes and much more. After a less-than-enthusiastic response from Senor Chang, who gave them and F and an F-, the class ends.
After class, Britta gives Jeff props for stepping in and choosing to humiliate himself in front of the class for Pierce.