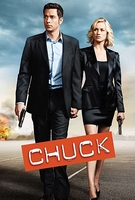 TV Info
---
Episode Premiere
January 10, 2010

Distributor
NBC

Genre
Comedy, Action

Show Period
2007 - 2012

Production Company
College Hill, The WB, Wonderland Sound & Vision


Cast and Crew
---
Director
Robert Duncan McNeill
Screenwriter
Chris Fedak, Matt Miller
Main Cast
Synopsis
---
Chuck, on a mission as Agent Carmichael, is tasked with stealing a briefcase from Yuri, a Russian spy. Cornered, Chuck uses his newfound kung fu skills to capture Yuri's gun--but the spy won't give up the case. General Beckman orders Chuck to shoot Yuri, but he freezes; Chuck can't kill in cold blood. Finally he fights his way past Yuri and his spies and makes a run for it with the case.
Chuck radios Beckman for an extraction and heads to the roof to wait for a rescue helicopter. But the spies close in on him and his only way out is to use a zipline to escape. Chuck is frozen with fear: despite his best efforts, he can't invoke the flash that could save him. Yuri captures him, just as General Beckman comes out of the shadows. It's all been an elaborate training exercise for Chuck--one he's failed. Beckman gives Chuck the bad news that his training to be a spy is over--his inability to flash on demand makes him too vulnerable. He's fired.
Six months earlier: Chuck is thrilled to learn that he's being fast-tracked for training as a real spy. But Sarah's got other plans for the two of them. She takes Chuck aside and invites him to run away to start a new life together. Lovestruck, Chuck agrees to meet her at the Prague train station to make their escape.
Flash forward to present day: something obviously went wrong. Chuck, now a fired spy, sits sadly alone in his sister Ellie's apartment; Sarah is nowhere to be seen. He explains to his sister that it's all his fault. He calls Sarah, but there's no answer: she's lounging poolside with a mysterious new man. Noticing Chuck's call, Sarah drops her phone into the pool.
An unshaven Chuck spends his days sitting on his sister's couch, in the depths of depression. Cheese balls are his only comfort. Even a visit from his best friend Morgan can't pull him out of his slump. In a stupor, Chuck heads to the Buy More to buy another giant container of cheese balls.
Looking like a transient in his dark glasses, robe, and beard, Chuck is stopped inside the Buy More. When Emmett realizes it's Chuck, he calls everyone over to smell "the putrid stench of failure."
Thanks to Lester and Jeff, Chuck learns that Sarah is still working in Burbank at the Orange Orange yogurt shop. Chuck drops by the shop but is interdicted by Casey, who's on his way to a mission with Sarah. Missing his old life, Chuck wants to prove that he can still flash and join the mission; Casey calls him a "lemon" and brushes him off--but not before Chuck glances the location of the mission: the El Bucho nightclub.
Clean-shaven and wearing his Nerd Herd outfit, Chuck infiltrates the club, greeting Sarah who quickly demands that he kiss her. Surprised, Chuck complies--only to have Sarah slap him in the face and knock him out. She's done it to protect Chuck from Gilles, the man she was seen with earlier at the pool. In a hallway, Sarah quizzes Chuck on why he's at the club. After he explains his intentions to help, she rejects him.
Casey explains to Chuck that the mission is a courier exchange: Gilles is meeting with a major Ring operative. The plan is that as soon as Javier Cruz, the courier, makes the exchange with Gilles, Casey will strike. Chuck flashes on the name Javier Cruz and tries to tell Casey that Javier is an assassin and is here to kill someone! But Casey is gone and Chuck has been locked out in a hallway.
Chuck accidentally knocks out a musician, then steals his clothes and takes the stage, flamenco guitar in hand. Flashing, Chuck begins an awkward but ultimately virtuoso performance on the guitar, all the while trying to signal Casey that an assassin is in the room. But the assassin is actually the man who Chuck knocked out backstage--and now he's closing in for the kill.
Javier targets Gilles and Sarah. When Chuck sees a red sniper mark on Sarah, he leaps from the stage to save her. But Javier has disappeared, leaving nothing but a swarm of undercover agents all over the club. Chuck has ruined a major mission! While Sarah and Casey scold Chuck for blowing everyone's covers, Javier escapes, taking Chuck's Buy More badge.
Back home, a depressed Chuck confesses to Awesome that he is no longer a spy; his "loser" cover isn't actually a cover anymore. Later that evening, he confesses to Morgan that he's now lost his job twice. In a bid a sympathy, Morgan shows Chuck just what rock bottom is when he reveals that he was fired from Benihana, Anna left him, and he is now living in the Buy More home theatre. Inside the store, Chuck marvels at how Morgan has adapted the showroom.
Meanwhile, Casey and Sarah are cleaning out their underground spy base, AKA Castle. Casey tells Sarah that Chuck is still in love with her, and that she should put him out of his misery. Over at the Buy More, Emmett encounters Javier, who has shown up looking for Chuck. Emmett dismisses Javier, threatening him with mace. Javier is ready to leave, but Emmitt makes the fatal mistake of calling him a "pussy." Javier quickly draws a pistol--and shoots Emmitt dead on the spot!
Sarah meets Chuck in the Buy More to say a proper goodbye. But while Chuck tries to confess his true feelings to Sarah, Javier sneaks up behind him and knocks him out cold. Chuck awakens in a small bunker and Javier wants to know who Chuck really is. Javier takes off his shirt, showing his muscular and intimidating physique, ready to fight Chuck to see what he's made off. Chuck isn't flashing though and gets knocked down over and over again until he is unconscious.
Flashback to the train station six months ago, where Chuck meets Sarah to run away with her. She has everything they need: new identities, money, and train tickets. They share a passionate kiss, but Chuck shies away. Chuck tells Sarah that he can't leave with her; the opportunity to be a real spy is too enticing. Sarah pleads with Chuck to come with her, but he regretfully rejects her.
Back in the present, Chuck awakens in a holding cell, vainly trying to flash so he can escape and free Sarah, who's being held next door. Javier enters, explaining to Chuck that once he deals with him, he'll turn next to Sarah. Incensed, Chuck flashes, then knocks out Javier with a single punch, grabbing his keys and a mysterious pendant hanging around his neck. He quickly frees himself and Sarah from their Mexican holding cell.
They run for the roof, Javier's thugs in hot pursuit. Their only escape is to zipline down. This time Chuck is up to the task, winging himself and Sarah seemingly to safety. But Javier's men are everywhere. Just as they close in for the kill, Colonel Casey comes swooping to the rescue in a helicopter. The spies are safe.
Back at Castle, General Beckman says that the pendant Chuck confiscated from Javier is a special communications device for Ring operatives, and is the first one to be captured. General Beckman tells Casey, Sarah and Chuck that she is putting operation Bartowksi back in the field; they're to work together to bring down The Ring. Chuck is hopeful that his new cover will be something cool. But it turns out Chuck is back at the Buy More and so is Morgan, thanks to a small favor from Casey.
Ellie and Awesome announce they're moving out, leaving the apartment to Chuck. Meanwhile, General Beckman tells Sarah that she needs to help Chuck keep his emotions in check--he's potentially a danger to himself. She agrees and goes on to meet Chuck and explain that her ploy to run away with him was just an impulse, that it won't happen again. Chuck is ready to step up to his new life as a proven spy.