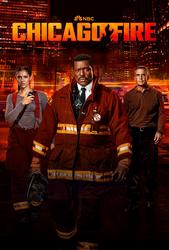 TV Info
---
Episode Premiere
December 19, 2012

Distributor
NBC

Genre
Drama

Show Period
2012 - Now

Production Company
NBC Universal Television, Wolf Films


Cast and Crew
---
Director
Steve Shill
Screenwriter
Michael Gilvary
Main Cast
Additional Cast
Synopsis
---
As gang violence escalates in Chicago, Cruz's brother Leon's involvement continues to weigh heavily on his conscience. Cruz wakes up from a horrifying nightmare of gang leader Flaco holding a gun to Leon's head, demanding the $10,000 buyout. Later, Leon talks to his brother, begging him to distance himself from Flaco. But unless Cruz has the buyout, it looks like Leon's stuck in a dangerous position.
The guys are called to a kitchen fire at an upscale home, poshly decorated with a collection of fine art. The fire is put out easily enough, but the homeowner, Mrs. Vaughn, claims her $50,000 diamond necklace has gone missing. The police department has no choice but to investigate the men who were at the scene and uncover who took it. Casey refuses to believe that any of his men were responsible, and Mouch does a little digging on the Vaughns. As it turns out, they're in the process of selling their entire art collection at auction. You don't sell your art collection unless you need the money; this has to be an insurance scam.
Dawson needs a date to her cousin's fancy Christmas party, but is having a hard time settling on who to ask. Peter Mills as a friend, or Casey as a date? Dawson decides on Mills because he's a safe bet, but she mans up at the last second and asks Casey. Dawson tries to take a casual approach, but Casey steers the conversation in a more suggestive direction. He tells her that if she wants a friend to tag along, she should ask Mouch. But if she's looking for a date, then he'd love to be her guest. Dawson pulls Shay aside; she's definitely going to need a new dress for this occasion.
Boden pulls aside Shay and Dawson for a serious chat. Four units of Toradol went missing from their ambulance during their shift. The two act dumbfounded as to how that could've happen, Shay covering her guilt about the drugs she provided to Severide. They agree to get back to the Chief with their official version of what happened. Shay tells Severide about the news, and she's offended by how seemingly unfazed he is.
When the guys get called to an apartment fire in the neighborhood of all the gang activity, Cruz is right to worry. He leads the way through the flames, searching high and low for his brother, Leon. He's the last in the building and finds the gang leader, Flaco, slipping into unconsciousness amidst the flames. Flaco calls out to him for help, and Cruz has a moment of solemn consideration before he walks away from Flaco without a word, leaving him to be consumed by the flames. Cruz announces "all clear" through his radio as the building goes up in flames.
It turns out Mouch's claims about the supposedly wealthy family weren't without merit. The Vaughns are in financial ruin, and the husband was investigated twice for wire fraud. Casey decides to take matters into his own hands and pays a visit to the house of the incident. He sweetly tells Mrs. Vaughn that their helmets have thermal imaging cameras on them that record everything at the scene, which he's dropping off at the police station right now for full review. Little does she know that the cameras don't actually record! Imagine Casey's smug satisfaction when the station gets news shortly after that the misplaced necklace has been found.
Later, Casey and Dawson are dressed to the nines at the swanky Christmas party. Dawson grabs a few glasses of champagne and drags Casey into a back room for a quiet chat, and it's clear that she's had a bit too much to drink. Armed with liquid courage, Dawson goes in for the kiss only to be met with rejection. Casey tells her that the timing isn't right; if they're going to do this, it should be done right. Dawson doesn't take the rejection too well and leaves, defeated.
The next morning, Severide stops Shay as she gets ready to leave the apartment with her bag in tow. She found the pill packs he's been taking, and she just can't take the lying anymore. They agreed to live with each other as long as they wouldn't get in each other's way, and considering his actions, she can't hold up her end of the bargain. The lying is too much. Severide's emotional plea isn't enough, and Shay takes off to stay with Dawson.
Dawson and Shay are on a call, rehashing their evenings. Dawson explains that her date with Casey was terrible; he's clearly still into Hallie, and she feels like an idiot. As the two unsuspectingly pack up in the ambulance, they're hit straight on by a swerving car, which sends the ambulance spinning and Shay and Dawson's fate left undetermined! To be continued...