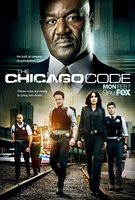 TV Info
---
Episode Premiere
May 09, 2011

Distributor
FOX

Genre
Drama

Show Period
2011 - 2011

Production Company
20th Century Fox Television, MiddKid Productions


Cast and Crew
---
Director
Michael Offer
Screenwriter
Heather Mitchell, Kevin Townsley
Main Cast
Jason Clarke as Detective Jarek Wysocki / Jarek Wysocki
Jennifer Beals as Teresa Colvin
Matt Lauria
Todd Williams
Billy Lush
Delroy Lindo
Additional Cast
Synopsis
---
While watching his son J.J.'s rock band performing in a club, detective Jarek Wysocki - his fiancée, Elena, his ex-wife, Dina, and Dina's boyfriend, Roger, are all there, too - is called to investigate a homicide.
The on-scene officer tells Jarek and partner Caleb Evers that the victim is Lance Dolan, a gay community leader and real estate developer. The officer reports that Dolan was stabbed at a gay cruising spot, adding that Leviticus 18.22 was written in blood on his car's windshield. Caleb notices that the pattern of bloodstains indicate there was a second person wounded.
When police superintendent Teresa Colvin arrives, the local alderman demands that this hate crime be solved quickly or the gay community will mobilize against her.
Back in her office, Colvin tells Jarek's old boss, Lt. Reardon, that she'll recommend his promotion to commander of the gang investigations unit.
Jarek and Caleb interview Dolan's executive assistant, Kyle, who says that Dolan received lots of hate mail, which - viewing it as a badge of honor - he didn't report. But he did hire a private investigator to check out a pair of brothers who were deemed harmless.
Meanwhile, Alderman Gibbons' aide reports that the Irish mob is worried about Colvin's investigating their construction businesses; they question Gibbons' commitment to their protection. Gibbons replies that he has a plan to deal with all this.
Gibbons then tells Colvin that he wants his choices to fill two police commander positions, including Lt. Davis' promotion to commander of gang investigations. Gibbons notes that aldermen and the mayor have influence in these matters, and he reminds Colvin that he recently procured overtime money for her department.
As officers Vonda Wysocki and Isaac Joiner enter the station, she receives a courier's package that contains her late father Vincent's wristwatch. It's the anniversary of the day he was killed in the line of duty.
When Jarek, Caleb, and back-up officers roll up on the two brothers' workplace, the elder, Scotty, runs and gets handcuffed. The younger also takes off - hijacking a car, which he crashes - and then is arrested.
Jarek and Caleb interrogate Scotty, who admits hating to Dolan but denies killing him. Scotty then demands an attorney. Afterward, Vonda asks Jarek if he sent the watch - after all, Vincent was Jarek's brother - which he denies.
At a hospital, Jarek and Caleb question Aaron Fash, who'd waited a day to have a neck wound treated. Fash claims that he was mugged elsewhere, but Caleb notes his blood was found in Dolan's car. As Jarek and Caleb watch Fash's wife and daughter arrive, Fash admits that he and Dolan were attacked, but he escaped because the target was Dolan.
Citing a neck tattoo, Fash picks Scotty out of a lineup, claiming that he's the attacker. But Fash, refusing to come out to his wife and daughter, won't provide eyewitness testimony. The local alderman wants to out Fash, but Colvin refuses. She orders Jarek to tell the brothers the police have an eyewitness, hoping that one will inform on the other. When they do, Scotty's lawyer says that he'll prove Scotty was elsewhere.
Colvin also tells Jarek about Gibbons wanting his say over two commander positions, including Davis' promotion to commander of the gang unit. They fear that Davis would provide Gibbons information about the current grand jury investigation, but Colvin has no reason to deny Davis' promotion.
After reviewing station security video and questioning the courier, Vonda and Isaac visit the woman, Karen, who sent Vincent's wristwatch. Karen claims that Vincent saved her from an attempted rape and murder. Afterward, they'd stayed in contact, and one day he'd left his watch, so she'd finally returned it. Vonda, realizing Vincent slept with Karen, gets angry.
Colvin tells Gibbons that she'll submit Davis' promotion to the mayor's office. Colvin wants Davis to become the mayor's head of security so he can't fill the gang commander position, with an explanation that it was a last-minute decision and her hands are tied. Unhappy about Gibbons' two-commander power grab, the alderman who put the heat on in the Dolan case agrees to help Colvin now.
A prostitute tells Jarek and Caleb that Scotty was with her when Dolan was murdered, and a desk clerk and maid will corroborate this.
Vonda accuses Jarek of concealing Vincent's infidelity - and she tells him that Isaac is her boyfriend. Jarek cites safety reasons for his unhappiness with the latter, but he admits knowledge of his brother's affair. He tells her that Vincent planned to divorce Vonda's mother, who knew all about it; the news leaves Vonda in tears.
Jarek and Caleb raid Fash's home, prevent him from shooting himself, and arrest him. Fash admits to having been intimate with Dolan for several months. Dolan showed him the hate mail from Scotty that enabled Fash to identify him. When Dolan said he didn't love him, he stabbed him, and tried to cut his own throat because he was sick of living a dual life.
Jarek visits Dina and asks her to take him back, but she's unwilling.
After Gibbons' aide tells the alderman that Davis wasn't promoted, Gibbons encounters Colvin in a restaurant; she explains that it was the mayor's decision. Knowing he was outmaneuvered, Gibbons meets with cronies in the back room, saying he hasn't done enough about the Colvin problem.
Jarek arrives at Elena's and tells her that their wedding is off, adding that he'd been sleeping with Dina for the last couple of months. Elena is shattered, then leaves Jarek . . . alone.