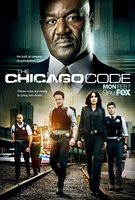 TV Info
---
Episode Premiere
May 02, 2011

Distributor
FOX

Genre
Drama

Show Period
2011 - 2011

Production Company
20th Century Fox Television, MiddKid Productions


Cast and Crew
---
Director
Terrence O'Hara
Screenwriter
Patrick Massett, John Zinman
Main Cast
Jason Clarke as Detective Jarek Wysocki / Jarek Wysocki
Jennifer Beals as Teresa Colvin
Matt Lauria
Todd Williams
Billy Lush
Delroy Lindo
Additional Cast
Amy Price-Francis
David Furr
Lacy Campbell
Annabella Muchnik
Camille Guaty
Synopsis
---
As detective Jarek Wysocki and police superintendent Teresa Colvin enter a courthouse, Colvin recalls "Bathhouse" John Coughlin and Michael "Hinky Dink" Kenneth, who ran the gang-infested First Ward for 40 years. She says that 1,500 Chicago officials have been charged with corruption over the years.
Inside, Darren Wall - the first city official to be indicted under Colvin's administration - is charged with embezzling from the Department of Waste & Sanitation. But the jury fails to reach a unanimous verdict, so the case is dismissed. Jarek, who noticed Wall smiling prior to the verdict, and Colvin tell the prosecutor that they believe the not-guilty votes were bought. She gives them until Monday to prove it.
Alderman Gibbons tells Colvin that after barely surviving that no-confidence vote and losing this case, she needs to increase arrests to restore favor, and he offers overtime money for her beat cops. Colvin tells Jarek this offer is designed to shift their attention from the Wall case.
When Jarek and Detective Caleb Evers interview the jurors, one man tells Jarek he voted not guilty, but he wasn't bribed. Another, Larry Cahill, cynically asks Caleb for cash, but claims he voted to convict.
Irish thug Mikey introduces Liam Hennessey to Hugh Killian, who orders Liam to pick up a gift basket of steaks from Wall. When Liam arrives, Wall phones Killian to express his gratitude. Liam plays his cell-phone recording of this for Jarek and Colvin, but without previous authorization, it's inadmissible.
Meanwhile, officers Vonda Wysocki and Isaac Joiner are lounging off-duty. He wants to sell his car to buy a vintage Firebird. She wants to go public with their relationship. He's worried about her uncle Jarek - who's reminiscing about his brother Vincent being murdered while working as an undercover officer - disapproving of partners having sex.
As Colvin tells a roomful of officers they'll be getting overtime pay, Jarek and Caleb visit, accuse, and threaten Wall, which sends Killian complaining to Gibbons, who tells him to handle it.
Caleb interviews a blind woman juror, who says that Cahill raised so much doubt, she voted not guilty. Jarek explains this enabled the bribed Cahill to cover his tracks with a guilty vote.
Liam and Mikey bring Cahill to Killian, who kills him. Afterward, a drunken Mikey explains that when the city's trucks return from dumping trash into an Iowa landfill, they're carrying contraband for the Irish mob. As Liam leaves with this information, a high school classmate recognizes Liam and calls him by his real name: Chris Culligan. Liam says he's mistaken.
After informing Jarek and Colvin about the murder, Liam tells Jarek he wants to set up a sting with Killian and get it on tape. He also wonders if he was recognized. Jarek advises him to move slowly. Caleb asks if that's because Jarek's undercover brother was murdered.
Colvin is visited by FBI agents, who are about to bust Killian for running an interstate highjacking ring and order the Chicago PD to stop their investigation.
Meanwhile, a man offers to buy Isaac's car, paying half-cash, half-cocaine. Isaac thinks that Vonda is pranking him and hangs up. When she says no, Isaac calls the wheeler-dealer back.
When Colvin tells Jarek about the FBI, he voices fears that Liam was recognized. Colvin says it's Liam's call and orders Jarek to ruin the FBI's case, so he tells Liam to tip off Killian about the bust, which Liam does.
Isaac and Vonda meet the cash-and-cocaine car buyer and his pal, who attempt to steal the car at gunpoint, which alerts back-up officers. The would-be thief runs. Vonda chases and tackles him.
When the FBI raid turns up nothing, they believe someone on the Chicago police tipped off Killian. Meanwhile, Liam meets with Killian's daughter/confidant Beth, claiming that he's not sure about approaching her father with a deal. She says don't worry, he's grateful for the tip-off.
Jarek and Caleb watch Liam meet Killian, who forces him to strip before speaking, but the wire sewn into his jacket captures the conversation. Liam says his gun-dealer client makes him nervous. Killian replies that Liam can watch tomorrow's delivery and put his fears to rest.
The next day, Isaac and Vonda pull over a city trash truck and arrest the visibly frightened driver. When Killian learns via phone that the truck and driver are missing, he orders Liam to leave the pick-up point. And a phone call to Gibbons' office causes him to angrily sweep everything off his desk. Gibbons then calls his secretary Lily into his office, asks to see her pink lace panties, and locks the door.
Jarek and Caleb tell the driver - who was carrying a load of methamphetamine - that he can either cooperate or go to prison, where Killian can easily have him killed.
Meanwhile, as an off-duty Vonda and Isaac remove each other's clothes, Vonda says that she's going to tell Jarek about their relationship, because hiding things from her family is wrong.
Colvin and Jarek tell the prosecuting attorney they have someone willing to testify about Killian's black market operation and the money being laundered through companies directly connected to Gibbons. They want the U.S. Attorney's office to authorize a secret grand jury with electronic surveillance to investigate Gibbons' ties to organized crime. The prosecutor warns that this would spark an open war and Colvin could lose. Colvin is willing to risk that, so the prosecutor agrees to kick-start the proceedings.