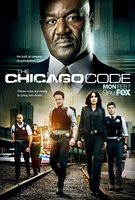 TV Info
---
Episode Premiere
April 11, 2011

Distributor
FOX

Genre
Drama

Show Period
2011 - 2011

Production Company
20th Century Fox Television, MiddKid Productions


Cast and Crew
---
Director
Adam Arkin
Screenwriter
Virgil Williams
Main Cast
Jason Clarke as Detective Jarek Wysocki / Jarek Wysocki
Jennifer Beals as Teresa Colvin
Matt Lauria
Todd Williams
Billy Lush
Delroy Lindo
Synopsis
---
As a triple-digit summer heat wave strains Chicago's civic resources and frays citizens' tempers, police superintendent Teresa Colvin reviews detective Jarek Wysocki's three hand-picked candidates to replace her murdered driver. She chooses Officer Bidwell.
Meanwhile, Alderman Gibbons has a new job for undercover officer Liam Hennessey: delivering bottled water to registered voters who lack water pressure or air conditioning. Gibbons explains that the money for this has been diverted from his re-election campaign funds. Gibbons himself is dispensing water to the elderly at a local community center.
Elsewhere, a patrolling Jarek and Caleb Evers chase down a teenager who's running away from a nearby shooting. The teenaged Carlos - who remembers Caleb as a beat cop who used to buy ice cream from his father's truck - says that he was running because he witnessed his father's murder by a local gangbanger.
Jarek orders beat officer Lassiter and his partner off the case. But when Jarek overhears Caleb promising Carlos that he'll catch the murderer, he angrily reprimands Caleb for making such a dicey promise. Caleb apologizes, so Jarek gives his best confidential informant, Big Sexy, the murderer's description and pressures him for information. A day later, Big Sexy reports that a Russian, Johnny Pavich, had been selling automatic weapons to local gangbangers, and he gives them Pavich's whereabouts.
As Colvin and Bidwell are en route to a firehouse to assure everyone that the police are doing everything they can in the case of a firefighter who'd been shot that morning, she overhears a nearby robbery-in-progress call and tells Bidwell that they'll take it themselves. Colvin and Bidwell arrive, draw down on the suspect, force him to hand over his hostage, and make the arrest. But the heat wave has interrupted local cell phone service, so no backup arrives, and they're forced to transport the robber in Colvin's staff car.
Jarek and Caleb find Pavich in a bar, bust him for carrying a concealed weapon (and having a trunk full of guns). Jarek orders Pavich to give up the triggerman for a reduced sentence - or face weapons-trafficking charges, and he reluctantly agrees.
Meanwhile, officers Vonda Wysocki and Isaac Joiner are on foot patrol, breaking up an argument between two women fighting over a man. The two officers end up arresting them both, then they buy canned sodas from young street vendors, tipping them lavishly to build community relations.
After Colvin and Bidwell deliver the robber to the station, Colvin blasts Jarek for taking over Lassiter's case: his father is a police captain and had complained to her about this. The she orders Jarek to solve the case and give Lassister all the credit.
Jarek, Caleb, Lassister, and his partner observe the suspected murderer, Squeak, from a rooftop. When they roll up, Squeak runs, dropping the gun he'd used to commit the murder, and gets tackled by Caleb. Lassister retrieves the gun.
Back at the station, Carlos - whose father taught him to remember every customer's face - positively identifies Squeak as the murderer, but Caleb's upset that Carlos' now-lack of immediate family means that he'll be delivered into foster care. As they hand him over to a social worker, Caleb tells Carlos that the murderer confessed, then hands him his business card, and says call him if he needs to.
While Isaac and Vonda watch kids playing in the water gushing from an illegally opened fire hydrant, firefighters arrive to shut it off, and someone starts shooting. Vonda and Isaac chase the gunman into an unlit building, become separated, and lose radio contact. Vonda is afraid that Isaac's been killed - until she finds him handcuffing the suspect.
Meanwhile, Liam and another thug are nearing the end of their deliveries, but at one address, there's no answer. Liam can hear the sound of the TV and a barking dog, so he breaks in and finds an elderly woman passed out on the floor. Telling the thug to call 911, Liam places the woman in the bathtub and turns on the shower.
After Vonda and Isaac deliver the gunman to the station, Isaac mentions that the power and water aren't working his neighborhood, so Vonda suggests he shower at her place. OK.
As paramedics take the woman to the hospital, Gibbons arrives and hands Liam a wad of cash for saving the woman's life. (Liam claims a cousin who was a medic in the service, taught him what to do.) Impressed by Liam's resourcefulness and initiative, Gibbons tells Liam he'll be getting a no-show job in the city's vehicle impound department.
When Liam tells Jarek about Gibbons' no-show job offer, adding that Gibbons actually cares about his constituents, Jarek replies that Gibbons only cares about the money and power they provide - and to never forget that.
Colvin attempts to send Bidwell home, but he took the liberty of reinstating her overnight security detail and he intends to handle this himself.
Back at her apartment, Vonda reprimands Isaac for joking about her fear of him getting killed and when he starts to shower, she joins him. Hot, wet kisses and hugs ensue, and you can guess the rest . . .
Bidwell escorts Colvin to her door, explaining that he's grateful to have been given this opportunity - adding that he's an ex-Marine who did two tours in Iraq - and he swears he'll protect her. Once upstairs, Colvin looks out her window at Bidwell, sitting in his car, watching, waiting, ready for anything.