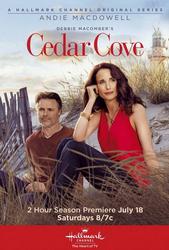 TV Info
---
Episode Premiere
August 17, 2013

Distributor
Hallmark Channel

Genre
Drama

Show Period
2013 - Now

Production Company
Unity Pictures, Orchard Road Productions


Cast and Crew
---
Director
Neill Fearnley
Screenwriter
Susin Nielsen
Main Cast
Andie MacDowell as Judge Olivia Lockhart
Dylan Neal
Colin Ferguson as District Attorney Paul Watson
Teryl Rothery
Barbara Niven
Brennan Elliott
Sarah Smyth
Paula Shaw
Synopsis
---
Olivia is on her way to court when Grace makes a point of running into her to put in a good word for Rosie Weston. Rosie is one of Grace's most reliable volunteers at the local library and is appearing before Olivia that day seeking a divorce from her husband Zach. Olivia reminds Grace that she has to stay impartial, no matter what Grace might know about the case. Later, Jack drops by Olivia's chambers to ask her out to lunch. He is covering the town council's budget meeting where they are wrangling over budget cuts. Olivia thinks the divorce case should be pretty cut and dry so she agrees to the lunch date.
Unfortunately, the divorce case is not so easy to resolve, as Rosie has decided to ask for sole custody of their children, Allison and Edward, instead of the agreed upon joint custody. Rosie wants the children to be able to stay in Cedar Cove, while Zach insists that he (or his assistant, Janice) will have no problem driving them the half hour to school from his new apartment in Tacoma. Zach believes that despite the fact that Rosie is a stay-at-home mom, she spends far too much time volunteering on various projects around town. Olivia tries to get to the bottom of what went wrong in their marriage and it is clear they remember their relationship very differently.
At the library, Grace is getting ready for kids' story time when she sees Allison hiding in the book stacks. Grace knows that Allison is cutting school, unable to face knowing that her parents' divorce case is being heard that morning. A sympathetic Grace allows her to stick around if Allison helps out with the younger children. Later, Grace is thanking Allison when Jack approaches her to get her reaction to the fact that the town council has voted to close the library. Stunned and furious, Grace confronts the town's mayor, who appears to be taking cues from local developer Warren Saget. Grace vows to raise the money needed to keep the library open.
After the town council meeting, Jack returns home to find that Eric has yet another excuse as to why he has not found a job. Jack has a fragile relationship with his son and doesn't like to rock the boat, but is growing weary of Eric's excuses.
Meanwhile, Olivia's mother Charlotte is at the local art gallery with Cliff Harting, the son of country singer and artist Tom, who recently passed away. Charlotte was instrumental in tracking Cliff down when his father died, and in finding Tom's treasure trove of artwork. Charlotte has convinced Cliff to try and get the gallery to feature Tom's art. Justine is interested, but her boss, Maryellen, is not. Grace, a woman on a mission, breezes into the gallery in and quickly recruits Maryellen and Justine into her fund raising plans. When she meets Cliff, there's a little spark between them, and he's intrigued. Grace praises Tom's artwork and recommends that Maryellen definitely display it at the gallery. Maryellen sees she is outnumbered and agrees to show the art.
In court, Olivia continues to hear differing stories about Zach and Rosie's marriage, with the misunderstandings and petty arguments that destroyed it. Both are angry and each blames the other for their problems, but nothing they say helps Olivia get any closer to a decision on the custody arrangement. They are at an impasse.
Jack visits Olivia in her chambers, and Olivia is downtrodden about hearing the divorce case. It's always the same "he says, she says" kinds of arguments that destroy marriages, and Oliva has no idea how to discern the truth.
Jack goes to the local coffee house, Moon's, and finds the owner swamped. He has never been a very quick server, but since Justine left to go work for Maryellen, things have gotten really backed up. Jack sees an opportunity for Eric, and Moon agrees that Eric can start work the next morning. Jack goes home to share the good news, but Eric is not thrilled, He is not sure what he wants to do with his life but he is sure serving isn't it. Jack assures him it is just to tide him over until he figures out what he really wants.
Maryellen, Justine, Olivia, Charlotte and Grace get together at Grace's house to make baked goods for the big library fundraiser. Maryellen points out that baked goods are not going to make up the thousands of dollars they need to keep the library open. Grace tells her she has called every club in town and they all offered to set up booths and sell their wares. Grace tries to get Olivia to discuss Rosie's case, but Olivia doesn't take the bait. Charlotte muses that it is always sad to see marriages end, and Grace can't help but feel the disappointment over her own broken relationship. Olivia quickly assures Grace that they know that she worked hard on her marriage, but laments the fact that so many people these days just give up.
In court, Rosie and Zach continue to bicker, repeating different versions of the same stories, and Olivia has finally had enough. She orders them to go home and really talk so they can come to some understanding on what is best for their family. After returning to her chambers, Charlotte stops in to ask Olivia to go to Grace's fundraiser with her. Charlotte immediately recognizes the strain in her daughter, and assures her that she did everything to make it work with her ex, Stan. "Who said anything about Stan?" Olivia asks, but Charlotte knows better.
The fund raiser goes well and everyone has a good time. With Allison at her side, Grace mans one of the booths herself, and Cliff steps up to toss a wet sponge at Grace's face. He even throws some extra cash in for good measure. At a nearby booth, Jack and Olivia stop in to see Moon, but Jack is shocked to hear that Eric never showed up for work, and didn't even bother to call.That evening, Zach and Rosie try to communicate as they once had, but cannot stop arguing long enough to find a middle ground. Both Allison and Edward overhear their parents' argument, which ends with Zach storming out of the house.
Jack goes home to confront Eric, who is once again full of excuses about why he didn't take the job at Moon's. Jack tries to get Eric to see that he needs to stand on his own two feet but Eric continues to play the victim, once again bringing up his childhood and how Jack wasn't there for him. Jack finally tells Eric that he is welcome to stay but he needs to start carrying his own weight.
The next morning, Olivia consoles Jack when they get a call that Allison has gone missing from the Weston house. They meet Grace and Rosie at the house to help with the search. Grace has a sudden thought, and realizes she has an idea of where Allison is. At the library, she finds Allison reading "Alice in Wonderland," and she comforts the heartbroken girl.
When Jack returns home that night, he finds a note from Eric and realizes that his son has stolen some money and taken off. A despondent Jack meets with Olivia who tells him that he did the right thing, and that parenting is a bumpy road for everyone. She tells him, "You do the best you can for your kids, and never give up on them."
In court the following day, Olivia talks with Allison and Edward, who just don't want their lives to change. Realizing that Rosie and Zach are never going to come to terms, she grants the divorce but awards joint custody with the children staying in the house and the parents moving in and out. Both parents are disappointed, but Olivia is happy with her decision.
Grace cheerfully hands over all the money she raised for the library to the mayor and Warren. It is almost enough to keep the building open, but their total is short a little over six hundred dollars. Warren determines that it's not enough, and that the library will close anyway. Grace angrily assures the mayor that there's no way that he'll be reelected after this decision, but Cliff arrives just in time, having heard the news of the shortfall. He writes a check then and there for the extra funds, to Grace's enormous relief. Turns out a few pieces of Tom Harting's artwork sold at the gallery, and because Grace is the reason that the art is even on display, Cliff is more than happy to put that money to good use.
Jack gets a call from his ex-wife, who is angry because Eric told her that his dad kicked him out. She is sending money to Eric, even though Jack only wants him to take responsibility for his own life. Distraught, Jack goes to a bar, surrounded by the temptation of alcohol as a comfort. When Olivia arrives, he explains what happened. Beyond that, he doesn't feel like talking, so she simply takes his hand and stays at his side.