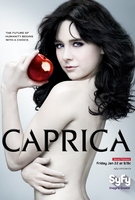 TV Info
---
Episode Premiere
January 04, 2011

Distributor
Syfy

Genre
Drama, Action, Sci-Fi

Show Period
2010 - 2011

Production Company
David Eick Productions, NBC Universal Television


Cast and Crew
---
Director
Michael Nankin
Screenwriter
Patrick Massett, John Zinman
Main Cast
Synopsis
---
Tamara and Zoe have locked themselves away from Daniel, but Daniel is desperate, and kidnaps Tamara. When Zoe finds out, she attacks him, and Daniel realizes he must hire a specialist in order to gain audience with his estranged daughter. He approaches Sam to help him as hired muscle, but Sam wants no part of what he considers a travesty. Moreover, things are getting more complicated for the Adamas, since a long lost friend of theirs, Fidelia, is recently out of prison, and her presence threatens to uncover their operation of smuggling U-87s to Tauron against the Guattrau's wishes.
Amanda wants out of the operation with Clarice, but Duram, recently burned by his agency, convinces her to stay long enough to steal Clarice's holoband, full of vital information, and replace it with a dummy. Reluctantly, she does so, but when Clarice and her husbands, who are putting the finishing touches on a massive terror strike linked to the Avatar program, find out, they're furious at Amanda's betrayal, and the fact that her spying lead to the murder of their wife, Marbeth.
Lacey continues to excel at the STO camp, but she exceeds everyone's expectations when she orders a U-87 to abort an execution. Although the robots are programmed to respond only to officers, this one listens to her. Everyone is perplexed, but the Mother suggests Diego let the mystery be - for now. But Lacey can't let go - she takes Odin to the U-87 storage facility at night to find that robot, and pleads that Zoe - if that is her inside - reveal her presence. The result is negative, but Odin's curiosity is piqued, and only dissolved by a passionate kiss from Lacey.
Amanda presents Clarice's holoband to Duram, who is shot by a sniper moments later. She manages to get him to the hospital, but the holoband is gone, and she doesn't know who took it. The band contains information on STO members, the activity of the Willows and, most importantly, their entire Avatar program, which they have dubbed "Heaven."
Disturbed by the proliferation of Avenging Angels paraphernalia - the t-shirts and posters bearing the likenesses of Zoe and Tamara - Sam agrees to Daniel's proposal, but, still disbelieving it's actually her, has a plan to end the Angel's life.