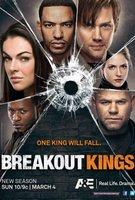 TV Info
---
Episode Premiere
March 18, 2012

Distributor
A&E

Genre
Drama

Show Period
2011 - 2012

Production Company
20th Century Fox Television, Chernin Entertainment


Cast and Crew
---
Director
Clark Johnson
Screenwriter
Michael Gilvary
Main Cast
Laz Alonso as Charlie Duchamp
Domenick Lombardozzi
Brooke Nevin
Malcolm Goodwin
Serinda Swan as Erica Reed
Jimmi Simpson
Additional Cast
Ian Bohen
Dominic Keating
Stelio Savante
Synopsis
---
At Essex County Correctional Facility in Newark, NJ, Travis Muncey, a skinny young inmate who looks like he has no business being in prison, exits the chow line and navigates the overcrowded cafeteria. He heads for an open seat across from the scariest looking guy in the room - a huge inmate named JoGo. He pushes his tray across the table to the enormous man, telling him that if he keeps the other inmates away, he can have all of Travis' meals. Travis grabs the pats of butter from the tray, saying it's all he can stomach, but JoGo isn't interested. He tells him, "Sorry kid, no deal today," and walks away.
A tattooed con approaches Travis, the glint of a shank in his hand. Travis leaps to his feet, dumps the food off his tray and holds it in front of him like a shield, screaming "fire." The cons reluctantly back away and Travis leans against the table to keep from collapsing in fear.
Travis files papers for the warden while making small talk. He holds up a large envelope that he forgot to mail, and asks her if it's important. She tells him it is, and to hurry up and get it in the mail before the last pick-up. Travis races toward a gate, envelope in hand. The guard, already alerted by the warden, buzzes him through.
Travis runs along the prison fence, heading towards a sewer opening. He dumps the envelope - filled with pats of butter - and tears off his prison uniform. He crushes fistfuls of butter and smears it all over himself. He then forces his lubricated body through the small sewer grate. Once in the pipe, he reaches for his clothes only to discover that he left them a couple of inches out of reach. Frustrated, but pressed for time, he gives up on his clothes and hurries through the pipe, off of prison grounds, and into the woods.
Lloyd, Shea, and Erica exit the elevator into the bullpen. Lloyd is practically hanging on Shea, asking him to demonstrate a fighting move so he can defend himself better in the field. Julianne, more flustered than usual, briefs the team on Travis. He was arrested six weeks prior for possession of a stolen handgun, and was caught by police when he accidentally shot himself in the butt and went to the ER to clean it up. Ray tells the team that Travis was just an unknown actor before he went to prison, but when Travis broke out and his mug shot hit the wires, facial recognition software flagged him in an intel photo taken three months ago in Rio with the one of the most powerful and violent arms trafficker in the world, Bob Dixon. Julianne tells the team that Travis mostly worked as a waiter, and the first time his passport was used was a few months ago when he took a six-city tour through South America. Ray informs the group that, once they catch Travis, they're not turning him over. They're going to use him to catch Dixon.
Erica and Shea sit down and start combing through the file, but Lloyd gravitates over to a distracted Julianne and asks if she's feeling OK. Julianne snaps at him, saying that she's fine. She informs the team that a skinny, naked man was reported stealing clothes from a laundromat in Jersey City. She also discovers that Travis had an apartment in New York City, so the team decides to check it out.
Ray, Lloyd, Erica, and Shea climb the stairs to Travis' apartment as Lloyd practices his new fighting move - the double-punch. Erica demonstrates the ineffectuality of the move by countering it with a knee to the groin, and the noise attracts the attention of a neighbor. He tells the team that Aaron, the man subletting Travis' place, had a loud party the night before. Ray tells the man to go back into his apartment, and opens Travis' apartment door to find Aaron tied to a chair, dead in the middle of the room. Shea speculates that Dixon probably hired a local underworld crime organization to kill Aaron. Ray tells Julianne to call up the gang unit and see if the crime scene matches the M.O. of any local criminal groups.
Dixon sits in a gloomy office, clutching Travis' headshot. He tells his men to find Travis immediately.
Shea and Ray pull up to the curb in Far Rockaway, Queens. Shea scopes out the neighborhood while Ray tells him that the crime unit suspects that the Malko brothers, a local gang, are involved with Dixon. Shea notices an antique store and decides to do a little digging. He starts messing with a restored pinball machine to get the owner's attention. Once the owner comes out, Shea convinces him that he and Ray are criminals there to collect some "protection" money. The owner reveals that he already pays the Malko brothers for protection. Shea tells the owner to call the Malkos up and have them send someone over so they can have a conversation.
Moments later, a 16-year-old punk kid in a baggy tracksuit and a metric ton of bling struts up to the store. Ray approaches him, asking what he's doing with the Malko brothers. The kid plays dumb, so Ray shoves him against a parked car and frisks him, finding a couple of joints in his pocket. Ray hands the kid his card and says he can use it as a get-out-of-jail-free card of he just tells him where the Malko Brothers are. The kid spins and throws a high roundhouse kick at Ray's head. Ray blocks it easily, but the force knocks him sideways. As he tries to recover, the shop owner comes up behind him with a baseball bat. The kid bolts down an alley while Shea springs out of the SUV and comes at the shop owner, ready to fight. Ray relieves the shop owner of his bat and informs him that he's a U.S. Marshal, and the man backs off. Ray heads back to the car. Shea, behind him, spots the two joints on the ground and quickly pockets them.
At the Massapequa Theater, where Travis was once a member, Lloyd talks to Dick, the acting coach at the theater and Travis' mentor. Erica spots a bag of clothes covered in butter next to a door underneath the stage. She and Lloyd open the door to find Travis.
Back in the gloomy office, the 16-year-old kid is tied to a chair as the Malko brothers question him. Ray's card falls out of the kid's pocket and one of the brothers picks it up, smiling when he realizes what it is.
Ray, Shea, Erica and Lloyd victoriously haul Travis toward the bullpen. The door opens and Pete from the 2nd floor walks out. Erica immediately lets go of Travis to assume a more ladylike demeanor. Pete and Erica exchange silent half-smiles, playing it cool. Once inside, Erica resumes manhandling Travis, tossing him into the interview room where Ray and Lloyd join him. Ray asks him if he knows where Dixon is, but Travis pleads with them, saying that he had no idea about the trafficking scheme. He tells Ray that Dixon found him through his commercial agent and hired him as a "face" to pose as a shipping executive. Travis thought it was just a sweet acting job until he was shot at in Rio. At that point he realized he was in over his head and got himself a gun. Travis swears to them that he knows nothing else and hasn't eaten in weeks.
The team heads to a diner, where they tempt Travis with a burger. He tries to convince them that he really doesn't know anything else, but lets it slip that he wasn't alone on his flight to Rio. He was accompanied by Kizzy, Dixon's "lady friend," who works as a cocktail waitress in Atlantic City.
Back at the bullpen, Shea tapes a wire to Travis' chest as Lloyd and Erica dress for their undercover operation. Erica steps out in a skin-tight, short, black dress and a dark, close-cropped wig. Lloyd looks a little less classy - but a lot more excited - in sunglasses and a button-up short sleeve shirt covered in flames. Ray hands Travis a piece of paper, telling him to follow script. Erica hands Lloyd a suit, threatening to actually set his shirt on fire if he doesn't change clothes immediately.
At the security command center in the casino, Ray and Shea scan a bank of monitors, watching for any sign of Kizzy. Lloyd, "blending in," worms a single chip out of Erica's grasp and heads to the roulette table. He puts it on 17, and wins. Meanwhile in the command center, an officer sees Kizzy on the floor and alerts the team. Travis gets the word and approaches Kizzy, who's not-so-pleasantly surprised to see him. He tells her that he needs help because he thinks Dixon's competitors are out to kill him. He scribbles down his cell phone number on a piece of paper and tells her to have Dixon call him.
Lloyd gathers his substantial winnings and follows Erica toward the exit, but he just can't help but make one more bet at another table. He puts the whole shebang on 20, and watches in horror as the ball lands on 26. As his massive winnings are raked up, Erica drags him and Travis out of the casino.
Their plane taxis up to a hangar and Ray, Erica, Lloyd, Shea and Travis step out and head to the SUV. Travis' cell phone rings and the team freezes. It's Dixon. Travis answers, and Dixon asks him where he is. Travis tells Dixon that he's on his way back to the city. Dixon tells him that he'll come pick him up at Port Authority.
Meanwhile, the Malko brothers sit inside a crappy white van. Malko studies the blood-smeared business card in his hand: "Ray Zancanelli, U.S. Marshal."
From where the Malkos are parked, they can keep an eye on the bullpen. The lights are on and Julianne is moving around inside. Dixon calls them just as Ray, Lloyd, Erica, and Shea pile out of the SUV with Travis in tow. They walk together into the building. The Malkos see this and report it to Dixon, who isn't too happy with the news.
Erica heads to the bathroom, but reconsiders after looking down at her dress. She heads to the 2nd floor and knocks on Pete's door. She tells him that, if he's OK with it, maybe she'll stop by sometimes to say hello - no strings attached. Pete agrees and asks if, perhaps, this might be one of those times. Erica says it sure is, and they immediately move to each other and begin kissing passionately.
Lloyd emerges from Ray's office in his civvies, and spots Julianne typing away, phone to her ear, antsy, and muttering. He walks up to her and tells her that he's been worried. She tells him that she's fine and jokes that at least she knows how to defend herself in a fight. Lloyd begins telling her about his double-punch maneuver, but she tells him that a more effective technique is a simple two-finger jab to the larynx. He disagrees, so Julianne demonstrates the attack. This shuts Lloyd up. She slips past him and heads for the elevator to go out for coffee. He watches her go with newfound respect.
Julianne emerges from the building, shakes off her distress and heads off down the street. As she walks, a white van creeps up next to her and the Malkos drag her inside. The doors slam shut and the van drives off.
Back at the bullpen, the team realizes that Julianne is missing. The Malko brothers make Julianne call the office. She starts to leave a voicemail, but Ray calls back as she's recording it. They switch over, and Julianne screams to Ray that the Malkos have her, but they hang up before she can say anything else. The team springs into action.
Ray handcuffs Travis in his office, leaving Lloyd to watch him while he, Shea, and Erica go after Julianne. In the SUV, Erica tracks Julianne's cell phone. They trace the signal to a loading dock behind a building where they find her cell phone on the ground. In a nearby dumpster they find Julianne, banged up, but alive. Ray immediately realizes that this was just a tactic to get them away from the office.
The Malko brothers enter the bullpen where they are greeted by Lloyd. He attempts a double-punch, but they quickly knock him out and take Travis.
The team reconvenes at the bullpen. Ray heads for the phone, telling them that he has to call it in, but Shea and Erica stop him, saying that if he calls it in, the Marshals will shut the Breakout Kings down for good. Ray considers this and slams the phone down.
As they try to figure out their next move, something clicks, and Shea holds up the two joints they found on the Malko kid. He tells the team that they're "wet daddies," weed soaked in formaldehyde. He figures the Malkos might be using a funeral parlor as their front.
Elsewhere, the Malko brothers tie a struggling Travis to a chair in the center of a nondescript loading dock. Bob Dixon steps out of the shadows and Travis freezes. Pleading for his life, Travis swears that he knows nothing about the operation, but it's too late.
The team's SUV rolls up in front of a funeral parlor. Lloyd walks to the intercom, and tells the person inside that his mother just died. They buzz him in.
Meanwhile, Julianne listens to her frightened voicemail. In the recording, she hears a brief burst of Russian from one of the Malko's radios. She begins to run the audio through her translation system and learns that the Malko brothers and Dixon are at the funeral home that Lloyd has just entered.
Lloyd speaks to the funeral home director, making up a story about a recently deceased relative. Suddenly, he hears noises from a back room. He heads towards the back and runs into the blinged-out kid from earlier. Unfortunately, he also runs into a thug with a gun.
Ray arms Shea and Erica, and they head to the back door of the funeral home. Inside, the thugs cram Lloyd into a casket as Dixon tells his men to put a bullet in his head. Out back, Ray announces the Marshals' presence and tells Dixon to open up. Instead, Dixon starts shooting.
No longer pinned, Lloyd straightens two fingers and jabs a Marko in the throat - Julianne's trick! As the thug stumbles, Lloyd springs out of the coffin and runs all-out for the hearse, diving inside and scrambling to the driver's seat. Dixon fires at the hearse, but Lloyd keys the ignition and rams the monstrous vehicle straight back through the garage door, tearing it down. Ray, Shea and Erica rush in, shotguns raised. One of the brothers takes a shot at them, but Ray drops him with a blast from his shotgun. Dixon and the remaining Malkos see this and drop their weapons, surrendering.
The elevator doors open and Ray, Lloyd, Erica and Shea arrive to the sound of triumphant applause. There are a half-dozen Marshals in the bullpen, waiting to take custody of Dixon. Ray, walking with Travis, tells him that he'll see to it that the judge sends him home.
Julianne hurries into the coffee nook, but Lloyd follows her in. He asks her about someone named Greg Margolis. He admits that, when she was kidnapped and he was working at her computer, he noticed several tabs open in her browser with information about the child killer. Julianne shakes her head. Lloyd realizes she's not ready to discuss it, and backs off.
Lloyd is rinsing the blood off his face when the bathroom door bursts open and Julianne appears. She closes the door behind her and leans against it. Silent and glassy eyed, she tells Lloyd that she's falling to pieces and there's nothing she can do it about it. He tells her that he can help if she lets him. Unsure, Julianne just stands there. Ray, in the next room, yells for Lloyd to hurry it up. Lloyd leaves Julianne alone in the bathroom. She leans up against the wall and shrinks down, trying to contain her emotions.