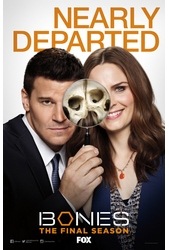 TV Info
---
Episode Premiere
May 09, 2007

Distributor
Fox TV

Genre
Drama, Crime

Show Period
2005 - now

Production Company
Far Field, Josephson Ent., Fox TV


Cast and Crew
---
Director
Caleb Deschanel
Screenwriter
Stephen Nathan
Main Cast
Emily Deschanel as Dr. Temperance 'Bones' Brennan
David Boreanaz as Special Agent Seeley Booth
Michaela Conlin
T.J. Thyne
Tamara Taylor
John Francis Daley
Additional Cast
Ricky Pak
A.J. Buckley
Dan Martin
Brian Hallisay
Hillary Tuck
Michael Palma
Henry T. Yamada
Synopsis
---
Bones and Booth arrive at a crime scene in a wooded area where authorities discovered glowing bones they believe to be radioactive. The pair pop a couple of potassium iodide pills to block the radiation then don some biohazard suits to check out the scene. The local authorities take Brennan and Booth into an old stone house to see a glowing decomposed body festooned with rats and weasels. The Geiger counter shows no elevated radiation levels, so Booth and Brennan take off their masks. Now there is no explanation for the glowing body.
Back at the lab the Jeffersonian team discovers multiple stab wounds on the body that would have come from a very angry aggressive attacker. Agent Booth and Dr. Saroyan arrive and start peppering Hodgins with questions. The conversation shifts to Hodgins' failed marriage proposal, which he tries to play off like nothing though he is obviously bothered.
Agent Booth and Dr. Saroyan are alone in the autopsy room for a moment and their past relationship comes up as Camille tries to pull a fingerprint from the victim. Using a special technique involving fabric softener Dr. Saroyan pulls a print and ID's the glowing victim as Carly Victor, a promising young chef. The team reassembles and Angela locates Carly's Myspace profile. It turns out Angela and Temperance both ate at Carly's uber-popular restaurant.
Dr. Brennan and Agent booth go Carly's restaurant "Carly's Table" to do some investigating. The place is packed but the hostess manages to track down Dan, Carly's husband. Dan acts like Carly is back in the kitchen but Booth and Brennan call his bluff and give him the bad news. Dan says he saw Carly on Friday when she left with her friend Abby to make a cash deposit of the restaurants earnings.
Back at the lab Hodgins and Angela are checking out Carly's myspace and find a long list of fans and jealous chefs. Dr. Saroyan arrives and breaks up the couple's cutesy behavior then Hodgins has an idea, check out all the sushi restaurants.
Booth and Brennan go to interrogate Abby's boyfriend, Ben, a marine who was away at training during the crime. He begs the team to find Abby.
Back at the lab Hodgins reveals the source of the glow on the bones is from a phosphorescent bacteria that is often found in sushi fish. The team goes back to Carly's myspace blog to narrow down the long list of possible sushi restaurants. They locate a myspace friend who goes by Sushi guy, which is Erni, a friend of Carly's who is a Sushi chef. He is totally unaware of Carly's whereabouts so Bones breaks the news. Booth fills up on Sushi and Bones confiscates Erni's knives for further investigation.
Back in the lab Angela's research shows that none of the sushi guys knives were used to stab Carly except one small cut from the knife used to cut the sea urchin. Back at the office Bones gets an important call. Erni's story checks out, plus Dan recently took out a 2 million dollar life insurance policy on Carly.
Booth and Bones make a b-line to the Carly's Table to talk to Ben and Dan. They are alone in the quiet kitchen as they decided to shut the restaurant down since Carly died. Bones spies a missing knife in the kitchen, which Dan claims has been missing for years. Bones asks to take the knife set and Booth starts giving Dan the 3 rd degree grilling him like he's the obvious suspect. Dan flips out and charges at Booth, but he quickly overtakes Dan and slams him on a table. As Dan and Ben start to argue Booth gets a phone call, a helicopter has spotted Abby's car.
The team rushes to the scene to find Abby in the trunk still alive. Back in the lab Hodgins examines the car for more evidence while Angela and Temperance go over the evidence on the body. It appears the knife used to stab Carly was impossibly sharp. Hodgins managed to identify some particulates found in the car as industrial grade ceramic pieces. While explaining this all to Booth amidst his ongoing speculation about Angela Booth gets a call that Abby woke up.
In the Hospital Abby isn't able to remember much but being attacked by a masked assailant in the backseat of the car. Back at the lab the squints have finished analyzing the semen and vaginal secretions found in the car, they came from Ben and Carly respectively. Turns out Ben was alone in the woods doing survival training. He was a highly decorated officer and well trained so could have easily left to go kill and rape Carly. Bones and Booth bring in Ben for questioning. He denies all the allegations until they corner him with the semen evidence. Ben then asks for a lawyer.
Back at the lab Hodgins has solved the mystery of the ceramic pieces. They are chunks of a broken super-sharp ceramic knife Carly received as a promo that only genius Hodgins would able to identify as a knife. The squint team continues to piece together the story with Bones and Booth on the phone. They conclude Abby was the murdered. Abby found out Carly was having an affair with Ben and decided to murder Carly. She concocted the whole scenario including locking herself in the truck to appear as though she was a victim. Bone and Booth make an abrupt u-turn and head back to the hospital to arrest Abby.
Back at the Jeffersonian Hodgins is preparing some type of romantic surprise for Angela. Angela arrives ready to go out for sushi when Hodgins approaches her saying he's been doing lots of thinking and he wants Angela for who she is. Hodgins has arranged a bunch of glowing crab legs to say "be my love". Angela is stunned and replies with a resounding yes that she will get married.