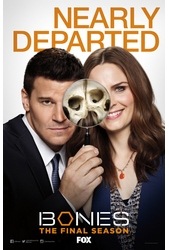 TV Info
---
Episode Premiere
November 29, 2006

Distributor
Fox TV

Genre
Drama, Crime

Show Period
2005 - now

Production Company
Far Field, Josephson Ent., Fox TV


Cast and Crew
---
Director
Tony Wharmby
Screenwriter
Stephen Nathan, Karine Rosenthal
Main Cast
Emily Deschanel as Dr. Temperance 'Bones' Brennan
David Boreanaz as Special Agent Seeley Booth
Michaela Conlin
T.J. Thyne
Tamara Taylor
John Francis Daley
Additional Cast
Jake Richardson
Michael Trevino
Amanda Fuller
Paul Terrell Clayton
Joshua Leonard
Angel Oquendo
Synopsis
---
TEASER:
Brennan and Booth trek through the George Washington National Forest with a forest ranger that has roped off a crime scene. En route, Brennan notices small, spooky, hand-made ornaments hanging in the trees. The ranger tells the legend of Maggie Cinders, a supposed witch of the 1780's that was beheaded and now locals believe that her ghost is hanging the ornaments in the trees and wanders the woods looking for her severed head. Any live person that went looking for the head would be killed by Maggie's ghost. The ranger shows them to a ditch where a headless body lies. Brennan ID's it as a male between 18-25. She also finds a video camera.
At the lab with Zack and Cam, Brennan helps them examine the body. Brennan explains that she doesn't believe in ghost and Cam reveals that her mother came to her the day after she died and told her where to find a necklace. Hodgins enters with time of death being one year prior. Booth joins them with info on a local film student, Graham Hastings, that went missing a year ago while filming a documentary on Maggie Cinders. Angela has cleaned the tape in the camera found with the victim and she plays footage of a frightened guy and girl in the woods shouting for Graham. They split up and the young man holding the camera is spray with blood.
ACT ONE:
In the lab, Brennan find defense markings on the wrist that suggest he was trying to block something from hitting his head. Cam finds no toxins in his blood and Brennan finds and old break in his arm from childhood.
In Booth's office, B&B sit with Graham Hastings' brother, Will. Will explains that Graham broke his arm as a kid and they now know for sure that Graham is the headless victim they found. Will explains that he raised Graham himself, after his parents died. Brennan identifies with him and they share a moment. Will goes on to say that Graham went into the woods with two fellow film students.
B&B are in Booth's cruiser and Booth explains that Graham had a scholarship to school worth $30,000 a year and the other guy with him in the woods, Brian, applied for the same scholarship, but lost to Graham. When Graham died Brian got the scholarship. Brennan takes this in and then out of the blue tells Booth that she is going out to coffee with Will Hastings.
With Brian Andrews, Booth questions him about the night Graham went missing. He explains that when they were in the woods something was following them and the girl with them, Laurie, freaked out and took off into the dark. Booth asks where Lori is now and Brian says that she's in a psych ward.
At the psych ward, Booth sits with a manic Lori Mueller. When he asks her about the night Graham went missing she rambles on about how she's waiting for Graham to returns form the woods and she reveals that they were in a secret relationship.
ACT TWO:
At the lab, Booth catches Brennan up with what he found on Brian Andrews and Lori Mueller. Zack calls them to the platform to tell them that the victim's shoulder was dislocated, postmortem suggesting that he was dragged to were thy found him.
Brennan meets Will Hastings for coffee. They hit it off, but when they start talking about Graham and the girls he juggled in his day, Brennan has an epiphany.
In the lab Hodgins helps Angela analyze the video footage she cleaned. Brennan meets with Booth and tells him about Graham's promiscuity. This gives Lori motive, but Brennan shoots it down until Cam enters telling them that she found residue from hallucinogenic drugs that they young filmmakers might have ingested. This drug could have also trigger Lori's mental condition.
Booth finds Brian to ask him if they were on drugs when they were in the woods. He denies it. He claims there was something else out there in the woods that night.
Hodgins and Angela sit watching the video footage looking for clues. Hodgins gets a good look at the tree types and also sees the time and date off of Lori's watch.
He can use that days moon cycle and light to establish the latitude and longitude.
B&B are in the woods with the forest ranger and he directs them to a skull that most likely belongs to Graham. Then he shows them a second skull. This one might belong to Maggie Cinders.
ACT THREE:
In the lab they examine both skulls. Graham's for work and Maggie's supposed skull for fun. Booth enters to tell Brennan that he took a look a some written ramblings of Graham Hastings about Maggie Cinders and they were written on the back of a screenplay about they same thing as a film that Brian the other film student is working on. Brian stole Graham's story after when he went missing.
B&B sit and question Brian, but he doesn't admit killing Graham. He does admit that he got split up from them and then found Lori cover in someone else's blood. He tells them that he ditched her bloody clothes in the woods so she wouldn't get in trouble. Booth has someone locate the clothes from the woods and bring them to the lab.
At the lab, Cam finds the blood on Lori's clothes to be cows blood. Proving that there was some type of hoax going on out there in the woods. Zack enters with the skull they thought was Maggie's and it turns out that it was stolen from the university where the film students studied.
ACT FOUR:
B&B bring in Nate Gibbons, the film professor of Graham, Brian and Lori. The only way to get the skull from the med school of the university was to have used a faculty ID and Booth has a record that Nate used his to get into the med building at 2:00AM, three days prior to Graham disappearance. Nate claims that his ID was stolen and that he reported it, but B&B aren't buying it.
Back at the lab, Hodgins tells B&B that he's found evidence that the killer wore heavy-duty, rubberized work gloves. Angela has also found something in the video footage, another person that matches Nate's height and weight lurking in the shadows. Brennan heads off to question Graham's brother Will, to see if Graham had ever mentioned that his brother had problems with his professor.
Brennan meets with Will and Will doesn't have any info for her, but he does have charm to spare and reels Brennan in for a kiss.
At the lab, the squints continue to put the pieces together. Hodgins finds some flame-retarded chemicals on Graham's skull that are found in chemicals used by firefighters. Booth just remembered that Will Hastings was a firefighter and he fits the size of the person in the video footage.
Booth arrives at the restaurant where Brennan sits with Will and reads him his rights. Brennan is confused, but then Will explains that he was out in the woods to help Graham scare Brian and Lori to make the movie more realistic. When he found out that Graham put Lori on drugs he backed out and so Graham tossed the blood on Lori. When Will saw that the little brother he raised had turned into this monster he had to stop him. He says he hit him to the ground, but it was Maggie Cinders that told him to chop Grahams head off.
Back at the lab Angela and Hodgins wrap things up as the last of the video footage is rendered. They watch the final moments and see something in the background that looks like it could be Maggie Cinders ghost. Spooked, they decide to ignore it.
Brennan sits in her office, thrown that she was just on a date with a murderer. Booth comes in and consoles her and they have a lasting embrace that shows what their friendship is all about.