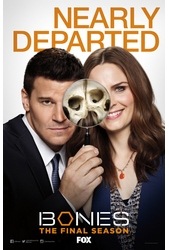 TV Info
---
Episode Premiere
November 01, 2006

Distributor
Fox TV

Genre
Drama, Crime

Show Period
2005 - now

Production Company
Far Field, Josephson Ent., Fox TV


Cast and Crew
---
Director
Thomas J. Wright
Screenwriter
Karine Rosenthal
Main Cast
Emily Deschanel as Dr. Temperance 'Bones' Brennan
David Boreanaz as Special Agent Seeley Booth
Michaela Conlin
T.J. Thyne
Tamara Taylor
John Francis Daley
Additional Cast
Kali Rocha
Brent Jennings
Amanda Carlin
Mary Gordon Murray
Madison Davenport
Grace Fulton
Synopsis
---
TEASER:
At the D.C. Municipal Water Treatment Plant, Brennan and Booth arrive to find the remains of a 10 year-old girl in the filtration system.
With the remains laid out at the lab, the squints assess the skeleton. Brennan notes bands of discoloration on the ribs and notices that the teeth aren't discolored at all, which is odd. Booth has the FBI looking for registered pedophiles in the area and Cam is testing hair samples for DNA to ID the girl, but it's difficult because the victim's hair has been bleached. Hodgins finds heavy traces of make-up and Brennan discovers that the victim's teeth were mostly veneers. They suspect a murderer that alters the appearance of their victims and then kills them, but when Angela runs her new stats through the computer it matches the composite to the infamous little beauty queen, Brianna Swanson, who went missing six months prior from a beauty pageant.
ACT ONE:
In Booth's office, he and Brennan consol Mrs. Swanson over her loss and question her about the day she went missing. She says she wasn't near Brianna when she disappeared. She also adds that she suspected her ex-husband, David Swanson, of the kidnapping because he once said that he'd rather Brianna end up in a ditch somewhere than to end up like her mother.
In the lab, Cam and Zack find that Brianna's neck was broken when she suffered a hard blow to the chin. Hodgins joins them to share that he found shards of steal in her jacket as well as chemicals found in roofing tar. Brianna's father was a roofer.
Brennan and Booth question David Swanson. He swears he had nothing to do with her death, but he does admit that he wanted to get her away from her mother. He begs them to give him Brianna's remains after the investigation and not to Mrs. Swanson to turn her funeral into a big show.
With Hodgins and Angela, they examine a candy wrapper that he found in Brianna's coat pocket. They also examine the sexual tension that's been rising between them and Hodgins asks Angela out. Angela brushes him off for fear that it won't work between them.
Across the lab, Brennan shows Cam, Booth, and Zack that she's discovered that Brianna Swanson was wearing a corset in the days before her death. Zack adds that she was most likely on a calorie-controlled diet and taking a drug that limited perspiration without a prescription. Angela interrupts them.
They go to her office where she plays them surveillance footage from the hotel that hosted the pageant from which Brianna disappeared. It shows Mrs. Swanson shaking and yelling at Brianna.
ACT TWO:
With Mrs. Swanson at the FBI, B&B question her with still images from the abusive footage. She admits that they fought, but that's all.
At the lab, Zack and Cam find that the victim was beaten after she was killed. Zack sees that they were kicks, but the dispersal pattern is abnormal and probably done with a steel-toed shoe, which connects with Hodgins findings of steel shards.
In Brennan's office, Angela asks Brennan for advice on what to do with regards to Hodgins. Then Cam arrives and chimes in saying that Angela should go for it because everything in the office is more exciting and once they get it a go outside the workplace, they'll see how it was not meant to be and go back to normal.
Brennan and Booth head to a pageant dance class to question some of the other competitor's mothers. Booth starts with Kristen Mitchell who says that Brianna was a fierce competitor who would never run away. Booth then talks with the teacher of the class while Brennan talks with the girls.
Hodgins enters Cam's office to tell her that he's confirmed that Brianna was killed within a one-mile radius of the hotel hosting the pageant because of two lava he found on Brianna's remains. Hodgins thinks that she might have been stuffed into a storm culvert and then wash to the water plant in the heavy rains the week prior. Cam exits to get the FBI on it. Angela enters to tell Hodgins that she'd love to go on a date.
With the Dance Teacher, Booth is informed of Jeremy Ferrell, a creepy older sibling of one of the local pageant girls. Booth takes her concern seriously. Out with the girls, Brennan discovers that the other girls didn't want to like Brianna, but they had to because she was the leader. They also say that Brianna was a thief. Just then Jeremy Ferrell enters with steal-toed boots.
ACT THREE:
At the FBI, Booth questions Jeremy Ferrell and his mother, Mrs. Ferrell. They explain that the only reason Jeremy goes to the pageants is because his mother makes him. He also admits that he did have an argument with Brianna once because she was picking on his little sister. Booth takes his shoes for the squints to examine.
Hodgins concludes that they're not the right shoes. The ones he's looking for have a stainless steel tip, not chrome. Hodgins exits, late for a date.
At a park, Hodgins escorts Angela to the swings, which she had mentioned loving earlier.
Meanwhile Cam and Brennan are at the lab examining the wrapper Hodgins had found. They aren't sure what it is until Booth enters and tells them that it's a Milk Blast Bar, only found at Red Shed convenience stores. Booth has his FBI team search for Red Shed convenience stores near the pageant hotel.
At the park Angela and Hodgins lock lips.
Booth and Brennan arrive at the Red Shed down the block from the hotel and find a storm culvert. They inspect it to find a pageant medal.
In the lab Brennan, Zack, and Cam inspect the section of the culvert they removed from the scene of the crime. Hodgins had returned and proves the pageant medal is from 1976 and the winner was Kristen. Brennan spoke with a mother, Kristen Mitchell, at the dance class who said she'd done pageants her whole life. They have a new suspect.
Booth questions Kristen Mitchell and Kristen explains that Brianna probably stole her medal from her and won't say anymore until her lawyer arrives.
At the lab, Zack shows Brennan that the injury pattern on Brianna show's that the kicker might have a curved spine.
Booth gets a call regarding this new find while still with Mrs. Mitchell and Brennan tells him to see if her hips are aligned. He says he can't do that, but when Brennan ask for footage of her walking Booth sends surveillance footage of her pacing earlier. Her hips are aligned; she's not the killer.
At the lab they've concluded that Brianna fell and head her chin on a parking place bumper, breaking her neck, and then was dragged to the storm culvert. And the steel from the shoes was from tap-dancing shoes. Their suspect is a pageant girl.
ACT FOUR:
Brennan and Booth arrive at the latest pageant to search for their killer. Booth heads off to see who's got tap shoes, while Brennan begins feeling the spines of the contestants, which gets her in trouble. The cop on the watch pulls them aside and tells them that the only thing they can do in this inspection is watch the girls on the stage. Brennan will have to determine the killer from a distance.
As the show goes on Brennan scrutinizes each girl and at the end of one girl's tap routine, Brennan has made her decision. It's the younger sister of Jeremy Ferrell, Haley.
B&B question Haley and she admits to the murder.
At the lab, Angela and Hodgins discuss their feelings. Angela is scared of how well the date went. She wanted it to go bad. Hodgins sees where she's coming from and they decide to give each other space for a while.
Across the lab, Brennan and Booth talk about the pageant and the understanding of the culture that surrounds it. Booth heads out to secretly meet with Cam, but then decides to stay, order food with Brennan, and wrap up the paperwork on the case.