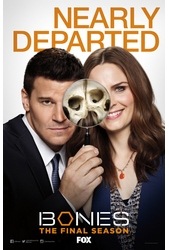 TV Info
---
Episode Premiere
May 10, 2006

Distributor
Fox TV

Genre
Drama, Crime

Show Period
2005 - now

Production Company
Far Field, Josephson Ent., Fox TV


Cast and Crew
---
Director
Jonathan Pontell
Screenwriter
Stephen Nathan
Main Cast
Emily Deschanel as Dr. Temperance 'Bones' Brennan
David Boreanaz as Special Agent Seeley Booth
Michaela Conlin
T.J. Thyne
Tamara Taylor
John Francis Daley
Additional Cast
Rick Fitts
Kirk B.R. Woller
Stacy Hogue
Matt Battaglia
Mitch Longley
Erica Tazel
Aldis Hodge
Synopsis
---
Brennan and Booth arrive at a cemetery where a charred body was found on the grave of deceased soldier Charlie Kent on the one-year anniversary of his death. Charlie, a former NBA hopeful, was killed while serving in Iraq. Agent Booth is troubled by strong memories of his time in the service.
Back in the Jeffersonian lab, the team examines the charred remains of the corpse found on Kent's grave in an effort to identify the body. Dr. Hodgins and Dr. Goodman begin arguing about the politics of the war in Iraq. Angela quickly identifies the charred remains as Devon Marshall, a former National Guard member who served in Iraq with Charlie Kent. Dr Brennan believes that Marshall did not commit suicide, but was murdered and burned on Kent's grave to make it look like a suicide protest.
Bones and Booth go to visit Devon's Mother and sister to see if they can uncover some information. Devon's mother says he was a firm supporter of the war. Devon's sister said when he returned from Iraq he only saw a few people including herself and a combat buddy, Jimmy Merton.
They arrive at the V.A. hospital to talk to Devon's friend Jimmy. Jimmy checked back into the hospital after Devon's death. Bones suspects Jimmy as a potential suspect much to Bootha's chagrin. As a precaution, Dr. Brennan took one of Jimmy's cigarette butts to pull DNA.
Back at the Jeffersonian lab, Zach, Angela and Jack examine Marshall's bones. Jack and Angela get into a heated argument about the legitimacy of the Iraq war, which ends in Angela leaving the room offended by one of Jacka's conspiracy arguments.
Bones and Booth visit the National Guard base to see if they can glean some information about Marshall and Kenta's experience in Iraq and talk to other soldiers who served alongside them. National Guard Capt. Fuller explains an incident in Mosul that Kent, Marshall and Jimmy experienced. The platoon was on a routine patrol when they encountered a household containing insurgents. The group moved in to investigate when Kent charged in attacking when he saw an insurgent wielding a weapon. The conflict ended with 3 dead Iraqi insurgents and the death of Charlie Kent, shot by insurgent AK-47 fire. Booth explains Marshall was murdered.
Back at the lab there is conjecture regarding the information in the combat medical records as to the number and nature of bullet wounds on Kent's body. Bones decides there is no choice but to exhume Charlie Kent's body for examination, which Booth does not approve of.
Booth continues to have difficulty dealing with the situation, as he is constantly reminded of his tour of duty. The Jeffersonian team continues the investigation on the body of Charlie Kent while Booth goes to talk to Jimmy again about the details of the combat resulting in Kent's death. Booth then interrogates Campbell, another member of Kenta's platoon who was there during the fire-fight. She gives the exactly same account of the incident, nearly word for word. Booth suspects the they've been coached on their responses. Booth interrogates the remaining member of the Platoon, Peter Lefferts, the national guard soldier who was the first to find Kent. Again, the same account of the incident.
Back at the lab, Bones discovers M-14 rounds were the source of Kent's death, not the AK-47 rounds. M-14 is an American weapon carried by national guard soldiers: friendly fire. Bones and Booth race to go question Lefferts again, who they now believe to be the person responsible for Kent's death in Iraq. They arrive to find Lefferts dead, suicide by hanging. He couldn't live knowing he killed Kent, and his assistant says Leffert was out of town when Marshall was killed, so the murderer is still out there.
After some careful detective work of piecing together the details of the fire-fight, the team learns that someone tried to cover up the friendly fire incident. They go to confront Fuller about covering up the friendly fire incident. They learn Devon's killer had access to medical instruments and potent narcotics to knock out Devon. It all points to private Jody Campbell who readily admits to the crime when Booth and Brennan show up. She claims Devon was going to report the incident and this was all she could do to keep the incident under wraps.