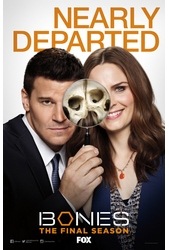 TV Info
---
Episode Premiere
April 26, 2006

Distributor
Fox TV

Genre
Drama, Crime

Show Period
2005 - now

Production Company
Far Field, Josephson Ent., Fox TV


Cast and Crew
---
Director
Sanford Bookstaver
Screenwriter
Laura Wolner, Greg Ball
Main Cast
Emily Deschanel as Dr. Temperance 'Bones' Brennan
David Boreanaz as Special Agent Seeley Booth
Michaela Conlin
T.J. Thyne
Tamara Taylor
John Francis Daley
Additional Cast
Alexandra Krosney
Kathleen Mary Carthy
Kendra Johnson
Matt Winston
Katie Mitchell
Sumalee Montano
Synopsis
---
TEASER:BRENNAN, BOOTH, and ANGELA arrive at Washington General Hospital to present lab results to DEPUTY DIRECTOR CULLEN. They are meeting Cullen at the hospital because his daughter has been diagnosed with mesothelioma, or lung cancer. When told this, Brennan notes how extremely rare cancer is for someone of Cullen's daughter's age. Booth doesn't want her digging her nose into Cullen's business.
They arrive at AMY CULLEN'S room to brief Dep. Cullen. A bedridden Amy works on some drawings as her mother, JULIA, watches. Angela, an artist, takes an interest in Amy's artwork. They have an instant connection. Brennan, being the curious scientist she is, disobeys Booth's wishes and begins to question Julia about Amy's health progression. Brennan knows that asbestos is the most likely cause of mesothelioma, but Julia and Dep. Cullen say they've checked everywhere Amy has been and there have been no signs of asbestos. Through further questioning Brennan discovers that Amy broke her leg a year prior and received a bone graft. Brennan asks for the X-rays of Amy's leg.
At the Medico-Legal Lab HODGINS holds up Amy's X-ray and to his surprise, he spots pores in the bone where the graft was laid. ZACK reminds them that records say the bone graft came from a twenty-five year old. Brennan doubts it. Her forensics knowledge tells her it came from someone at least sixty.
Back at Washington General Booth and Brennan investigate where this sixty year old bone graft came from. They start with DR. RALSTON, the doctor that performed Amy's bone graft. He tells them to check with the hospital's transplant coordinator, but first they want him to perform a biopsy on Amy's leg to find out the exact age and pathology of the graft.
While the biopsy is under way, Booth and Brennan question the hospital's transplant coordinator, DR. OGDEN. He pulls out his records which state that Amy's bone graft was harvested from that of a twenty-five year old. The graft came from BioTech Tissue Services. They take BioTech's info and keep Dr. Ogden under suspicion.
Back at the lab Angela is scanning Amy's artwork into her high-tech illustration program. Hodgins comes in to ask about Amy's work, but it seems he is there for other reasons as well. On the other side of the lab Zack and Brennan are at work on the biopsy sample from Amy's bone graft. All data shows that the graft came from someone in their sixties. Further examination shows that the graft is riddled with cancer, most likely what spread to Amy's lungs.
ACT ONE:
In Booth's office Brennan briefs Cullen on the findings of Amy's graft. Although Cullen is pleased to know more about what has happened, the news is crushing. He decides that he does not want them to continue to investigate and commands them to pass the case to the local authorities.
In Booth's car he and Brennan discuss that they can't quit on this case just yet. They need to find out how to make it a federal crime so that it enters their jurisdiction.
Angela is at Washington General visiting with Amy. She's put her artwork through a digital projector and it covers the entire wall as Amy dances in its light and explains to Angela how miserable she is in dealing with her illness. Angela ensures Amy that things will turn out OK.
Booth and Brennan arrive outside the offices of BioTech. They enter to find an empty office. The building manager explains that BioTech went belly-up two years ago and doesn't know what happened to the company. Brennan mentions that Amy's bone graft was sold only twelve months ago. It becomes clear that someone else must be posing as BioTech.
Booth and Brennan run back to Dr. Ogden's office to question him further. They find only his assistant ALEXANDRA who stands by the claim that BioTech is reputable until Booth tells her that it don't exist anymore. Alexandra reveals that she did a little investigating herself when they last left and she found that the hospital had done another bone graft on Kelly DeMarco the same day as Amy's, also with samples from BioTech. Booth calls the FBI offices to run a check on Kelly DeMarco only to find out that she is dead. Brennan needs to know if Amy and Kelly had the same cancer.
ACT TWO:
At the lab Brennan and Zack compare Amy's bones to those of Kelly DeMarco as Booth watches. They discover that they are from the same donor and consider that hundreds of people could have received bogus grafts from this donor. Booth then receives info from his office that Dr. Ogden has a sketchy background.
In the FBI interrogation room Booth grills Dr. Ogden with Brennan. He admits to taking a bribe from a patient for an organ donation at the last hospital he worked at, but only did it to keep the hospital afloat. They press him about BioTech and he explains that all interaction with BioTech is strictly via email and online transactions.
Outside Washington General Angela visits with Amy and they share their artwork. They discuss life, art, and boys. Amy's spirits are low and Angela will do anything to raise them.
At the Medico-Legal Lab they've discovered that many more people are sick or have died after receiving a graft from BioTech Tissues Lab. These people are from multiple states which to Booth's amusement makes this officially a federal case.
Booth is in his FBI office with Cullen telling him what he and Brennan have uncovered while using sick days to investigate. Cullen is touched. He gives Booth permission to continue the investigation.
At Washington General each of the living patients who received a graft from BioTech is given a biopsy to find out if cancer is present. Amy waits outside the biopsy room wondering why these people have a chance to live while she doesn't. Brennan explains that the only reason these other people will live is because of Amy. Amy doesn't care. She is devastated.
At the lab Zack shows Brennan a puzzle that he put together using X-rays of the bones from each patient that received grafts from the same donor at BioTech. Looking at it they can tell that he was a male that did consistent heavy lifting, like that of a construction worker. They pass the baton to Angela who scans all of the X-rays into her computer program. She constructs a rough composite of what the donor looked like. With this information Hodgins will examine his remains to find particulars that would link him to any particular geographic location.
ACT THREE:
Hodgins' tests reveal that the levels of strontium isotopes suggest that he lived most his life on the East coast and that he also had very low levels of fluoride in his bones. Brennan notes that the only place without fluoridated water is in the Appalachian Mountains. Hodgins also finds high levels of C8, a key ingredient of Teflon. Zack knows that there is a Teflon plant in Parkersburg, West Virginia. Knowing the age, physical description, location and probable cause of death, Booth and Brennan are ready to track down the anonymous donor.
While driving Booth explains that they've come up with three people that fit the description of their anonymous donor. Zack calls Brennan and Hodgins calls Booth at the same time and they confirm that two of the three are not the donor. Booth and Brennan are now looking for someone who knew William Hastings.
At William Hastings' ex-wife's home, Booth and Brennan question MADDIE HASTINGS. She confirms that he was a construction worker and that he died of lung cancer from asbestos. Booth knows that Maddie was left with nothing after Mr. Hastings died and asks her if she sold his body parts for money. She claims to have had him cremated at Martin Funeral Home. She spread the ashes in her garden.
Booth and Brennan update Cullen at Washington General. Angela is in Amy's room. Amy tells Angela that the final treatments she received didn't affect the cancer. She is scared.
At Martin Funeral Home Booth and Brennan confront NICK MARTIN, the funeral director. He claims to have never worked with the Hastings family. Booth and Brennan doubt it. They decide to head back to Maddie Hastings' home and take a soil sample of her garden in hopes of detecting William Hastings' ashes.
As they return to the lab, Booth and Brennan get soil test results from Hodgins. The soil does show that ashes of a human were spread over it, but Brennan isn't fully convinced. She and Booth consider the possibility that Maddie Hastings could have been given someone else's ashes while her husband's body was sold for its parts. Booth thinks Nick the mortician is in on it.
Booth and Brennan arrive at the Martin Funeral Home to find Nick Martin prepping a body for a funeral. He denies any knowledge of William Hastings' body ever entering his parlor. Booth gives Nick their search warrant and he and Brennan have a look around. They enter the casket showroom and find an old water line. Brennan also notices that the floor slopes towards the center of the room. She looks under the carpet to find a drain, which would only be found in a bodywork room. Nick enters to shoo them out, but Brennan is not finished. She climbs up to an air vent in the room and takes a dust sample from it. She hopes to find bone dust from when they sawed the bone fragments off the bodies.
ACT FOUR:
In the lab Zack runs the dust found at Martin Funeral home through his lab equipment. He is certain that there is bone dust in the vent sample. Zack then compares it with the biopsy sample taken from Amy's bone graft and it is a sure match. In addition, Zack has detected bone dust from at least seven other people. Nick Martin is guilty, but Brennan notes that harvesting bone graft requires medical training and Nick Martin is just a mortician. He must be in cahoots with someone else.
They bring Nick into the FBI interrogation room and Booth grills him, asking Nick about calls he received from disposable cell phones. Brennan and Cullen watch through the two-way glass. Nick reveals nothing. Cullen has had enough and charges into the room, grabbing Nick by his lapels, shoving him into the wall, and demanding to know who he's been working with. Booth detains the irate Cullen and turns to find that Brennan has left.
At Washington General Dr. Ogden's assistant Alexandra is startled when Brennan enters her office unannounced. Brennan notices a box of cell phones and asks how they are used by the hospital. Alexandra explains that they are for the recipients of the organ donations, so that they can be informed as soon as organs arrive. Brennan finds out that Alexandra had medical training before she took her assistant job. Brennan presses further asking if Alexandra is feeling healthy and how often does Dr. Ogden give her prescriptions. Alexandra says never, but Brennan was just told by the pharmacy downstairs that Alexandra came to them to get a prescription filled for a bad cough. Alexandra wrote the prescription herself. The reason Alexandra has the cough is because she must have inhaled the bone dust into her lungs and now that cancerous bone dust has spread into her lungs as well. She is guilty and the lung cancer is the evidence to prove it.
Back at the lab, Brennan fills Angela and Hodgins in on how the case panned out. Angela is still concerned about Amy's wellbeing. Brennan can't provide her with any positive news on Amy's situation. Angela storms off and Hodgins follows.
Hodgins catches up to a distraught Angela and consoles her. She pours out her heart about how Amy just wants to have a boyfriend and visit the Louvre. Angela knows Amy won't get that, but Hodgins gives her an idea.At Washington General, in Amy's room, Booth, Brennan, and the Cullens sit as Angela gives Amy a set of high tech virtual reality goggles. As Amy puts them on she is sent right into the center of the Louvre and is awestruck. It is her dream come true and this gives Angela and everyone else in the room closure to her untimely terminal sickness.