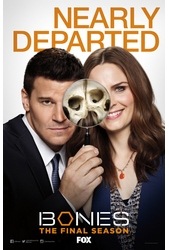 TV Info
---
Episode Premiere
November 22, 2005

Distributor
Fox TV

Genre
Drama, Crime

Show Period
2005 - now

Production Company
Far Field, Josephson Ent., Fox TV


Cast and Crew
---
Director
David Jones
Screenwriter
Noah Hawley
Main Cast
Emily Deschanel as Dr. Temperance 'Bones' Brennan
David Boreanaz as Special Agent Seeley Booth
Michaela Conlin
T.J. Thyne
Tamara Taylor
John Francis Daley
Additional Cast
Dan Gilvezan
Sarayu Rao
Ivan Davila
Price Carson
Michael Mantell
Michael Rothhaar
Synopsis
---
When condemned man Howard Epps is scheduled to be executed by lethal injection (in thirty-two hours) for the murder of seventeen-year-old April Wright, Epps' attorney, Amy Morton, makes a last minute appeal to Booth (the man who arrested Epps) to re-examine the case. Booth believes Epps is guilty, but asks Brennan and her team of squints to do him a favor and give up their weekend plans to review the evidence in order to confirm Epps' guilt.
Brennan and her team consider the evidence in the case which include compound fractures of the trapezium, scaphoid and the base of the radius consistent with defensive wounds and that April's skull was smashed six to eight times with a narrow cylindrical object that matches a tire iron missing from her car. They also consider a pubic hair which was never accounted for at trial, a scrap of paper with a telephone number written in April's handwriting, evidence that April had consensual sex shortly before her death and particles lodged between April's right triquetral and the capitate that Brennan believes (through texture analysis) are not bone fragments at all.
Just as Zack discovers that the telephone number found in April's car is not a phone number but a numerical code for the location they believe April met her killer, Brennan finds a small shard of bone among April's clothing. Hodgins magnifies it and reveals it is not bone, but aggregate gravel. This discovery is odd because there was no gravel where April Wright's body was found, only grass leading to the conclusion that April must have been killed somewhere else before her body was dumped.
While Brennan and Amy manage to convince a Judge to issue a warrant to exhume April's body, Booth meets with April's parents and their attorney, David Ross. Upon hearing the news that there's new evidence in the case that might spare Epps' life, April's father has to usher his emotionally distraught wife from the room. Left alone with David Ross, Booth discovers that David Ross and April may have been having an affair and, despite his adamant denial, he may in fact be their killer.
With warrant in hand, Brennan exhumes April's body but her examination does not turn up any definitive evidence to stay Epps' execution. Epps is counting down the last hours of his life when Hodgins suddenly identifies pollen (from Smooth Cord Grass) combined with traces of anthracene and fluoranthene on slivers of the tire iron used to kill April. This allows Brennan and Booth to conclude that whomever killed April, did it in a marshy area near a particular chemical plant.
Armed with this information, Brennan and her team locate four areas close to the plant that contains this type of pollen. Using GPR (Ground Penetrating Radar Units), they comb the ground looking for the murder weapon and not only stumble upon the tire iron but also the bodies of two other young, female victims. Suddenly, the picture becomes clear -- the only person who could be responsible for these murders is not Ross but Epps. The presence of new evidence in the case is going to result in the stay of his execution. Epps used Brennan, Booth and Amy to save himself... a guilty man.