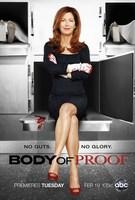 TV Info
---
Episode Premiere
May 17, 2011

Distributor
ABC

Genre
Drama

Show Period
2011 - 2013

Production Company
ABC Studios


Cast and Crew
---
Director
Nelson McCormick
Screenwriter
Andrew Dettman
Main Cast
Additional Cast
Jill Eikenberry
Jeffrey Nordling
Mary Mouser
Jo Armeniox
Eric Sheffer Stevens
Synopsis
---
A young philanthropic socialite named Nikki Parkson passed away after having a terminal illness. A paparazzi photo showing blood coming from the young girl's ear leads Megan to believe someone is lying about how she died. She crashes the funeral to tell the girl's mother, Lillian Parkson (guest star Jill Eikenberry), that she can't bury her daughter today.
The victim's brother, Billy, says his sister killed herself. The family tried to keep it a secret to protect her memory. Nikki's sister, Sara, returned home after being away for five years. Her mom threw her out after she was caught with drugs. Sara leads Peter to the curtain rope Nikki used to hang herself in her room. But Megan realizes the hanging was done only to make things look like a suicide. Someone actually choked the life out of Nikki first.
The team discovers that Nikki was being given placebo pills for her illness. Megan believes her mother made the girl suffer to keep herself in the social limelight. Shane Rinaldi is a young man who was sleeping with Nikki. Sara says Shane was there the night her sister died, but she kicked him out while she was still alive. She also says her brother was yelling at Nikki. But it's Sara's DNA that's found under Nikki's nails. It was mixed with an organism that was transferred from someone who was in Costa Rica. Guess what? Shane was just there.
Shane and Sara were in cahoots. The plan was to have Shane cozy up to Nikki so she'd will all her money to the fake rainforest foundation Sara had set up. But then Nikki changed her mind. She wanted to switch charities. Sara killed her before that could happen. Shane helped stage the hanging. They would have gotten away with it too if not for that meddling medical examiner.
Finally, Nikki's funeral can take place. But it's interrupted again when Sam arrives to arrest Lillian Parkson. She's being charged with interfering with her daughter's medical care. Billy found all the pills his mother had stashed so she could give Nikki the placebos. He thanks Megan and assures her that his sister's money will be used to battle the illness that made her so sick.
In other news, Lacey thinks her folks are getting back together. Her dad has been going out a lot lately and there are a ton of calls to Megan's office logged on his cell phone. Little does Lacey know that the reason Todd has been calling the office is because he's sleeping with Kate. Megan takes this news in stride.
Megan can take solace in the fact that Lacey is the one person who can see how hard this situation is on her. They share a nice little mother-daughter moment at dinner which is made even better when they order an extra dessert.