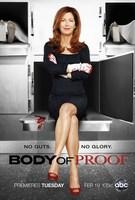 TV Info
---
Episode Premiere
May 10, 2011

Distributor
ABC

Genre
Drama

Show Period
2011 - 2013

Production Company
ABC Studios


Cast and Crew
---
Director
David Platt
Screenwriter
Christopher Murphy, Sunil Nayar
Main Cast
Additional Cast
Synopsis
---
The body of a homicide detective is found in the middle of the road. Joe Salerno was a veteran cop who came out of the academy with Sam. It looks like a clear-cut case of hit and run. But when Megan Hunt is on the job, there's no such thing as a clear-cut case of anything. Philly's best M.E. says the victim was, indeed, hit by a car. But he was already dead when it happened.
Sam is taking the death of her old friend hard. Salerno was under review for assaulting Chuck Foster, a suspected drug dealer. His wife, Helen, says her husband has been irritable and sullen for the past six months. Megan learns he also stopped engaging in fun activities like origami with his young daughter. Bud discovers Salerno was doing freelance work on an old case involving Lizzie Adler, a student-athlete who was found dead in a park a year ago. Chuck Foster was his prime suspect.
Lizzie Adler's lacrosse coach, Hal Davis, says Salerno had been questioning his team lately. Heather Clayton says her deceased teammate was dating someone when she died. It was a professor who isn't the killer. Megan wants to exhume Lizzie's body. She convinces the Honorable Joan Hunt (guest star Joanna Cassidy) to sign off on the request. Must be nice having a mom who's a prominent judge. Both mother and daughter realize the body they're digging up is at the same cemetery where Megan's dad is buried.
Kate rips into Megan for breaking procedure with the exhumation. Apparently, Ethan wasn't able to contact the family first. As far as the case, clay found on Lizzie's body matches clay found in Detective Salerno's pocket. Sam realizes her old friend found the crime scene. It was the tennis courts at Lizzie's school.
Megan and Kate put their differences aside to work the case. They discover a hand impression that suggests Lizzie was pushed down and suffocated from behind. Her killer was wearing a finger splint. Team photos show Heather Clayton had a busted digit at the time of Lizzie's murder. She killed her teammate during a late night fight on the school tennis court. But the body was found at a park. Someone moved Lizzie and helped Heather cover it up.
Megan discovers a homemade capsule in Salerno's body. Ethan says the detective poisoned with warfarin over the course several days. Whoever gave him the pill was also exposed to the effects of the rat poison. Megan punches Coach Davis in the arm to show that capillaries are rupturing from his actions. She convinces the coach that he's dying. It's a bluff, but it's enough to illicit a confession. Case closed.
Megan pays a return visit to her mom's chambers. She has another exhumation request. This one is for her father. Megan believes her dad's suicide case still has questions that need to be answered. Judge Joan Hunt disagrees. The request for exhumation is denied.
For the moment, Megan can't do anything regarding her own father's death. She can, however, provide some solace for another family. Megan tells Helen Salerno that her husband suffered from an undiagnosed brain disorder. That's what caused his emotional distance and the loss of manual dexterity needed to make origami. Sam adds that Joe's dedication helped solve Lizzie Adler's murder. The guy's a true hero.
Megan has a surprise for Detective Salerno's daughter. Paper she found in Joe's pocket was the start of another origami project. Megan finishes the job for him. She presents the completed origami design to the little girl as proof that her dad was always thinking of her. Nice.