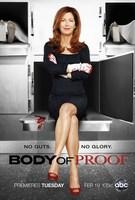 TV Info
---
Episode Premiere
March 29, 2011

Distributor
ABC

Genre
Drama

Show Period
2011 - 2013

Production Company
ABC Studios


Cast and Crew
---
Director
Nelson McCormick
Screenwriter
Christopher Murphey
Main Cast
Additional Cast
Jeffrey Nordling
Mary Mouser
Sam Robards
Alice Barrett Mitchell
Bruce Altman
Jeremiah Kissel
Synopsis
---
Megan Hunt (Dana Delany) was a world-class neurosurgeon. A violent car accident four years ago put an end to that chapter of her life. Now Megan has brand new career as Philadelphia's best, and most brazen, medical examiner. Her latest case involves the death of Angela Swanson, a jogger found dead in the Delaware River.
Megan's medical investigator partner/ex-cop, Peter Dunlop (Nicholas Bishop), says the victim suffered from trauma to the back of the head. There were also traces of foam in her mouth. Detectives Bud Morris (John Carroll Lynch) and Samantha Baker (Sonja Sohn) catch the case. Megan rubs Morris the wrong way immediately, but Sam Baker seems a tad more patient with this brilliant, outspoken M.E.
Megan is the go-to person at the Philadelphia County Medical Center. Guess that's why young Dr. Ethan Gross (Geoffrey Arend) goes to her for advice on a heat stroke death. The expensive test Megan recommends ticks off Deputy Chief Medical Examiner Curtis Brumfield (Windell D. Middlebrooks). Her rebel ways also initiate a chat with the Chief Medical Examiner, Kate Murphy (Jeri Ryan). Fortunately, the expensive test proves valuable. Megan is off the hook...this time.
River victim Angela Swanson was wearing a diaphragm during her morning run, which suggests she may have had sex on her mind. She also had prior brain trauma stemming from an incident two years ago. Angela's ex-boyfriend, Tom Hanson, served time for tossing her down some stairs. The recently-paroled Hanson claims Angela tripped. Megan suggests post-coma memory loss may be why the victim didn't back up his story. She tells Morris that Hanson isn't their guy. As you can imagine, this doesn't make the surly police detective happy.
The victim's folks said Angela changed her driven ways after her fall down the stairs. They also mention that their daughter had strep throat. She was on antibiotics. The scars on Angela's arms came when Angela tried to save her dog after a pit bull attack. Test results from the diaphragm show the victim had sex with someone who had a vasectomy. Perhaps a married man?
Bradford Paige is the head of the partnership committee at the law firm where Angela worked. He's also the guy she was sleeping with in order to make partner. Well, that's what Megan believes. When she confronts the married lawyer with this theory, a livid Morris boots her from the room. Even if Bradford was having sex with Angela, it wasn't for career advancement. Angela had already made partner, as she'd just won a big lawsuit case a few weeks ago. There goes Megan's theory.
The case Angela won was all about a dog attack. The pooch of a prominent family mauled a young boy. Though Angela successfully defended her client, she gave the victim's family info that was withheld by her firm so they could appeal. Angela wanted to settle out of court. She was overruled by her boss, Bradford Paige.
Detective Morris still thinks Tom Hanson is the man because he was in the jogging park the day Angela was murdered. Megan doesn't buy it. A tox screen test reveals that the antibiotics that were in Angela's body would never be taken by someone who was allergic to penicillin, as the victim was.
Bradford Paige got strep throat from his son. He passed it on to Angela. That's how his scorned wife, a nurse, knew to mix her son's antibiotics into Angela's sports drink when she caught her having sex with her hubby at their home. The fatal mix caused the victim to collapse and hit her head on something in the river. Case closed.
Megan's ex-hubby, Todd, won't let her see her daughter, Lacey. He certainly doesn't want her at their child's upcoming 12th birthday bash. Megan still wants to get Lacey a gift. Peter believes the 12-hundred dollar handbag his partner picked out is a bit much. Something from the heart would be better.
Megan pops by the party to present Lacey with a key to her apartment. She can use it whenever she wants. Lacey does just that. She's leaves a piece of cake on her mom's counter. There's a note on a napkin. It reads, "Happy My Birthday, Lacey." The cake tastes great, but it's the sweetness of the gesture that makes Megan Hunt smile.