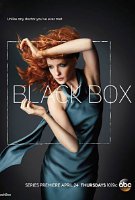 TV Info
---
Episode Premiere
July 24, 2014

Distributor
ABC

Genre
Drama

Show Period
2014 - 2014

Production Company
Bold Films, Sierra-Engine Television


Cast and Crew
---
Director
Andrew McCarthy
Screenwriter
Amy Holden Jones
Main Cast
Kelly Reilly as Dr. Catherine Black
Ditch Davey
David Ajala
Ali Wong
Laura Fraser
David Chisum
Siobhan Williams
Terry Kinney
Vanessa Redgrave as Dr. Hartramph
Additional Cast
Sepideh Moafi
Tasso Feldman
Audrey Esparza
Ali Ahn
Synopsis
---
The police pick up Catherine half-naked in the woods after she stole Bickman's car. After undergoing treatment in rehab, Catherine returns to face the fallout at home and at the Cube. Joshua tells her that he can't be her enabler anymore. Catherine returns home to her apartment. It's in shambles. Joshua reminds his sister that she's a lot stronger than she thinks she is.
Bickman gives Leo his coveted letter of recommendation. He later gives Catherine a big hug upon her return. He knows she's bipolar. He also knows that she needs to fight for her job. He'll back her up. He's her friend. Owen is agreeable to having Catherine back at work, though it isn't without strict parameters, making it a challenge for Catherine to earn her credibility back.
Owen gets the background on Catherine from Dr. Hartramph. There will always be risks of having her work at the Cube. Of course, there are great rewards, too. Back at the Cube, Truman is a young man who believes he has a doppelganger. Catherine is treating him under the watchful eye of Owen, who ultimately turns over the case to Farrah. A short time later, he realizes Catherine's assessment of the situation is on target.
Nurse Carlotta is jealous now that Catherine is back. She believes Bickman is in love with her. Catherine shows up at Bick's place asking to turn back the clock. She doesn't wait around to hear his answer once she sees Carlotta is there. Bick later explains that he was just trying to get Catherine out of her mind.
While trying to get her life back on track, Esme's biological father, Johnny, arrives and is in desperate need of a transplant. Catherine is faced with the difficult decision of having to reveal the truth to Esme about who her real parents are. Reagan agrees to break the news but without Catherine present. Esme is angry, but agrees to the transplant.
Catherine finds Johnny unconscious in his apartment. Time is critical now. Too bad Esme is nowhere to be found. That's because she's hiding at Will's restaurant. The two of them show up at the hospital. Esme is ready to meet her biological father, but she wants her real dad and mom to go with her. Catherine is left standing in the corridor alone.
Owen lets Catherine know that he's not going to second-guess her anymore. Later, news comes in that Esme is a good match for Johnny. She's still not ready to talk to Catherine, who gets more bad news from Owen. Carlotta came to him with allegations that Dr. Black duped her into filling a prescription for Oxy that she ended up using for herself. Owen steps up to Catherine as she watches Bick operate. He tells her that she's fired.