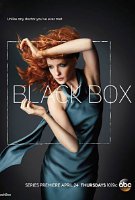 TV Info
---
Episode Premiere
July 03, 2014

Distributor
ABC

Genre
Drama

Show Period
2014 - 2014

Production Company
Bold Films, Sierra-Engine Television


Cast and Crew
---
Director
Tricia Brock
Screenwriter
Amy Holden Jones
Main Cast
Kelly Reilly as Dr. Catherine Black
Ditch Davey
David Ajala
Ali Wong
Laura Fraser
David Chisum
Siobhan Williams
Terry Kinney
Vanessa Redgrave as Dr. Hartramph
Additional Cast
David Rasche
Frankie Faison
Synopsis
---
Catherine realizes her feelings for Dr. Bickman might be mutual. He makes her a proposal that shocks her. Bickman says he doesn't care if she stays with Will. She can have both of them is she wants. She just can't tell Will about him.
Catherine begins work on a music study where her patients range from a popular music competition winner that has lost her ability to recognize pitch to a street musician, Wade Jordan, suffering from tremors. Farrah wants to help with the study. She's a fine opera singer as everyone in the Cube learns once she belts out an impromptu tune. The music competition winner has a worm in her head. It comes from drinking contaminated water.
Leo needs to ace his finals in order for Bickman to give him a surgical residency recommendation. Lina gives him a device to help improve his neuro-functions. Leo helps Babu get a song out of his head by singing another one. "Yankee Doodle" is the tune of choice. Soon Bickman is whistling the patriotic number as he removes the worm from the music competition patient. But he won't get to operate on the street musician who fears he'll die on the table. As for Babu, now he can't get "Yankee Doodle" out of his head.
Mark Brady is a man who was struck by lightning during a rainstorm. He has developed Acquired Savant Syndrome which has led him to become an expert violin player. He was tone deaf before the lightning strike. His brain has been somehow rewired.
Catherine is shocked to learn that her father, Hunter, has been teaching Esme music for about a month. She sees the two of them during a lesson, but doesn't let on that she's there. Flashbacks of her painful past prohibit her from entering the room. Later, Hunter shows up at her office. He claims that their strained relationship is breaking his heart. Hunter presents Catherine with a necklace that represents their family. He gave it to her mother the day she was born.
Catherine calls upon her father to help with her street musician patient. Hunter recognizes the name Wade Jordan immediately. The guy used to play with Herbie Hancock. Wade knows of Hunter as well. A promise of the two of them having a future jam session together is enough to get the surgery back on.
As Bickman operates, Wade is awakened to play his saxophone. Hunter is also in the OR on keyboards. A captive audience watches the impressive concert from the gallery above. The sound from the OR is patched through the Cube. Mark Brady joins in on violin and the music competition winner sings along in perfect pitch. The jazz music is even powerful enough to knock "Yankee Doodle" out of Babu's head.
Hunter gives Catherine a sincere apology for everything he's put her through. He invites her to a family dinner. Catherine accepts. During the dinner, Esme asks Will for a job at the restaurant. She also lets it slip that she and Catherine ran into Bickman outside the hotel listed on the pen he found.