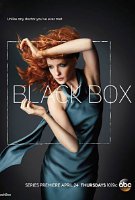 TV Info
---
Episode Premiere
May 01, 2014

Distributor
ABC

Genre
Drama

Show Period
2014 - 2014

Production Company
Bold Films, Sierra-Engine Television


Cast and Crew
---
Director
Simon Curtis
Screenwriter
Amy Holden Jones
Main Cast
Kelly Reilly as Dr. Catherine Black
Ditch Davey
David Ajala
Ali Wong
Laura Fraser
David Chisum
Siobhan Williams
Terry Kinney
Vanessa Redgrave as Dr. Hartramph
Additional Cast
Aja Naomi King
Tasso Feldman
JD Williams
Olivia Birkelund
Edward Herrmann
Synopsis
---
Will wants to know if Catherine was unfaithful to him in San Francisco. She lies while letting him know that she doesn't want the rough sex they recently shared to be the norm. She asks her therapist, Dr. Hartramph, for a tune-up with meds. An advisement to make "better choices" is prescribed instead. An exchange Catherine makes with a street dealer for some marijuana on her way to the Cube doesn't bode well for a good start.
Carrie is a young girl who has her hands full watching a hyperactive child while dealing with the kid's overbearing mother. It's enough to make one's head explode. That's exactly what happens during a chaotic scene in a supermarket. BOOM! SPLAT! Clean up in aisle eight! Carrie's head looks to have truly exploded. At the Cube, Catherine lets her new patient know that she experienced a very powerful hallucination. Dr. Leo Robinson believes this could be a case of Exploding Head Syndrome. He assures a skeptical Dr. Ali Henslee that it's a real thing, but it only occurs when the patient is asleep. That doesn't apply here.
Dr. Ian "Bick" Bickman bursts into Catherine's office. He kisses her passionately. There's resistance though not right away. Catherine assures her colleague that what happened between them was a mistake. She also claims she never does drugs while unsuccessfully trying to hide the joint in her hand. Their conversation is cut short by Dr. Owen Morely, who summons them both to a staff meeting. A former colleague, Dr. Raynaud, hid a medical condition that resulted in a tragedy. Owen lets everyone know that they will be fired if they fail to disclose any relevant personal information that could affect their work.
Carrie freaks out during her MRI. Her head explodes once again. She collapses and is paralyzed. She hears everything that's going on around her while in this coma-like state. Bick thinks Carrie is a cocaine user going through withdrawal. Catherine doesn't buy it initially, but the signs of drug use are certainly there. Carrie finally admits that she does coke to stay awake. Catherine offers to help her, but the patient wants to fight this battle on her own. She sneaks out of the Cube.
Catherine meets with Dr. Raynaud who doesn't want to live anymore. She urges him to fight. After their meeting, she makes a call to Esme. Unfortunately, Reagan answers the phone. The ensuing conversation is not a pleasant one. Catherine admits to Dr. Hartramph that she called Esme because she doesn't want to end up alone like Raynaud. She recalls memories of a traumatic childhood. Dr. Hartramph suggests she focus on her relationship with Will, who still demands the truth. Catherine admits she slept with a stranger in San Fran. This sends Will fleeing into the night.
Catherine recalls the days when her mother declared that she wanted to die. Raynaud is in the same state of mind. Catherine rushes to his bedside where it's clear he's swallowed a bottle of pills. She heads a team of doctors in a revival effort. The patient survives. Catherine tries to convince Raynaud's son to come see him to offer the guy a reason to live. The conversation doesn't go well.
Catherine asks Leo to use his hyperactive memory to recall what happened to Carrie before she hallucinated. His recollection leads to the diagnosis of narcolepsy and, yes, Exploding Head Syndrome. Bickman is impressed by this nice catch. The race is on to find Carrie, who is back on nanny duty. A tragedy with the young boy she watches is narrowly averted. Carrie is brought back into the Cube where she gets the treatment she needs.
Bick apologizes for the bad consultation he gave regarding Carrie. He pushes to grab a drink with Catherine. That's not going to happen. In other news, Catherine is surprised when Raynaud's son shows up just before his operation. The formerly despondent patient is overjoyed. That's the healing power of family. Catherine gets a dose of this herself when Joshua dials her number on his cell. No words are spoken. He only holds the phone out so his sister can hear Esme play during a piano audition. This is truly music to Catherine's ears.