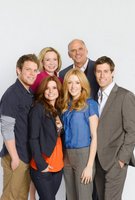 TV Info
---
Episode Premiere
May 11, 2011

Distributor
ABC

Genre
Comedy

Show Period
2010 - 2011

Production Company
Warner Bros. Television


Cast and Crew
---
Director
Gary Halvorson
Screenwriter
Zachary Rosenblatt, Greg Malins
Main Cast
Additional Cast
Tara Karsian
Gregor Manns
Candace Kita
Jonathan Spencer
Justin Jones
Synopsis
---
The baby is coming! The baby is coming!
As Mia writhes with labor pains, her sister strives to find a new career. Maddie swipes a list of hospital patients which also lists their occupations. It's the perfect classified document to help her figure out what she wants to do with the rest of her life. We're thinking she should wait to talk to the hedge fund manager until after his bunion surgery.
Mia is having second thoughts about having the baby out of wedlock. She wants to get married right there in the hospital room. Everyone thinks this is just crazy talk. Well, everyone except Casey. He says, "If Mia wants to have a wedding right now, she gonna have a wedding right now." So let's get this party started!
According to Maddie's patient list, there's a judge two rooms down. Vicky and Joel hit the gift shop to satisfy the something old, new, borrowed and blue requirements. Casey and best man Ben are off to the courthouse to get a marriage license. The line is long, but they finagle their way to the front. Well, near the front. They opt to not cut in front of the woman who's reporting elder abuse. Good call, boys.
The search for all the "something" items brings up bad memories of the time Joel tossed away the "something blue" Vicky wanted for their wedding. It was a handkerchief that had been in her family for five generations. That's nothing to sneeze at. Actually, that hanky could have come in handy after Joel's passionate rant about how much he loves Vicky.
Ben and Casey make it back with the license just in the nick of time. With the baby unwilling to wait any longer, the marriage ceremony kicks into high gear. Vows are exchanged and the judge (who's having a stint put in later) pronounces Casey and Mia husband and wife. A short time later, the newlyweds become brand new parents. Woo hoo!
Mia and Casey decided months ago to name their new baby Spencer. But now that he's here, they're going to call him Charlie. Why? Well, he just looks like a Charlie. He also looks like something that Maddie can get used to. While cradling the baby in her arms, she says, "I don't need a new career. I just need one of these." Ben agrees. Guess things really are better with the baby!