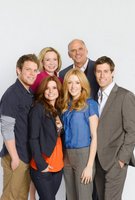 TV Info
---
Episode Premiere
May 04, 2011

Distributor
ABC

Genre
Comedy

Show Period
2010 - 2011

Production Company
Warner Bros. Television


Cast and Crew
---
Director
Gary Halvorson
Screenwriter
Margee Magee, Angeli Millan
Main Cast
Additional Cast
Hannah Smith
Todd Stashwick
Peter MacKenzie
Terry Rhoads
Bob Morrisey
Synopsis
---
Mia and Casey have their eye on a fancy new baby stroller, but the thousand-dollar price tag is way too steep. ENTER JOEL PUTNEY-a man who refuses to the pay retail for anything. Joel is a master haggler. It's one of the things Vicky loves about him. It really revs up her engine, if you know what we mean. Her hubby doesn't lowball salespeople, he Joelballs them. Vroom, vroom, Vicky!
Joel strikes out with the snooty salesman at the baby store. Think that's going to stop him from getting that discount? No way. Joel vows to find a way to buy that stroller below retail price. His determination has Vicky writhing in passion and sends Mia scrambling for the door.
Joel meets with a group of frugal friends who get together to exchange money-saving tips. They call themselves "Thrifty Bitches." For a while, "It was Thrifty Bitches and Joel," but they dropped the last part when they discovered the only man in their group was the "thriftiest bitch of them all."
The group inspires Joel to formulate a grand plan to scam the stroller salesman. There's lots of role-playing involved. Mia and Vicky pose as sisters while Ben and Casey play the part of "the shrewd man and the idiot." Casey once portrayed Mark Twain in a play, so he dials up the accent he once used for his latest performance. The salesman doesn't buy any of it. Show's over.
With all his options exhausted, Joel has no choice but to pay full price. Snooty sales dude takes great joy in this. Perhaps too much joy. He accidentally knocks Joel into a display case. Our favorite bargain hunter gets a little scuffed up. Joel's willing to forget about this unfortunate incident as long as the price is right on that fancy stroller. Deal!
Maddie is beyond stressed by her new job at her ambulance-chasing law firm. Being an attorney is all she ever wanted to be once her school guidance counselor, Mr. Straf, sent her down that career path. Casey suggests she ask the guy to advise her again after she quits her job. Turns out Mr. Straf never actually saw attorney potential in Maddie. He advised all his kids to become either a lawyer or doctor. Hey, it was better than telling them to be a bus driver or stripper.
This new information has Maddie feeling a little lost. Ben suggests she use this time to find out what she truly wants to do. He's wanted to be a hotel manager ever since he played the part with his teddy bears as a kid. Yes, dreams do come true. Before Maddie can explore any new options, her old firm calls. They want her back with more perks than she's ever had before. Maddie turns down the offer.
Ben is stunned. Maddie explains that she wants a job that evokes the same kind of passion he has for his job. Ben's constantly telling boring stories about what happened at work. Maddie says, "I just want a job that I love so much that I'm as annoying as you." Ben wants that for her, too. But if she's thinking about becoming a hotel manager, he'll crush her.