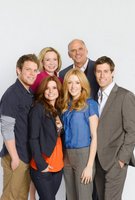 TV Info
---
Episode Premiere
April 27, 2011

Distributor
ABC

Genre
Comedy

Show Period
2010 - 2011

Production Company
Warner Bros. Television


Cast and Crew
---
Director
Gary Halvorson
Screenwriter
Mathew Harawitz
Main Cast
Additional Cast
Emma Hall
Lauren Benz Phillips
Indira G. Wilson
John Brantley Cole Jr.
Valorie Hubbard
Synopsis
---
Mia is getting fitted for her wedding dress. She's a radiant princess who met her handsome prince eight months ago. However, this particular princess didn't go home at midnight. That's why there's lots of elastic in her gown. It helps contain her way-pregnant figure. Think Vera Wang has a stretchy collection?
While standing beside another bride-to-be, Mia starts thinking about how awkward she'll feel when it comes time to walk down the aisle. She wants to postpone the wedding. Casey fully supports his future wife's wishes. He wants to marry Mia at a time when she's physically able to do the worm in the middle of the dance floor. It's a Putney family tradition.
Speaking of traditions, Joel runs his wedding toast past Ben. There are many noticeable pauses in between his heartfelt words. Joel takes a beat whenever he gets choked up in order to switch over to a more manly emotion. He says, "The only acceptable emotions for a real man are anger, arousal and itchy." Joel Putney is a wise man.
Ben makes it his mission to get Joel to cry. It's payback for the time he was mocked after his childhood dog died. Ben was sobbing. Joel was merciless. Maddie wants in on Operation: Make Joel Cry. Her dad has always been unemotional. He started yelling at the movie screen when little Elliott bawled because E.T. was going home.
During another practice toast, Ben and Maddie do their best to bring on the waterworks. Unfortunately, Joel flees the room before there's any chance of salty discharge. Vicky offers to help Maddie and Ben achieve their goal. She knows their only shot is during the actual wedding. They'll bombard Joel with sentimental memories before his big toast. Diabolical.
The crying game gets put on hold once news of the wedding postponement gets out. Joel goes on a refund rampage trying to get back all his deposits. The family catches up with him during a tirade at the dress shop. Mia thinks it's all about the money, but Joel makes her see that it's so much more. He wanted to give his toast to tell everyone how he feels about his little girl.
Joel gives an emotional, impromptu toast to Mia smack-dab in the middle of the dress shop. It brings the big guy to tears. In fact, everyone is bawling. Well, everyone but Ben. He's s jumping for joy because they finally got their victim to crack. The giddiness is not well-received during such an emotional moment. A teary-eyed Casey says, "You're a monster." Ben's look of utter defeat is enough to make a grown man cry.