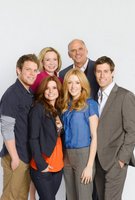 TV Info
---
Episode Premiere
April 25, 2011

Distributor
ABC

Genre
Comedy

Show Period
2010 - 2011

Production Company
Warner Bros. Television


Cast and Crew
---
Director
Gary Halvorson
Screenwriter
Christopher Luccy
Main Cast
Additional Cast
Synopsis
---
Casey can't dance. At least, that's what Mia thinks. Truth be told, the guy's an expert dancer. He's just keeping it a secret from Mia. But Casey can't hide his hoofer status from their dance teacher, Phillip (guest star Derek Hough of Dancing With The Stars fame). Phillip says, "Nobody dances that badly that perfectly." Good point.
Casey's been holding back because he doesn't want to overshadow Mia at their wedding. Of course, she doesn't know this. Mia just thinks the love of her life has two left feet. Vicky suggests she start mocking him as a form of motivation. It's how she got Joel to start making her great coffee in the morning. Tragically, Mia's insults push Casey too far. CUE THE MUSIC!
Casey can't keep his talent hidden any longer. He takes Phillip by the hand. The two men twist and twirl like there's no tomorrow. Mia can't believe it. The sad truth is that Casey is great at all girl things. He can wrap a present like nobody's business and is quite good at that gymnastics event with the ribbons. As far as the dancing, Casey agrees to make good use of his gift by giving some private lessons to his bride-to-be.
Maddie is avoiding phone calls from Ben's mom. This is unacceptable. After all the things Ben endures from Maddie's family, he thinks she should at least be able to chat with his mother on the phone. There's all the dinners, movies, game nights and that one unfortunate time Joel mistakenly thought Ben was a body pillow. Kind of make you want to watch Planes, Trains and Automobiles, doesn't it? Those aren't pillows!
Maddie is upset when Ben lists all the faults of her folks. He dubs Joel a "bald cheapskate" and Vicky a "mean little booze troll." Ben turns to a VIP guest staying at his hotel for advice. If anyone knows women, it's Larry King. The suspendered one tells Ben that he should make love to Maddie in a library, preferably in the World History section. Yes, Larry knows the ladies.
Maddie is initially reluctant to have sex in the stacks, but then Ben presses her up against all those alphabetically-organized almanacs. Suddenly, she's not mad anymore. Too bad the same can't be said for Joel and Vicky. Maddie told them what Ben said. FYI-Joel is not bald. He's sparsely-haired.
Once again, Ben turns to Larry King for guidance. Larry says older people will believe anything and they like coffee-flavored candy in glass bowls. So, Ben says Maddie misinterpreted his comments and the sweet treats they bring to Vicky and Joel seals the deal for forgiveness. The lesson here: Larry King knows all.