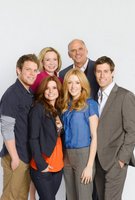 TV Info
---
Episode Premiere
April 20, 2011

Distributor
ABC

Genre
Comedy

Show Period
2010 - 2011

Production Company
Warner Bros. Television


Cast and Crew
---
Director
Andy Cadiff
Screenwriter
Greg Malins
Main Cast
Additional Cast
Loanne Bishop
Symba Smith
Michael Silver
Synopsis
---
Joel and Maddie met while chasing after a foul ball at a baseball game. Maddie and Ben met while building homes for the poor. As for Mia and Casey…their story is aces, too. Their eyes met during a fortuitous pedicab ride in the park. It was at that moment that they knew they were meant for each other. Yes, each story is romantic in its own way. The other thing these memorable moments have in common is they are all lies!
On the eve of their engagement party, Mia cons Casey into making up a story about how they met. Apparently, the truth isn't something she thinks her parents will embrace. Casey doesn't want to do it. He gets nervous when he lies and starts calling people by various nicknames. Nevertheless, Mia tells a fake pedicab tale that leaves Maddie and Ben's story in the dust.
Vicky and Joel are so impressed with Mia's romantic tale that they offer her and Casey the upstairs room at their lake house. That means Maddie and Ben are banished to the basement room. That's where all the fish-gutting takes place. Sometimes, late at night, Maddie can still hear the fish screaming.
Ben believes they still have a shot at the upstairs room. He knows Mia's story is completely bogus. As a hotel manager, he can tell when others are fibbing. He also knows that pedicab drivers were on strike during the tall tale's timeline. This new info allows Maddie to blackmail Mia into getting back the good room at the lake house. Mia's bummed until Casey discovers that Ben and Maddie's story is also a lie.
Mia returns to her original fake story. She also has a heart-to-heart chat with her sis where they agree to split their time in the upstairs room at the lake house. All is resolved, right? Wrong. Mia doesn't want to lie about how she and Casey met anymore. She tells the truth. It all started the night she was working as a judge at a male strip joint and ended with a trip to the emergency room. How romantic.
Mia's honesty inspires Maddie to come clean as to how she and Ben actually met. It all started the day she got drunk during a camping trip and ended when she went out to pee on a rock. But it wasn't a rock that was wetted upon that night; it was Ben. Again, how romantic. It's almost as romantic as the real story of how Vicky and Joel met. Let's just say it was in the `70s and they both managed to "swing" into action.