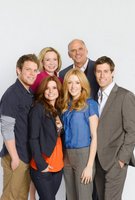 TV Info
---
Episode Premiere
November 24, 2010

Distributor
ABC

Genre
Comedy

Show Period
2010 - 2011

Production Company
Warner Bros. Television


Cast and Crew
---
Director
Gary Halvorson
Screenwriter
Adam Chase
Main Cast
Additional Cast
Synopsis
---
Vicky's oven is on the fritz. That means she won't be able to cook Thanksgiving dinner. This is joyous news for those who have survived all her experimental holiday meals of years past. Mia says, "They're like a car accident in your mouth." She may have been referring to the year Vicky served turkey stuffed with shrimp and raisins which was topped with maple syrup. We're guessing there were plenty of leftovers.
Maddie delicately suggests they do Thanksgiving at her apartment. They just have to keep Vicky away from the turkey. Casey volunteers to distract her by doing a puzzle. It's a Thanksgiving tradition with his family. Even though Vicky thinks puzzles are for children and mental patients, she's up for a little jigsaw action. But Casey's a serious player. There's even trash talking as they compete to see who can connect the most pieces.
The puzzle competition gets a little heated. Soon there's money on the line. Expert napkin folder Joel takes a break from the art of fine holiday linen to wager 50 bucks on his wife. It's almost time for dinner and Maddie wants to set the table. That's not gonna happen until the last piece of the puzzle is in place and a winner is declared. Competitive puzzling is very intense.
While looking for candlesticks, Mia finds her grandmother's ring in the closet. Grandma Putney gave it to Ben just before she died so he could give it to Maddie when he proposed. Mia is stunned and relieved. For years, there'd been some speculation that Ben may have killed Grandma Putney for her jewelry. He was the last one to see her alive and the ring was missing.
Ben begs Mia to keep quiet about the ring, so she puts it back in the closet where it gets lost amongst a surplus of tablecloths. Mia swears she put it in the white tablecloth which is nowhere to be found. That's because Maddie pulled it out for dinner. It's sitting on the kitchen countertop. Good thing the puzzle geeks didn't let her set the table.
Maddie does end up unfolding the tablecloth before Ben can snag back the ring. It flies right into Joel's hand. He doesn't understand how it got there. Ben tries to convince him that he stole the ring to support his imaginary drug habit. Maddie quickly clears things up by telling her folks the truth. See, Ben actually did propose and the two of them were engaged. Shocker, right?
As it turns out, Ben proposed five years ago in the most musical of ways. A dance troupe was staying at the hotel, and he cut the traveling hoofers a deal so they'd help him pop the question. The result was the most expertly choreographed marriage proposal ever to take place within the confines of a hotel lobby. Casey is impressed. He says, "I am a huge sucker for synchronized dancing. Swimming, too. Also watches."
Such a perfect proposal makes you wonder why these two aren't married. Maddie did end up saying yes, but then the trouble started. And by trouble, we mean there were signs that they shouldn't be getting married. Five signs to be exact.
First, a pipe burst over their heads drenching the happy couple. Then they learned that Grandma Putney died at the exact time Ben proposed. Then the ring caused an allergic reaction on Maddie's hand. Then they got trapped in an elevator which led to a big fight right before the final blow. The elevator started moving the moment Maddie removed her engagement ring. All of these signs led Maddie and Ben to believe they were better off embracing unwedded bliss, which is better known as a "valid life choice."
Joel is glad to have his mother's ring back but asks Ben to hold on to it, just in case he needs to use it again someday. The great puzzle competition ends when Vicky tosses Casey to the ground in a mad dash to snag the final piece. As for Maddie's Thanksgiving dinner... Well, the turkey was a little bland. Guess she ran out of maple syrup.