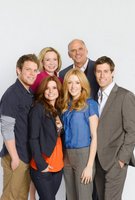 TV Info
---
Episode Premiere
October 20, 2010

Distributor
ABC

Genre
Comedy

Show Period
2010 - 2011

Production Company
Warner Bros. Television


Cast and Crew
---
Director
John Pasquin
Screenwriter
Kat Likkel, John Hoberg, Margee Magee, Angeli Millan
Main Cast
Additional Cast
Todd Stashwick
Edward James Gage
Nikita Ager
Synopsis
---
Mia and Casey are having a boy! The ultrasound picture once offered definitive proof of this happy news until Casey drew a black mark to cover his little buddy's private area. "Little Buddy," by the way, is Casey's little nickname for his unborn son. He's totally into the idea of being a dad and is always talking to Mia's belly. It's very sweet, but Mia finds it odd when Casey resists fooling around with her out of fear that his nearby little buddy will be traumatized by their antics.
Mia says, "We're supposed to be in the honeymoon period. We're supposed to be doing it nonstop. We're supposed to be making married couples want to go to counseling." Casey assures her that they will do all that once his little buddy goes off to college. In an attempt to spark some passion, Mia takes Casey to a hot salsa-dancing club. Unfortunately, they show up on '80s night. It's tough to do a sultry salsa to Toni Basil's shouts of "Oh, Mickey, you're so fine, you're so fine you blow my mind. Hey, Mickey! Hey, Mickey!"
As Casey continues to fawn over his little buddy, Mia admits she's starting to feel like a third wheel. Casey, on the other hand, doesn't understand why Mia insists on pretending like the baby isn't even there. One possible reason could be because the child doesn't seem totally real to her yet. All that changes when she feels their baby kick for the first time. Just like that, Mia realizes that Casey's little buddy is her little buddy, too.
Ben is tired of getting so many random emails from Vicky. He didn't receive the hotel's new operating budget because his inbox was filled videos of choreographed prison dances among other things. In Vicky's defense, those clips are kind of cool. Maddie makes a deal with Ben. She'll take on the difficult task of telling her dad she doesn't want him to do her taxes anymore if he tells her mom to stop sending those annoying emails.
Ben thinks he should just come right out and tell Vicky the truth. Maddie disagrees. She says the best way to get her family to do anything is to appeal to their ego. He should make her mom think it was all her idea to remove him from "Vick's Picks of Urgent Links." Ben scoffs at this notion. Such a trick would never work on him. Of course, it was Ben's idea to order Thai food last night and he's not even sure he likes the stuff. Hmm.
Against Maddie's advice, Ben straight-out tells Vicky to stop sending him emails. Maddie, on the other hand, tries her mind games on her dad. It doesn't work. Joel says that in addition to doing the taxes, he also wants to invest all of Maddie's money. Ben's "rip it off like a band-aid" approach also backfires when Vicky decides to print out all of her emails for him. Ben should probably wash his hands after handling one particular printout, as it came with a virus.
When Ben says that all the paper printouts are bad for the environment, Vicky decides to verbally relay her emails. It's kind of cool to see her act out some of the dance videos. We had no idea Vicky could do the worm! Maddie finds all of this to be extremely amusing until she discovers that Joel has put her on an allowance. Ben says, "I want to go back to the emails. It was so much easier to hit delete."
Ben humbly asks to be put back onto "Vick's Picks of Urgent Links." As much as it kills him that the last word doesn't rhyme, it's so much better than the alternative. Maddie uses her mind powers once more to trick Joel into "only" doing her taxes. Ben is thoroughly impressed and wants to know if Maddie does the same thing to him. Ben wonders if he truly likes jazz. Maddie says, "You think you do and that's all that matters."