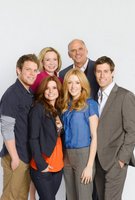 TV Info
---
Episode Premiere
October 06, 2010

Distributor
ABC

Genre
Comedy

Show Period
2010 - 2011

Production Company
Warner Bros. Television


Cast and Crew
---
Director
Andy Cadiff
Screenwriter
Kat Likkel, John Hoberg
Main Cast
Additional Cast
Synopsis
---
It's time to shoot the photo for the Putney family Christmas card. Joel needs everyone's hat size for this year's secret theme. No need to measure Casey. He knows he's a 22. How exactly does he know that? Well, he has his head measured every fall. We're assuming for just such an occasion.
There's no need to measure Ben's head either. No, he doesn't know his hat size off the top of his head (forgive us for that unfortunate play on words). Ben doesn't need to get measured because, according to Joel, he's not part of the family. Casey got in because he's gonna marry Mia. Of course, she'll probably have to break up with her old boyfriend before the big day.
Yes, technically Mia still has a boyfriend who she affectionately refers to as super-sensitive Steve. The guy has an emotional breakdown at the slightest sign of trouble. Mia brings Casey along to help send super-sensitive Steve to dumpsville. Unfortunately, Casey can't break up with the guy either. Mia and Casey realize they both have trouble saying no to people. This could be a problem while trying to raise a kid.
Ben traditionally mocks the Putney family Christmas card. But now he's upset about being left out. Maddie has a chat with her dad, but Joel is adamant about the fact that Ben is not family. This prompts Maddie to bail on her dad's Christmas card and create one of her own. Her theme is: One Flew over the Christmas Nest. Wondering what a Christmas nest is? Don't worry, so is Ben.
Vicky decides to join her daughter by participating in the rival Christmas card. Her only caveat is that she gets to wear a hot little elf outfit that shows off her sexy legs. Don't you just love a mom who is so sentimental about the holidays? Vicky spills the secret theme that her hubby's cooking up for his card. It's C.S.I.: Christmas Scene Investigators. Yes, Joel's a sentimentalist, too.
Mia and Casey realize that neither of them will ever be able to break their child's heart, so they ask Maddie and Ben to be their "no" people when it comes to discipline. The offer is rejected. Yes, Ben and Maddie are naturals for that "no" job. It's a position that truly needs to be filled because Mia and Casey are total pushovers as evidenced by the fact that they cave when a teary-eyed Maddie begs them to be in her holiday card.
Joel walks in on his family's traitorous efforts to snap a holiday photo without him. He was going to announce his intentions of letting Ben be in this year's card. But it wasn't ever about the card. This was about Joel's belief that Ben isn't part of the family. Ben says, "Whose shoulder did you cry on with loud, gasping sobs when Michael Jackson passed away?" Now you don't share a moment like that with someone who isn't family.
Joel still won't be swayed. He tries to lure Mia and Casey away to his photo shoot. But Mia won't go. In fact, she flat-out says she no longer wants to be part of any holiday photo. Hey, she actually said no! This is a total breakthrough! But then she wants give her sad dad a hug. Casey tells her not to do it. Another breakthrough!
Eventually, Joel comes around and apologizes to Ben, who also says he's sorry for mocking the theme cards to the people at work. And on his blog. And with his tweets. With the entire family in the picture, this card will surely make it onto the mantle of every household it reaches. Or it'll go into the less significant bowl of cards gathering dust in the center of a coffee table in shame. Again, the holiday sentiment is just so touching.