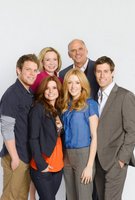 TV Info
---
Episode Premiere
September 29, 2010

Distributor
ABC

Genre
Comedy

Show Period
2010 - 2011

Production Company
Warner Bros. Television


Cast and Crew
---
Director
John Pasquin
Screenwriter
Lon Zimmet, Dan Rubin
Main Cast
Additional Cast
Jeff Austin
Harrison White
Patrick O'Connor
Sean Moran
Synopsis
---
With a new baby on the way, Mia and Casey begin to realize they may need to find a bigger place to live, even though babies are "notoriously small" according to Casey. The parents-to-be will need room for things like the crib, stroller, changing table, etc. Casey's totally up for a move. He'd like to find a cool place like a big loft or a barge. Do you even need to give a security deposit to live on a flat-bottomed boat?
Mia worries that Casey will want to live in some completely bizarre dwelling. That's probably because he texted a picture of an abandoned Chinese restaurant that he wants to buy and turn into an apartment. Maddie assures her sis that guys are idiots until they turn 27. That's when they finally grow up. Mia just has to ride out any wild ideas until they ultimately fall apart or fade away. Sounds like a plan!
Maddie's advice seems to be on target. That abandoned Chinese restaurant ends up being sold to someone who actually wants to open up a Chinese restaurant. What are the odds? Anyway, Casey is bummed but not beaten. He finds the perfect place to live: a firehouse!
A recently retired Joel is having trouble finding ways to occupy his time. He constantly checks in with Vicky to ask what she's doing. What she's "doing" is getting more and more aggravated with her hubby. Vicky starts messing with things like the water heater and the garbage disposal. The idea is to have a handyman come over to fix the broken items and that'll keep Joel occupied at the same time.
t's a pretty good plan until the handyman introduces Joel to a bunch of his buddies. Vicky comes home to a room full of retired guys sitting on her sofa enjoying a big bucket of fried chicken and quoting lines from The Matrix. She shuffles the old men out the door and promises to help Joel find a way to survive retirement. Hey, if they got through Maddie's standup comedy phase, they can get through anything.
Ben thinks the idea of restoring an old firehouse is beyond cool. He's always dreamed of living in such a place. Maddie, too. Well, not really. That's just something she told Ben in a show of disingenuous support. Mia convinces Casey that they can't afford to pay for the renovations. That's okay. Now Ben and Maddie can have the firehouse!
Not wanting to obliterate Ben's dream, Maddie convinces her folks to cut Mia a check so they can pay for any and all repairs. As the scheming sisters continue to look for ways to ditch firehouse life, Ben and Casey also battle for dibs on this wicked-cool pad with 12 showers and a long, metal pole in the living room.
Mia and Maddie realize they must work together to get out of this mess. They decide to tell the boys that if they keep fighting over the firehouse then no one can have it. Unfortunately, the feuding fellows have already figured out a solution that will make everyone happy. They can all live in the firehouse together! We did mention there were 12 showers, right?
Maddie has no choice but to admit to Ben that she doesn't want to live in a firehouse. Mia comes clean with Casey, too. She doesn't want to live in such a dilapidated old place. But Casey doesn't see the firehouse for what it is; he sees it for what it could be. Eventually, Mia is able to see the beauty of his vision, too. They've found the perfect home. And that pole will be a big hit at the housewarming party!