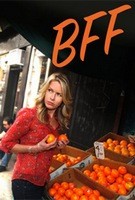 TV Info
---
Episode Premiere
April 11, 2012

Distributor
NBC

Genre
Comedy

Show Period
2012 - 2012

Production Company
Universal Media Studios, American Work. St. Clair


Cast and Crew
---
Director
Fred Savage
Screenwriter
Lennon Parham, Jessica St. Clair
Main Cast
Additional Cast
Kyle Mooney
Dave Donohue
Reid Scott
Synopsis
---
"Why aren't you always jamming meats in my mouth?" Joe asks Jessica as she has him try her pulled pork recipe. Lennon tells Joe that cooking meat is Jessica's unsung talent, and now that she's feeling better about herself after being served with divorce papers, Jessica is picking back up her old talents. "If feeling good means sweet meats in my mouth, then you can crash in my office as long as you want," Joe says earnestly.
With the joy of good food in their tummies, Jessica and Lennon serenade Joe with their cover and dance routine of the hit song "It's Raining Men." It's a routine they perfected while slinging hash and making their dreams come true during the summer of '98. Jessica hands her cell phone over to Joe to take a picture of them mid-routine but suddenly realizes she butt dialed her ex-husband Peter! Jessica freaks out as six-plus minutes of the conversation were she talked about embarrassing methods of coping with the divorce were mentioned.
Joe and Lennon stand outside the bathroom door as Jessica takes a relaxing bath for two hours. Joe nervously does the bathroom dance as all the pulled pork he ate fights battles in his stomach; "you can't feed a man that much pulled pork and deny him access to his own bathroom." Lennon enters the bathroom and tries to coax Jessica out of the tub to no avail. Sick of seeing her friend in such agony, Lennon decides to pull Jessica back onto her feet; but Jessica fights back, and they both end up in the tub screaming at each other. "This is more sad then hot," Joe says as he enters the bathroom to find them struggling in the bubbles.
Later at Rav's bar, Jessica leans her face against the jukebox glass as she has Sarah McLachlan playing nonstop. Lennon and Joe convince Rav to let Jessica take over his kitchen for a day so she can cook and feel needed again. Rav reluctantly agrees and plays his part by telling Jessica he really needs her help in the kitchen because a food critic is coming to his bar, and his chef just quit. Jessica jumps at the chance and excitedly falls for her friend's ploy.
"Hurry up, she's getting restless," Joe rushes in to tell Jessica as she franticly sets a plate of food. In order to get an honest opinion on the food she will be cooking at Rav's bar, Jessica is seeking the unfiltered advice of her sworn enemy, nine-and-a-half-year-old Queenetta. The precocious child takes a bite and thoughtfully tells Jessica that her food is delicious. Jessica asks Queenetta to taste it again to be sure when Queenetta suddenly goes off on her. "Take a compliment! Do you know how hard it is for me to say positive things to you? I do not like you!" Flummoxed by the argument, Queenetta then politely asks Jessica if she could take her delicious food to go.
As Joe and Lennon take out the trash, Joe tells her he got one of his friends to pretend to be a fake food critic named LeRoi LeBaller. He even created a fake website for him named "Brawling and Pub Crawling with LeRoi LeBaller." Then Peter, Jessica's ex-husband, suddenly appears and asks Lennon where he can find his wife. Lennon tells Peter off and says Jessica is finally feeling good about herself and she's not going to allow him to bring her best friend down again.
Rav enters his bar to find that Jessica and Lennon have completely redecorated. "We just wanted the place to look fresh and clean," Lennon tells Rav as he irately responds the place is supposed to look dirty - it's a bar! Later, Joe's hipster friend Doug arrives in a '70s suit and fedora pretending to be food critic LeRoi LeBaller. Lennon chides Joe on picking his weirdest friend to be the food critic when Jessica walks up and introduces herself to Doug. Against all odds, the socially awkward Doug is able to convince Jessica of his foodie credentials, and she rushes back to the kitchen in excitement.
"Can I just say one thing to you?" Jessica asks Rav. He tells her if it's going to be emotional, then no. Jessica quickly throws in how thankful she is to him, and she's finally feeling really good about herself for the first time in a long time. Rav is happy for her; she's a really good cook and should do it more often, only not at his bar. Jessica and Rav playfully rib each other as a spark of their old relationship starts to flare up, but then Jessica finds Peter walking into the bar.
Jessica yells at Lennon for not telling her Peter came to the apartment to see her. Lennon says she was only trying to protect her, but Jessica fights back that she can take care of herself. The two start a bitter fight on how Jessica turns into a "dumb dumb baby" when Peter is around, and right now, in the kitchen, Jessica is the happiest Lennon has seen in years. Joe comes into the kitchen to calm their fighting, but then he accidently reveals that they created the restaurant idea to help Jessica gain back her confidence; Rav's chef never really quit. "Am I really such a sad person that you really had to do this for me?" Jessica asks as she storms away.
Outside the bar, Jessica confronts her ex-husband who apologizes for the way he handled the whole divorce. "So you feel guilty, that's why you're here," a standoffish Jessica throws back at him. Peter tells her that the butt dial message really made him happy to hear her voice again; he really misses her. Just as they are about to make up, Jessica pushes Peter back. She tells him that her friends created a whole stupid night for her so she could have one moment of happiness, but if she goes back to him, it'll be the same story of "all about Peter" while her life stands on the sidelines. With her confidence back, Jessica walks away from her ex-husband and back inside the bar with her friends.
As the bar starts to clear out, Jessica and Lennon apologize to each other the best way they can... singing and dancing to "It's Raining Men." As they groove to the classic song, Joe and Rav rush up, grab their ladies by their hands and join in on the dance with laughs and smiles. "Come for pork, stay for the show," Lennon reads the next day from a real critic who came to the bar and tasted Jessica's fine meats. They then look at their fake critic LeRoi LeBaller's video review; he also loved the food, but he loved the beauty of Jessica even more. "I still got it!" Jessica smiles as she knows one man, albeit a strange hipster, has fallen for her beauty.