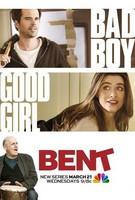 TV Info
---
Episode Premiere
March 21, 2012

Distributor
NBC

Genre
Comedy

Show Period
2012 - 2012

Production Company
Universal Media Studios


Cast and Crew
---
Director
Craig Zisk
Screenwriter
Tad Quill
Main Cast
Synopsis
---
While Pete, a mid-30s out-of-work contractor, wakes up with a girl in his bed whose name he doesn't remember, Alex, a mid-30s single-mom lawyer, wakes up in her 10-year-old daughter Charlie's bed. Alex and Charlie have recently moved from San Francisco to Venice, California, and Alex wants to completely remodel their house to make it feel like her own home.
Pete explains he was out surfing when Alex asks why he's late to come take a look at her house. Alex informs Pete she got his name from the Tate family and knows he was fired from that job for sleeping with Mrs. Tate. Alex makes it clear she wants no "Tate-like" business out of Pete if she gives him the job. When Pete complains she's not giving him enough time to make an accurate bid, she tells him to surf less.
Pete gathers his old construction crew together and tries to sell them on rejoining him to remodel Alex's house. His team left him six months earlier after Pete's business fell apart during the Tate affair and due to Pete's gambling addiction, for which Pete has been going to recovery meetings. Pete apologizes for his past transgressions and promises this time things will be different. Since things haven't been going well on their own, his team of Clem, Vlad and newbie Gary reluctantly agree.
When Pete drives his crew over to Alex's house the next day, he sees rival contractor Big Deb leaving the scene. Pete rushes in to talk Alex out of choosing Big Deb. Alex is indifferent and says Big Deb came in with a lower bid. Pete's response is to punch a hole through the drywall next to them with his fist. Alex is in shock while Pete explains there's dry rot in the house and other problems Big Deb is going to charge extra for as she goes, whereas he'll stick to his quoted price. Alex sees a spark of conviction she didn't expect from Pete and gives him the job. Pete's team is ecstatic about the new gig until they see how attractive Alex is and fear this will become Tate 2.0.
Pete apologizes for being late on the first day, but Alex praises him for solidifying low expectations. Screwsie, Alex's less-motivated younger sister, finds Pete really attractive and asks Alex if she's interested. After Alex claims she's more interested in her work and daughter, Screwsie and Pete check to see if they've slept together before and ultimately decide they haven't. Alex couldn't be less impressed with the loose moral standards of the two.
Charlie freaks out her mom by getting onto the roof of their house. Pete climbs up to talk her down. Charlie explains she wanted to get some pictures of the neighborhood, so she could send them to her dad who's in prison for insider trading. Charlie asks Pete not to tell Alex why she went up there or it'll just stress her out to know how much Charlie misses her dad. Pete assures her he's very good at not telling the truth and helps her down the ladder.
Later that night, Pete and his crew go out to celebrate their first week on the job when he bumps into Charlie's college-age nanny, Simone, at the bar. The next morning Simone wakes up in Pete's bed and is late for work. Alex misses a deposition due to Simone's tardiness and blames it on Pete. Alex reminds Pete she told him no monkey business; and Pete claims he thought that was only with her, and he's respected that. Alex isn't impressed and fires him. Pete chases after Alex and lets her know she's got some issues. Alex tells him he lives with his dad and humps anything in a bikini. Pete tells her she's just bitter about her divorce and now doesn't want anyone else having any fun. Pete drives away as she's still screaming about how happy she is from her front yard.
Screwsie doesn't understand why Alex fired Pete and not the nanny. Alex explains that Charlie loves Simone and expands on all of Pete's flaws. "I hired him to fix my house not bang my childcare." Pete is depressed about losing the job and is parked in front of a casino thinking about going inside. Instead, he goes to his Gamblers Anonymous meeting. There, someone talks about doing something good to make yourself feel better instead of placing a bet. Pete decides the "something good" is to take the lumber out of Big Deb's truck.
While Pete is removing the boards from Big Deb's truck at Alex's house, Charlie opens up to him about feeling stage fright for an upcoming piano recital and asks him for what she should do. Pete can't believe Charlie's asking him for life advice while he's in mid-crime. Pete decides to change his "something good" into helping Charlie, and he takes her to the high-end department store where his father, Walt, plays grand piano during shopping hours. Pete asks Walt if Charlie can play piano with him, and though Walt has delusions of grandeur and doesn't think that's fair to his audience, he concedes. After some encouraging words and deep breaths, Charlie performs her recital piece in the store.
Alex charges into the department store furious Pete's taken Charlie without her permission, yet her anger subsides when she sees Charlie playing piano. Pete explains Charlie had stage fright, and he thought this would help her. Alex is surprised; she had never connected Charlie's reluctance to practice to her feelings of stage fright. Pete apologizes to Alex for the nanny incident and asks for a second chance. Alex says she'll give him one more chance. A friend of Alex's, Ben, enters the department store and gives her a kiss. Pete is a little stunned that it seems Alex has a boyfriend as he walks away with Alex and Ben cheering on Charlie at the piano.