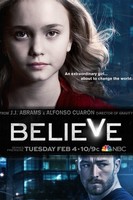 TV Info
---
Episode Premiere
June 01, 2014

Distributor
NBC

Genre
Drama

Show Period
2014 - 2014

Production Company
Bad Robot Prod., Warner Bros. Television


Cast and Crew
---
Director
Steve Shill
Screenwriter
Nick Antosca, Bobby Arnot
Main Cast
Additional Cast
Mia Vallet
Nick Tarabay
Katie McClellan
Synopsis
---
While Channing recovers in the hideout, Bo becomes concerned that something is going to happen to Tate. Tate assures her that he'll be fine, but she knows that the longer she runs, the more she endangers everyone she holds dear. It's time to stop running and face Skouras once and for all. Tate doesn't like the idea, but he knows there's nothing he can do to stop Bo.
Meanwhile, back at the Orchestra Laboratory, Danni is undergoing some medical tests. She reads the doctor's mind and determines that there's a problem with her test results. Her health is degrading, and the more she uses her powers, the worse it's going to get. Danni questions other Orchestra pupils about their symptoms, but nobody is willing to talk about it. She's quickly becoming aware that things at Orchestra are not as they seem.
Winter kidnaps a doctor friend to assist in bringing Channing back to good health. While he's distracted caring for his right-hand woman, Bo and Tate come up with a plan to face off against Skouras once and for all. Bo feels confident that she can keep them out of danger, and Tate has learned by now to trust Bo's instincts. Now they'll just have to figure out how to get to Skouras.
Bo and Tate locate Skouras at a fancy gala, but they can't just walk in the front door. Tate taps into his old con man skills to procure credentials in order to get into the building. As it turns out, conning people is much easier when you have a telepath at your disposal. Once inside, Tate identifies the security guards and the two go about infiltrating Skouras' penthouse.
After a brief pep talk from Tate, Bo begins to systematically deactivate the security team's communication devices, methodically carving a path of least resistance all the way to Skouras' penthouse. After Tate easily incapacitates Skouras' security guard, Bo keeps the room locked down long enough to engage in a one-on-one conversation with Skouras.
Although Skouras is happy to see his precious prodigy, Bo sternly pleads with Skouras to leave her alone and let her live her life. Skouras attempts to convince Bo that he has her best interests in mind, but Bo insists that her best interests are being with her father. Skouras tries to convince Tate that he can help them, but Tate and Bo see through the ruse. When Bo blames Skouras for the death of her mother, Skouras turns the tables, telling Bo that Winter caused Nina's death. Bo doesn't know whom to trust anymore. Unfortunately, she doesn't have time to decide. Bo and Tate evade Skouras' security team and head out to meet up with Winter.
Back at the Orchestra lab, Danni follows a sick patient to a secret lab. She breaks into the facility to discover a room of sick telepaths being treated by doctors in hazmat suits. Danni questions one of the doctors, who tells her that nobody knows what's happening to the patients. Confronting Skouras, she accuses him of willingly endangering her life. Danni begins to telepathically strangle Skouras. She stops just short of killing him before forcefully leaving the facility.
Tate and Bo race to rendezvous with Winter and Channing on a helicopter, but Skouras' henchmen, hot on their trail, cut them off on their way to the helipad. Bo manipulates a nearby lightning storm to allow for a hasty escape.
When they arrive at the helipad, Bo tells Winter that she met with Skouras and is now concerned that she may not be able to trust Winter. When she asks him about Nina's death, she's able to watch her mother's demise from Winter's perspective. It becomes clear that, while he may have been a reluctant accomplice in Nina's death, he most certainly wasn't the cause of it and he feels nothing but remorse for his role in the act.
Bo forgives Winter, but she doesn't want to stay with him anymore. She decides to set out on her own with Tate by her side. Winter understands, and there's nothing he can do to stop her. With Winter looking on, Bo and Tate head off on their own. As if Winter wasn't having a strange night already, Skouras calls him moments later to ask for assistance in dealing with his new problem: Danni.