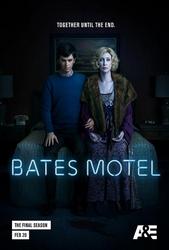 TV Info
---
Episode Premiere
April 29, 2013

Distributor
A&E

Genre
Horror, Mystery, Thriller

Show Period
2013 - Now

Production Company
Universal Television, Carlton Cuse Prod.


Cast and Crew
---
Director
Tucker Gates
Screenwriter
Carlton Cuse, Kerry Ehrin
Main Cast
Additional Cast
Jere Burns
Catherine Lough Haggquist
Synopsis
---
Sheriff Romero responds to Norma's 911 call and finds Deputy Shelby dead on the steps of the Bates Motel. He goes inside with Norma, Norman and Dylan and tells them what the new story will be. He discovered that Shelby and Summers were involved with some shady business, and he put an end to it. Dylan is annoyed at not having his efforts acknowledged, but Norma and Norman are delighted to have their troubles behind them.
Despite the nice breakfast Norma makes for him, Dylan says he's still moving out. He takes out the trash and finds a strange man looking at the motel who asks him about Keith Summers. Dylan tells him that Summers is dead, and the man drives away.
While working outside, Norman discovers a stray dog. He tries to lure it to him with food, but the dog runs away. At school, Norman sees Bradley. They talk briefly, but she seems distant.
Norma stops at a local restaurant to do some networking, but the owner doesn't want to associate with the Bates Motel's already tainted reputation. Norma returns to the motel and is morosely reviewing her lack of reservations when she spots a man trying to get into room 9. She confronts him and learns that his name is Jake Abernathy and he had a standing reservation at the Seafairer. She gets him a new key and he enters room 9.
Dylan returns home and offers to get Abernathy's info. He grills Abernathy but only learns that he works in "sales" before the creepy man pays in cash and shuts the door. Dylan brings the cash to Norma who is busy trying to scrub Shelby's blood from the stone walkway. Dylan tries to convince her it's futile, but she's determined to save the motel's reputation, and tired of being reminded of Shelby and his gruesome end.
The next day, Emma stops by to see Norman, but he doesn't want to hang out with her. Norma asks Emma if she would like to help her run some errands instead. As they drive, they talk about Norman and Emma tells Norma about his crush on Bradley. They go to spy on Bradley at her yoga class, and Norma is shocked to discover that this girl is, as Emma states, "A locomotive of sexual energy."
That night, Norman tries to convince his mother to let him keep "Juno," the stray dog. She reluctantly agrees, then says they need to talk. She tells him that sex is a serious thing and he shouldn't be "screwing" Bradley. Norman insists that he truly cares for her, and that they're together. When Norma scoffs at him, Norman storms out of the house.
Norman goes to Bradley's house where he pours his heart out to her, only to discover she doesn't feel the same. He leaves, and Bradley follows. Norman seems to be in a trance, repeating phrases his mother said earlier about Bradley. She catches up to him and he tells her that he doesn't think she's a nice girl. Bradley hugs him and the tension is dispelled. Norman runs home.
As he approaches the motel, he sees Juno across the street. Juno runs to Norman and is hit and killed by a passing car. Norma runs out, thinking Norman may have been hurt. He is fine, but he tells her that he's going to see Emma's dad, the taxidermist, because he can "fix dead things." Norma refuses until Norman breaks down and apologizes, saying that she was right about everything. She goes to get the car as Norman clutches Juno to his chest.