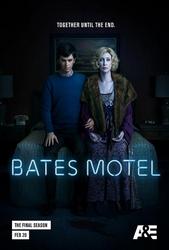 TV Info
---
Episode Premiere
April 22, 2013

Distributor
A&E

Genre
Horror, Mystery, Thriller

Show Period
2013 - Now

Production Company
Universal Television, Carlton Cuse Prod.


Cast and Crew
---
Director
Tucker Gates
Screenwriter
Carlton Cuse, Kerry Ehrin
Main Cast
Additional Cast
Vincent Gale
David Cubitt
Ian Tracey
Diana Bang
Synopsis
---
Norman and Emma stand on the porch of the motel, wondering what they can do to help Norma, who is sitting silently, having just learned that Shelby is involved in human trafficking. Norma suddenly gets up and heads for the car. Norman races to stop her from rampaging off to Shelby's. He convinces her that they'll get the wayward deputy, but they'll do it "the right way".
Dylan meets with his employer, Gil, to explain how his partner Ethan was killed. Gil is impressed that Dylan took the initiative to run down Ethan's killer. He gives Dylan instructions to get rid of Ethan's truck. After setting fire to the vehicle, Dylan meets Remo, a grizzled, longtime employee of Gil's, who was sent to pick Dylan up. Dylan is shocked to learn that he's been promoted, and is now Remo's boss.
Back at the house, Norma and Norman convince Emma to wait before going to the police. Emma seems unsure, but Norma is becoming a mother figure to her, and she finds it impossible to resist. Norma and Norman agree that they have to find Keith Summers' belt before they go to the authorities.
Dylan returns home to find Norma preparing to go see Shelby, and Norman trying to stop her. He puts an end to Norma's plan by taking Norman with him to find the belt on Summers' boat. On the way, Dylan tries to convince Norman to move in with him. They search the boat, and Dylan tells Norman his theory; that Norma is the one who killed Norman's father. After more searching, Dylan finds the belt, and they throw it into the bay.
Back at the motel, Norma gets a visit from Shelby. She tells him it's not a good idea for them to be together, but he won't be dissuaded. They go to a motel room where Shelby hears a suspicious noise. He investigates and finds Jiao, who runs away into the woods. Shelby gives chase.
Dylan and Norman return home, and Dylan tells Norma that Norman is moving out. Norma tells the boys about Shelby, but is so upset about Norman moving, she refuses to leave. Shelby returns and takes them back to the house at gunpoint.
Shelby sits the family at the kitchen table as he realizes he may have to kill them all to protect his secret. He knocks Norma to the floor, which causes Norman to attack. Shelby struggles with the disassociated teen, losing his gun in the process. Dylan grabs the gun as Shelby runs for cover.
They exchange fire, and Dylan's arm is grazed by a bullet. Dylan manages to hit Shelby in the leg, but when he comes in for the kill, he pulls the trigger and realizes he's out of ammo. Shelby scrambles to his feet, recovers his gun, and limps after Dylan, who has run upstairs looking for more ammo.
Norma drags Norman out of the house, stopping on the porch to call the police. She gets Norman to the car, but realizes she doesn't have the keys. Shots are fired in the house, and a limping figure emerges. It's Shelby, face covered in blood, with his right eye shot out. He raises his gun, but falls down dead before he can pull the trigger.
Norman sits in the car in some sort of trance as Norma and Dylan talk. She tells him what really happened to Norman's father, Sam. She and Sam were fighting when Norman came out of nowhere and clubbed him with a blender. Norma, after being unable to get a response from Norman, moved Sam into the garage and made it look like an accident. When Norman came to, he had no memory of the attack. Norma tells Dylan that Norman needs to be protected. Dylan can either pitch in, or get out of her way.