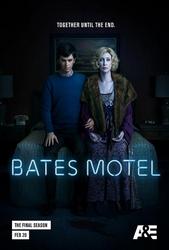 TV Info
---
Episode Premiere
April 15, 2013

Distributor
A&E

Genre
Horror, Mystery, Thriller

Show Period
2013 - Now

Production Company
Universal Television, Carlton Cuse Prod.


Cast and Crew
---
Director
David Straiton
Screenwriter
Jeff Wadlow
Main Cast
Synopsis
---
Norman walks home with a smile on his face after spending the night with Bradley, but his smile fades quickly when Dylan tells him Norma was arrested for the murder of Keith Summers.
The brothers go to the jail to help Norma, where they decide to use the motel as collateral to pay off her $100,000 bail. As they talk, Norma realizes that Norman has told Dylan everything. She gets angry and screams at them to leave.
Norman finds the deed to the motel, and Emma gives him a ride to the bail bondsman. There, he tells her that he found the girl from the manga, but they can't help her until he's helped Norma. Emma reluctantly agrees.
The next day, Norman goes to meet Norma as she is released from jail, but she wants nothing to do with him. They go to meet with her lawyer, but Norma doesn't want to play a role in the story her lawyer is concocting. She refuses to admit she had anything to with Summers' death and storms out.
On the drive home, Norman tells her she's being unreasonable. Norma confronts him about being with Bradley when she was taken to jail. He apologizes, but Norma tells him to walk home and kicks him out of the car. As he walks, Dylan pulls up on his motorcycle. He welcomes Norman to the doghouse and offers him a ride home.
At home, Dylan tells Norman that Norma is addicted to drama. He says that he is getting his own place, and tries to convince Norman to come live with him, but Norman refuses to abandon his mother.
On the way to work, Ethan surprises Dylan with a $5,000 loan. Dylan had asked about borrowing money from their employer, and Ethan had strongly suggested against it. Ethan tells Dylan that bringing him in has made Ethan look good, so he's happy to help him and his brother get their own place. He knows Dylan will pay him back.
They are approached by a junkie, who owes Ethan money. The junkie suddenly pulls a gun and shoots Ethan in the neck. Dylan rushes him to the hospital, but it's too late. Later that night, Dylan is out driving when he sees the junkie. He guns the truck and runs the man down, killing him.
Deputy Shelby and Norma meet in a secluded spot at night. He tells her that he loves her, and wants to help. He goes to the station and manages to grab the carpet sample they found on Keith Summers' hand without being seen.
The next day, Norma gets a call from her lawyer who tells her that, without the evidence, there's no case against her. She finds Norman to celebrate, but as soon as he hears that Shelby is the one who saved her, he becomes upset. Outside, he runs into Emma and asks her to take him somewhere.
They end up in a quiet spot by the shore where Emma tells Norman that she thinks the girl from the manga is being kept on Keith Summers' boat. Norman is distracted, as he's waiting for a text from Bradley. He tells Emma about the two of them being together, but she seems to think it was only a hook-up.
Emma convinces Norman to come with her to the docks to search Keith's boat. They find the girl and rush her back to the motel. Norma finds them and demands to know what's going on. When Norman tells her that Shelby was keeping the girl in his basement, she refuses to believe him. Norma grabs a newspaper and shows the girl a picture of Shelby. To her horror, the girl identifies him. Norman tells her quietly, "I told you."