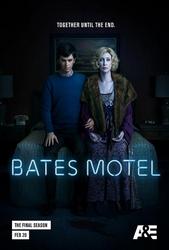 TV Info
---
Episode Premiere
March 18, 2013

Distributor
A&E

Genre
Horror, Mystery, Thriller

Show Period
2013 - Now

Production Company
Universal Television, Carlton Cuse Prod.


Cast and Crew
---
Director
Tucker Gates
Screenwriter
Kerry Ehrin, Anthony Cipriano
Main Cast
Additional Cast
Earl Brown
Richard Harmon
David Cubitt
Synopsis
---
After finding his father dead, seemingly the victim of a freak accident, 17-year-old Norman Bates and his mother, Norma, move to the sleepy town of White Pine Bay to start over. Norma buys a motel, and they get ready to start their new life.
Norman meets his schoolmates, including White Pine Bay's "it girl" Bradley Martin, and the quirky Emma Decody, who has Cystic Fibrosis. One of Norman's teachers, the young and strikingly beautiful Miss Watson, takes an interest in him and encourages him to try out for the track team, which immediately puts her on Norma's bad side.
Keith Summers, former owner of the motel, first threatens, then brutally attacks Norma in her kitchen. Norman, having snuck out, somewhat unknowingly, to a party, returns nearly too late to save his mother. He knocks Summers unconscious, but the man comes to, insults Norma again, and ends up dead by her hand.
Norma, fearing that her actions have cursed the motel before it even opens, decides not to inform the police, despite her son's protestations. She and Norman begin feverishly ridding the motel of any trace of the murder. As they pull up carpet, Sheriff Romero and Deputy Shelby stop by to investigate the unusual late-night activity. Norma politely tries to turn them away, but Romero insists on taking a look around. After Romero takes the longest pee of Norma and Norman's lives (next to the bath tub containing Summers' body), the officers leave, and mother and son return to their grisly task. They row a boat out into the bay, and shove Summers' body into the water, assuming that will be the last they see of him.
Norman doesn't tell his mother about the book he found under the carpet in one of the rooms. It is filled with drawings, done by hand, and short sentences in what looks like Chinese. The images are disturbing, depicting a young woman tied up and abused. Norma interrupts his reading to show him the new sign. The old motel sign has been taken away, in its place is the brand new sign for the Bates Motel.