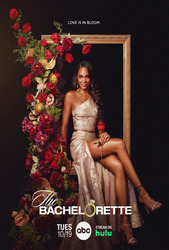 TV Info
---
Episode Premiere
July 22, 2012

Distributor
ABC

Genre
Reality, Romance

Show Period
2003 - now

Production Company
Next Entertainment, Telepictures Productions


Synopsis
---
It's decision time! Emily started out with 25 eligible bachelors. Now she's down to just two --Jef and Arie. It's tough to decide between two great guys. Emily needs some help from her family to figure who would be the best fit for her and Ricki.
Meeting the Family
Jef makes a sparkling impression on Emily's family. Her dad doesn't even think it's worth meeting the next guy. Nevertheless, Arie holds his own when he meets the parents. Emily was hoping her family would help with the decision she needs to make. That didn't happen. They've reached the same conclusion Emily has-both of these guys are marriage material.
A Final Date
The conversation during Emily's final date with Jef is all about Ricki. He's been hoping to meet Em's little girl for so long. Well, Jef finally gets his chance. They catch up with RIcki while she's in the pool. Jef makes Ricki feel comfortable around him immediately. They all have a blast swimming in the pool. Later, Jef tells Ricki about the puppet he bought for her during one of the dates. This is one first meeting that couldn't have gone better.
Let's Be Honest
Come nighttime, Emily lets Jef kow that Ricki asked if he could come back tomorrow. They reminisce about their journey together. Jef gives Emily a book about Curacao, as he feels that the place where they turned a corner in their relationship. When it comes time to say goodnight, Jef thinks it's the hardest goodbye he's ever had to say. Later, Emily meets with Chris Harrison to let him know that her mind is made up. She knows Jef is the one for her, yet she still has to go on a date with Arie. Chris advises her to be honest with him.
Breaking Up is Hard to Do
Arie makes a love potion for their date, but it's not enough to stop the inevitable. Tears flow as Emily says she's sorry to Arie, who is completely shocked. He also can't get out of there fast enough. It's a difficult, emotional scene. Arie is obviously crushed that this in actually over. But Emily knows she has to follow her heart.
End of the Journey
The hard part is over. Now only two questions remain. Will Jef propose? If so, will Emily accept? The answers are yes and yes! Ricki shows up to share in this happy moment as the three of them set off on a new adventure together.