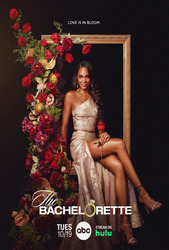 TV Info
---
Episode Premiere
May 21, 2012

Distributor
ABC

Genre
Reality, Romance

Show Period
2003 - now

Production Company
Next Entertainment, Telepictures Productions


Synopsis
---
Emily has a great support system surrounding her in Charlotte. She has plenty of friends and family nearby to watch Ricki while she goes on many, many dates with all of her eligible bachelors.
Cookie Time!
The first date card arrives with an invitation for Ryan, who is expecting some wild adventure. He's thrown a curveball when Emily drives him up to her house to help her unload some groceries. They are going to bake cookies for Ricki's soccer game. It's a glimpse of what Ryan may be signing up for. Emily believes he totally passed the cookie test.
Soccer mom Emily asks Ryan to wait in the car while she delivers the cookies. She's just not ready for Ricki to meet any of the guys. She does, however, bring Ryan back a juice box, which is nice. Come nighttime, Emily is a vision in red as she and Ryan head off for a dinner date at one of her favorite restaurants in Charlotte. They chat about relationships past and present. Emily worries that Ryan may be too perfect, but she's willing to take a chance. That's why she gives him a rose.
Emily decides to reward Ryan for the "mom" day he endured. One of her favorite bands, Gloriana, plays a special concert for them after dinner. Hundreds of fans look on as Emily and Ryan share a dance as the band sings a song just for them. It's a nice end to a nice date.
Does She Want a Man or a Muppet?
Those chosen for the first group date of the season are: Aaron, Alejandro, Alessandro, Charlie, Chris, Jef, John, Kalon, Kyle, Michael, Nate, Stevie and Tony. They head off to a local theater where they'll be performing a show for charity. They'll have a little help from some seasoned show biz folks: The Muppets! The men meet Kermit the Frog and Miss Piggy before learning that half the group will be doing a very Muppet-friendly dance number.
Fozzie Bear's group will be doing stand-up comedy. Charlie is having a hard time with this because he has some insecurity about speaking in public. This has to do with the long road to recovery he had to take after suffering a head injury. Emily is more than understanding when Charlie comes to her. That's why she has no problem giving him a pass on this one.
Emily takes center stage on The Muppet/Bachelorette Show even though Miss Piggy does her best to upstage her. Fozzy introduces Kyle and John to tell a few jokes. They don't really fly. Then Miss Piggy has a chat with Aaron, Jef and Charlie. There's a poem and a proposal. Charlie comes through when put on spot with a question from Miss Piggy about how he'd impress a woman. He said he has some insecurity, but he was certainly up for the challenge on this one.
After Kermit assures Miss Piggy that there nothing going on between him and the Bachelorette, Emily invites her daughter, Ricki, up on stage for a rendition of "The Rainbow Connection." The guys are thrilled to get their first glimpse of Emily's daughter. Then all the men head out to the stage for a big finale that draws cheers from the crowd.
Emily wonders where Jef has been hiding. She sees a lot of how she used to be, and how she still is, in him. Later, Stevie gets a little ticked when Kalon (he calls him "Chopper") interrupts some quality dance time he was having with Emily. But Kalon/Chopper barely has time to chat when Aaron steals her away. Later, Stevie and Kalon voice their mutual dislike for each other. Then it comes time for Emily to award the group date rose. She ends up giving it to Jef. In other news, Doug gets very angry at Kalon when he believes the guy thinks he put his job as a dad on hold to do the show. It's a very awkward moment.
Say It Ain't So, Joe
Joe gets the second one-on-one date. Emily thinks he's really hot-like Matthew McConaughey hot. They take a private jet to Emily's home state of West Virginia. They head to a beautiful resort called the Greenbrier and go for a swim in a hundred-year-old pool. Later that night, Emily descends down a staircase looking like an elegant Southern lady. She takes Joe's arm as they head off to dinner.
Emily needs to know if Joe is a good fit for her life. She makes no secret that she wants more kids. She also doesn't necessarily feel butterflies with this guy. There's something called the Love Clock at the Greenbrier where people put notes that will endure forever. Joe's note is all about coming back to this place someday with Emily and Ricki. Unfortunately, Emily just doesn't feel a connection. That's why, at the end of the night, Joe doesn't get a rose.
The Cocktail Party
Tony tries to get some time with Emily just as Ryan hands her a note. He's forced to stand there as she reads it aloud. It's a seven-page letter. Can you say awkward? Eventually, Ryan leaves. Tony jokes that he's the one who told Ryan to read all that. He then chats with Emily about his five-year-old son. Performing with the Muppets reminded him how hard it is to be away with him while looking for love.
Kalon feels like he's been painted as an outcast by the other guys after his confrontation with Doug. So he's grateful for some alone time with Emily. Still, he's certainly not the most popular guy in the mansion. The good news is that he's not trying to impress the men.
The Rose Ceremony
Joe is gone. Ryan and Jef are safe. Emily has more roses to hand out. The men who receive roses from Emily are:
Alejandro
Alessandro
Arie
Charlie
Chris
Doug
Jef (safe from the group date)
John
Kalon
Michael
Nate
Ryan (safe from the one-on-one)
Sean
Stevie
Tony
Travis
That means Aaron and Kyle follow Joe out the door. As for the remaining men, they get to continue their efforts to win the heart of the Bachelorette.