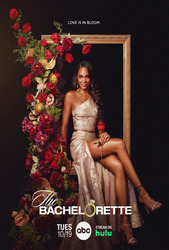 TV Info
---
Episode Premiere
August 01, 2011

Distributor
ABC

Genre
Reality, Romance

Show Period
2003 - now

Production Company
Next Entertainment, Telepictures Productions


Synopsis
---
The time has come to write the last chapter of Ashley's love story. She could marry either one of the two amazing final bachelors. It's a tough choice, as J.P. and Ben couldn't be more different. Will Ashley pick passion or compatibility? Let's find out!
Family Reunion

Ashley is reunited with her family and she's beaming with joy. She describes J.P. and Ben while boasting about how "in love" she is. She's ready to have a ring on her finger. While Ashley is clearly exuberant, her sister has her reservations. And it's her sister's opinion that Ashley values most.
First Impressions

J.P. is prepped and ready to meet Ashley's family. He's clean-shaven and feeling optimistic while Ashley claims her nerves are nowhere in sight. If they only knew what's around the corner, they'd run the other way. At first, everything is going well. J.P. gushes about his feelings for Ashley, who is giggling left and right. It looks like it couldn't get better. But as soon as Ashley gets some alone time with the girls in her family, her confidence is turned upside-down.
Family Feud

Ashley's sister is vocal in her belief that J.P. is not "the one." She claims Ashley is too spunky and young for her reserved potential husband. Even though the rest of Ashley's family supports her blooming relationship, the damage has been done. Ashley is heartbroken she didn't get the support she so desperately wanted from her sister. She's hoping her sister's opinion will change after they spend some alone time together. She probably shouldn't hold her breath.
The Interrogation

J.P. doesn't realize it, but he's walking into an ambush. Ashley's sis is immediately on the offensive. She doesn't understand what a much-older, serious bachelor would want with her quirky, younger sister. And more importantly, why hasn't he found love already at his age? He doesn't really have a chance to defend himself because Ashley's sister has already formed a stubborn opinion. Nothing J.P. can do or say will alter that today. Instead of leaving on a high note, their relationship is on the rim of disaster. This date was supposed to seal the deal--not ruin it! J.P. is worried that Ashley may feel differently about him now. Furthermore, does he really want to propose to someone who can't make decisions without the support of others? Guess we'll have to wait for answers.
Meeting the Family, Part Two

It would be an understatement to say things didn't go well with J.P. in meeting the family. Let's hope Ben has a different experience. Things are going well and Ben opens up with some embarrassing dog-talk voice. When Ben hangs out with Ashley's sister alone, she grills him but things go smoothly. She's much more receptive to Ben than she was with J.P. Things with this particular bachelor seem more relaxed and comfortable. But is that what Ashley is looking for?
Over the Rainbow

Ashley takes Ben on a helicopter ride to some natural hot springs. Things get really dirty when the couple starts rubbing mud all over each other. Not a bad way to kickoff a date. They finish the date in Ben's hotel room where he doesn't hold anything back. Ben finally pulls together the courage to tell Ashley that he loves her. And it's well-received.
Two Become One

J.P. and Ashley revisit the other day. It wasn't exactly ideal, but now they have a lot to think about. Are they really right for each other? Did Ashley's sister see something she was missing? J.P. adamantly defends their relationship. To reassure her, he says exactly how he's feeling. He tells Ashley that he's madly in love with her. A smitten Ashley returns the gesture with a kiss. Later that night, J.P. gives Ashley a picture of them sealed with a love letter. To say the least, it's a tough goodbye.
Engagement Day

The men have picked out engagement rings and it's time to offer a lifelong commitment. Ashley looks beautiful by the water, standing for perhaps the last time as an available single woman. Ben is first off the plane, nervous but full of hope. He tells Ashley how much she means to him and gets down on one knee to propose to the woman of his dreams. Her answer isn't what he wants to hear. Ashley tears up as she's forced to say no. It's not easy, but it has to be done. Ben walks away crushed. He's raw with disbelief. This is not Ben's fairytale anymore.
Where one love story ends, another begins. J.P. arrives, more handsome than ever. It's time for him to take his last leap of faith. J.P. tells Ashley again how much he loves her and the bachelorette is finally able to reciprocate his feelings. J.P. pops the question and Ashley, smiling ear-to-ear, says yes. The happy couple shares their first engaged kiss. They have their whole lives ahead to embrace their love. Congrats, J.P. and Ashley! We're so happy you found each other.