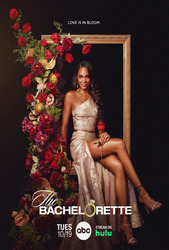 TV Info
---
Episode Premiere
July 25, 2011

Distributor
ABC

Genre
Reality, Romance

Show Period
2003 - now

Production Company
Next Entertainment, Telepictures Productions


Synopsis
---
Even in Fiji, the sun doesn't always shine. Ashley is excited that she's narrowed things down to the remaining three men: JP, Ben F., and Constantine. But she's in for a few twists she never saw coming.
Don't Speak

Ashley opens the door to her exotic dream house to find none other than, dun dun duuun… Ryan! He's flown all the way to Fiji to let her know that he can't stop thinking about her. He feels their one-on-one was not enough to explore their relationship potential. Ashley is clearly shocked, but she doesn't say much. Ryan slips her his hotel address. He leaves hoping that she'll come around. She has a lot of thinking to do, but not right now because it's time for Ben's Fiji date.
Under the Sea

Ashley and Ben jump aboard a beautiful yacht. Flirtation is alive and kicking as they rub each other down with sunscreen. They spend the rest of their time on the blue water holding hands while snorkeling. Words can't describe their chemistry, but they certainly have something special. Night falls and the couple heads to land for a candlelit dinner. They talk about their feelings for each other. Ben admits he's well on his way to love. The couple spends the rest of the evening in a romantic fantasy suite.
Almost Doesn't Count

Next up is Ashley's date with Constantine. He's thrilled when he sees what she has planned. They experience Fiji the best way possible-from above in a helicopter. Afterwards, they spend some quality time hanging out at a waterfall. Ashley expresses concerns that their relationship hasn't progressed as much as it should. When nighttime rolls around, they head to dinner under the stars. Things don't go as planned when Constantine admits the harsh truth to Ashley. He's just not ready to propose. He takes off before their date is over. It leaves Ashley wondering if she will get her happy ending after all.
Heartbreak Hotel

With Constantine gone, Ashley knows exactly what she has to do. She visits Ryan to tell him how she feels. On paper he's perfect, but she's already found passion with two other men. Although Ryan is hurt, he's relieved that he was able to be return and be honest with her. Ashley's journey to love continues without Ryan...again!
At Last

Last but not least, JP gets his date in Fiji. The couple takes a small plane to a private beach that's right out of a postcard. They spend the day wading in the water and getting some much needed alone time. Over dinner, JP tells Ashley that he's scared to admit his feelings while she's still dating other guys. That's when Ashley tells JP what happened with Constantine. He's surprised to learn that he's only one of two standing. On that positive note, Ashley whips out the fantasy suite invitation. Needless to say, JP happily accepts.
The Rose Ceremony

Even though Constantine left before the rose ceremony, Ashley decides it's crucial to have one anyway. She reminds us that it's not just about giving roses-it's about accepting them, too. Are JP and Ben F. ready for the next step? They sure are! Now the tables will be turned as the final two men gear up to meet Ashley's family!